Today is Galaxy Nexus day in the UK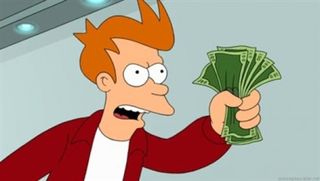 If you're in the UK and want to buy a Samsung Galaxy Nexus, you can now hand over your hard-earned cash and do just that -- with a few conditions. The phone is now available from brick-and-mortar Phones4U shops, as well as the retailer's online store. It seems Phones4U has been given a one week head-start on other vendors, however it's not selling the phone without a contract online -- you'll need to head in-store if you want a SIM-free Nexus.
Most retailers are now expecting to stock the ICS-powered Nexus next Tuesday or Wednesday -- Nov. 22/23. So if you're not up for committing to another 24-month contract, and aren't near a Phones4U store, you may have to endure another week with whatever smartphone is currently in your pocket.
If you are after a new contract, you'll be able to sign up for a variety of 18 to 24-month plans with Vodafone, T-Mobile, Orange or O2 over on the Phones4U website (check the source link). Notably absent from the list is Three, which appears to be in the same boat as everyone else, shipping on the 22nd or 23rd. See the source link for more info.
Source: Phones4U
Alex was with Android Central for over a decade, producing written and video content for the site, and served as global Executive Editor from 2016 to 2022.
Hmm nice and folks wondering where vzw is is. So maybe next week

Idk what's the big deal, its not like its in the usa yet. Wake me when it comes to sprint.

Can't believe this wasn't a worldwide launch.

ya, kinda dumb. I realize we are now a global market blah blah. But its google... this really should be launched in US first. I guess UK just got their red tape out of the way better than big Red did here. phaillll.

Wouldn't also be surprised if the stores had limited supplies s like last year. I'm just upset at this. I woke up today knowing that my friends across the pond were already tinkering with their GN, while I sit here wondering what was going through the heads of Google when they decided to let Verizon run the show here in the States. Very upsetting.

You can get it sim-free from Phones 4 U for £549 or on pay as you go for £529 + £10 topup (but all are unlocked so might as well get the cheaper one) I will be going to get one from three for £499 + £10 topup tomorrow at my local store (again still sim unlocked). (edit: reports of people purchasing sim-free/off contract in this thread: http://91.151.218.11/showthread.php?t=18331065&page=56)

"SHUT UP AND TAKE MY MONEY!!" Nice...

Wonder what they paid for the one week head start over the rest of the planet.

If I tighten the tinfoil in my cap a bit I could convince myself that VZ is the one that paid the money, for the single intention of holding the phone back until the Razr and Rezound were released.

WTF...500MB allowance? That is their data cap at Vodafone?

I hope it has a on/off toggle for LTE unlike the Skyrocket.
Android Central Newsletter
Get the best of Android Central in in your inbox, every day!
Thank you for signing up to Android Central. You will receive a verification email shortly.
There was a problem. Please refresh the page and try again.