TicPods Free aim to be a $129 AirPods alternative for Android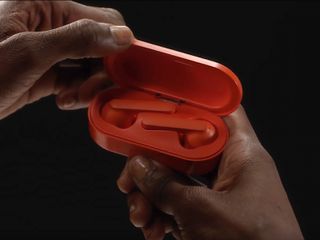 Ever since Apple released its AirPods in 2016, there's been a constant hunt for a comparable alternative for Android phones. Many have tried and failed, and now Mobvoi's taking a stab at this niche with the TicPods Free.
Mobvoi is the same company behind the TicHome Mini and TicWatch series, and at first glance, the TicPods Free look like a solid AirPods competitor. You'll find two separate earbuds that aren't connected by any wires, and they can be placed in the included carrying case for easy recharging when you're not using them.
There aren't any buttons on the TicPods Free, but you can perform a variety of gestures. Swiping up or down will adjust your volume, a double tap skips a song or accepts/ends a call depending on what you're doing, and a long press will reject an incoming call and prompt your phone's voice assistant (such as Google Assistant, Alexa, Siri, etc.)
Mobvoi is touting ambient noise cancelation and noise isolation to ensure you've got access to the best listening experience possible, and this is enhanced thanks to an in-ear detection system. Take one of the TicPods out of your ear while music is playing and it'll automatically pause. Place it back in your ear and the tunes will start playing where you left off – just like AirPods.
Add all of this together with 18-hours of total battery life (4 hours on the earbuds and 14 extra hours with the case) and IPX5 water/dust resistance, and you end up with a pretty enticing package.
Retail pricing for the TicPods Free is currently set at $129, but you can get them at a discounted price thanks to various early-bird bundles being offered with their ongoing Indiegogo campaign. If you choose to be an early backer for the earbuds, shipments are expected to begin this July.
Joe Maring was a Senior Editor for Android Central between 2017 and 2021. You can reach him on Twitter at @JoeMaring1.
If they can get the auto connect and play but upon taking them in and out of the case right, and it's as good an experience as the airpods offer, this could be dope.

It's all about the sound...

"It's all about the sound" is right. earPods and airPods never got past the "adequate" sound quality. I have a pair and use them while eating lunch or on conference calls, but not for music. Interestingly, if you ARE using a pair of high quality wired headphones with an iPhone 5 or 5S, you can upgrade the phone output quality by using the Apple dongle for the iPhone 7 instead of the built-in headphone jack.

How long until Apple decides to sue them for the design & "Pod" name? My guess is "not long." Yes, "pod" is not trademarkable on its own, but when you get a product that looks nearly identical to Apple's Airpods and has a similar name, Apple is going to take notice.

Considering how frequently Apple's designs are copied, they hardly ever sue.

Hopefully they can operate independently of one another, that's one airpods feature I haven't seen replicated yet. Perhaps I haven't looked hard enough.

Samsung icon x 2018 does.
If you set then up right the Jlab epic airs do also.

Are these BT 5.0? If not, no thanks.
Android Central Newsletter
Thank you for signing up to Android Central. You will receive a verification email shortly.
There was a problem. Please refresh the page and try again.