TicWatch E smartwatch review: Affordable but awkward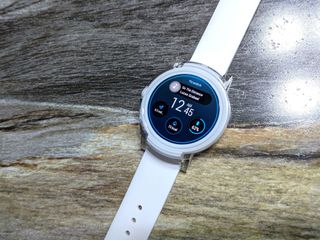 Without enough room for proper components, a smartwatch will die during the day or be so slow you wish it would die. Without the proper aesthetic, a smartwatch will look like some oversized toy on your wrist. A good smartwatch will slip once or twice in the balancing act, and unfortunately, the TicWatch E (opens in new tab) slips in the wrong places.
Feel the material
I was sent a TicWatch E after my TicHome mini review last year, and I have alternated between it and my personal LG Watch Style for the last several weeks. The TichWatch E comes in three colors — white, black, and yellow — with the white and yellow models sporting a clear plastic housing between the watch itself and the soft plastic band, and the black sporting a black housing. The bands, cheap though they are, are grippy, smooth, and felt quite nice — nicer than the stiff leather band my LG Watch Style came with. The clear plastic screams toy, and while plastic does stand up to the bangs and scuffs of life better than more polished metals.
The TicWatch E isn't quite as ridiculously bulky as most sporty smartwatches, but you're definitely going to have to work your sleeves to get them over the watch, as the hard angles of the watch tend to catch fabric tenaciously both when you try to sneak a peek at the face and when you try pull your sleeve down again and get back to work. The heart rate monitor at the bottom of the watch sits across from the POGO pin charging port, because in order to save costs, the TicWatch has skipped the convenience of wireless charging for a compact but still proprietary charging cable.
Under the hood
Using the watch once you get it free of your shirt sleeves is straightforward, though the home button sitting on the left side takes a little getting used to. The screen is big and bright; in fact, the TicWatch E, even on its lowest setting is too bright for Always-on mode at night. There's no auto-brightness here, either, so be prepared to change brightnesses when you head out of doors. Thankfully, even with that bright screen, the battery can easily last one and a half to two days. The TicWatch is a tic slow, but it's been hard to tell if that the actual system or just a screen that needs a bit more force to register taps than normal.
Having a watch with a heart rate sensor again has been nice, and at $128, the TicWatch E (opens in new tab) is certainly one of the cheaper options on the Android Wear market, but that comes at a price in performance and polish. The TicWatch E isn't a bad smartwatch, but it's not a great one either. It's an okay smartwatch, and that's not enough to justify the already low price tag.
If you just gotta have a heart rate sensor and like being able to use your watch as a wrist-mounted flashlight at night, this watch may work for you, but if you can, just wait until the LG Watch Style goes on sale. It won't take long.
Get the Android Central Newsletter
Instant access to breaking news, the hottest reviews, great deals and helpful tips.
Ara Wagoner was a staff writer at Android Central. She themes phones and pokes YouTube Music with a stick. When she's not writing about cases, Chromebooks, or customization, she's wandering around Walt Disney World. If you see her without headphones, RUN. You can follow her on Twitter at @arawagco.
Ticwatch website only mentions Tciwatch E. I assume E and E-mini are the same.

This wasn't a review for the TicWatch E-mini, it was a mini-review for the TicWatch E... ;)

Yep, hence the dash. I knew that could get confusing.

My only complaint about my black Tickwatch E is the battery life. Everything about the watch feels budget, but it is a budget watch. Added a leather band to mine and I use it everyday.

Yeah, the battery life sucks on this thing but it's respectable in other areas for the price.

I get 24 hours with the watch which isn't great however I charge it after waking up to 100% in less then an hour.
I don't use always on which helps greatly.

I backed the TicWatch on Kickstarter and got the S edition instead of the E. Without having used the E, the only difference I see between the two is the watch housing design and the way the band connects to the watch. I haven't noticed this one being a 'tic slow' and both the S and the E share the same internals (with the S having a GPS-integrated watch band that the E doesn't - according to the website). Battery speaking - I notice about it using about about 50-60% battery over the course of 15 hours of wear. But that's my only real complaint to speak of. The watch feels good on my wrist and, while the band has a hard rubbery feel - it feels durable and not necessarily cheap. I agree that the clear plastic on the E may look a bit cheap, but if you're wearing sleeves, then this isn't visible. I have the same issue as you with the watch snagging a bit on my shirt sleeves, but attribute that to the way I wear my cuffs and not necessarily the watch design. I also had the same issue with my previous smart watch (Microsoft Band 2) - which had a lower height than the Ticwatch S. Just some thoughts from someone who owns essentially the same device. Good review.

I've had mine for a little over a month, and have yet to get a full day off a charge, even with Always On turned off, and Play Voice Calls over Watch turned off. Their community is a bit of a joke. All posts have to be approved by a moderator before they show up, which can often take weeks

I have had the black Ticwatch E for over two months now. It's the first watch of any kind I've worn in over six years. I have no complaints thus far. I wear it everyday with a shirt and tie and haven't had anyone say anything negative about it's looks. I also use it while running, both treadmill and outdoors. The GPS seems to be accurate and I love leaving my phone behind while on a run and still being able to listen to my Google Play Music playlist via Bluetooth earbuds. All in all, I think this is a great option for the price. It'll be interesting to see how it holds up over time.

I'm a bit confused, I held off on getting a Ticwatch because I read that they run Android as opposed to Android Wear. Similar to the very first Sony smartwatches. I'm looking to upgrade my original Moto 360, which even though looks amazing and is running better than ever paired with my Pixel 2, is sadly missing Android Wear 2. Which Ticwatches run Android Wear out of the: Ticwatch E, Ticwatch S and Ticwatch 2?

Ticwatch E & S run Android Wear 2.0. Ticwatch 2 runs Ticwear (I think that's what it's called).

Thanks for clarifying. I wish they did a version which was slightly more premium looking. The Ticwatch 2 had it with the metal version with the leather band, this just looks like 'cheapo' plastic.

I have heard that it looks better in person, though it is a budget watch. I actually just bought one on Amazon since it's on sale, though it seems to perpetually be on sale with promo codes and all. It should be here tomorrow. It's my first smartwatch so I didn't want to spend a lot on it. Figured can't really go wrong at this price.

Yeah definitely. I'm teetering on buying this or the old Huawei W1 Watch, which is still £60 more even though its 3 years old.

Android Wear "is" a version of Android that's specifically designed for watches. So, it's technically not wrong to say that it's Android OS, but definitely confusing if you read that somewhere. The Ticwatch S and E run Android Wear, but the Ticwatch 2 runs a proprietary OS. I've heard a lot of people say that they preferred Android Wear 1 over AW2, so if your Moto 360 still runs well, I'd keep it as long as you can. I had to replace the battery in mine, and it still won't last a day.

with LG exiting the Android phone arena, i'm not sure i'd want a watch from them. but then i'm wearing a moto360 and moto gave up on wear completely. really not sure what i'll do when the 360 gives up entirely. i might too, on Wear.

I switched out my Moto 360's battery a few months ago as it was dying a slow death. Now its strangely better than it was when I first got it. When I put it on charge in the evening its on 60% power. Plus its connectivity with my Pixel 2 XL is loads better than my Samsung S7 Edge, which used to have issues with notifications and controlling Google Music. Just a shame the thing has no Mic or Android Wear 2.

I don't really agree with this review. I got my Ticwatch E (black) through Kickstarter. I didn't have a smartwatch before and I thought this would be a good, cheap one to try. While waiting for the watch to go into production & shipping, I started already designing some watch faces on my computer. I couldn't wait for the Ticwatch E to arrive and test out my watchfaces, so I bought the Fossil Q Explorist (also on Android Wear 2.0). I fell in love with the Fossil right away and was very happy with it. But then the Ticwatch E arrived. Much cheaper, much more plastic. But with a heart rate sensor, a feature that the Fossil is lacking. I was prepared to just use the Ticwatch on vacations or otherwise just occasionally. However, it is now my main smartwatch, and here's why: It charges super fast (0-100% in less than an hour). The battery lasts 1,5-2 days. It looks simple and cool, not cheap. The understated looks makes it match with anything else I wear and it doesn't scream for attention. The rubber wristband never felt sticky or uncomfortable and I never got sweaty skin from it. The watch is just as bulky as the Fossil, so no complaints there. The software works fine (I don't experience any sluggishness) and with Google Fit and "Fitness" from Mobvoi, I get vibrating reminders to stand up, walk, stay active, etc - the latter being something that's missing on my Fossil.
Two other points mentioned in the review above: the brightness of the watch is perfectly fine for me in day and night mode - I guess you simply have to find a watch face that works best for you. And then the physical button: too many times did I accidentally activate the Google Assistant on my Fossil when I was leaning on my hand or angled my wrist when moving things around. With the button on the left (I wear my watch on the left arm), this has never happened with my Ticwatch.
I'm super happy with this watch and can only recommend it. I took the time to write this extensive comment not to plug the Ticwatch, but because I feel that the review above isn't fair. I guess in the end it all comes down to personal preference of course, but you really cannot go wrong with this watch.

After researching into the Ticwatch E I came across the Misfit Vapor, which basically looks like a slightly more premium E, but with a touch sensitive bezel. Android Central/ Ara is there any chance you can do a review of it? https://www.androidcentral.com/e?link=https2F2Fcli...

Around the 4th week with mine now. Loving it so far! Battery life has been good so far (around 16-20 hours a day) and it charges in under an hour, so I can't complain I don't really mind the build, as I haven't had any issues with it yet. I will however be getting some more straps to business-ify it up a bit for those more formal occasions. I work as a waiter/bartender and having the watch is a godsend. I can take a quick 2 second look at my wrist and keep updated while also still working, which is the main reason I got it for.

It has GPS! Why isn't this mentioned at all!? Not having GPS is a big show stopper for any smartwatch for all the people who wants to run without a phone on you. Very few smart watches have GPS, but this is one of them!

This review seems kind of lacking. You don't touch on sound quality, touch responsiveness.

I didn't test sound but touch responsiveness was hit and miss, especially when dismissing notifications. I really do like this watch but it has subtle shortcomings. I wonder if the Misfit Vapor is a little better?

I have two of these. The screen is the best I've seen on an Android Wear Watch and the value of this watch can't be understated. But, I have some opinions and issues. My wife's watch's microphone just stopped working...reboots and factor resets haven't resolved the problem. So I tried to get support and it took 6 days (and finding every possible way to get their attention via social media and forums) to get a response. So, I am going to simply return hers and buy again from Amazon this time. She loves her watch and it is the closest to a full functioning women's watch she can find. (she had Fossil but it was lacking) I have the black version and also the Huawei Watch 2 Classic. Beyond the screen being larger and better looking on the Ticwatch, it is like night and day as far as performance goes. The HW2 runs circles around the Ticwatch. Bluetooth is much faster and I usually encountered notification lag with the Ticwatch. I'm not calling the Ticwatch a bust. I still think it is the best value of an Android Wear wearable. But over time, I saw the compromises in it.