PNY's $24 Duo Link 128GB Flash Drive can plug directly into your phone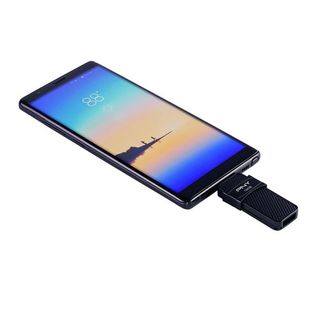 PNY's 128GB Duo Link USB 3.0 OTG Flash Drive (opens in new tab) is on sale at Amazon today only for just $24.99. This offer brings the drive down to a new low price there, saving you $5 off the usual cost, and today's price is even better than we've seen for smaller capacities of the drive.
Transfer files between your USB-C phone or tablet and your computer with this handy flash drive.
The Duo Link flash drive was designed for seamless file sharing between your computer's USB-A port and your phone's USB-C port, as it features built-in USB and USB-C connectors. Create backups and transfer files with ease, and keep the drive protected with the sliding covers.
Louryn saves money on everything she buys (which is a lot.) In between waiting for Amazon deliveries, she pines for the next Elder Scrolls installment and checks Reddit for gaming rumors. She also loves Hearthstone, makeup, and beer. Find her on Twitter: @lourynstrampe
Android Central Newsletter
Get the best of Android Central in in your inbox, every day!
Thank you for signing up to Android Central. You will receive a verification email shortly.
There was a problem. Please refresh the page and try again.