Get a free Google Home Mini with this discounted Nest 3rd-Gen Smart Thermostat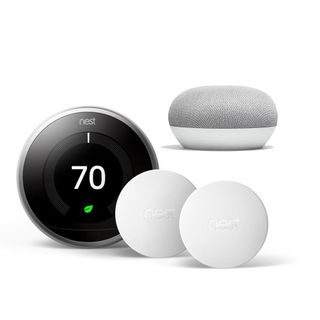 Home Depot is offering a free Google Home Mini when you purchase a Nest 3rd-Gen Smart Learning Thermostat (opens in new tab). Even better, the thermostat itself is discounted, too. Overall, today's deal will save you over $100 off the typical cost of buying the included items separately. Make sure to add both the thermostat (opens in new tab) and the Google Home Mini (opens in new tab) to your cart. The smart speaker will automatically drop in price during checkout, making your total $190 with free shipping.
The Nest 3rd-gen Smart Thermostat (opens in new tab) is on sale for $214, which is one of the better deals we've seen. It sold for $179 during Black Friday last year and hasn't dropped much in price since then. It comes with two Nest Temperature Sensors, too, which can help the thermostat set the ideal temperature based on rooms in your home. For example, you can place a temperature sensor in your bedroom to ensure that it doesn't get too hot overnight. The intelligent thermostat pays for itself in as little as two years thanks to its efficient use of energy. It can stop heating your home when you're gone in the winter, or avoid running the air conditioning on cool nights. Those are just a couple of examples of how this nifty gadget will save you money. All you have to do is install it and let it do the hard work for you.
The Google Home Mini (opens in new tab) is a compact smart speaker with Google Assistant built in. Play your favorite music or audiobooks, get weather updates, set timers, and control smart devices like the thermostat you're getting today. Getting it for free is just icing on the cake.
Louryn saves money on everything she buys (which is a lot.) In between waiting for Amazon deliveries, she pines for the next Elder Scrolls installment and checks Reddit for gaming rumors. She also loves Hearthstone, makeup, and beer. Find her on Twitter: @lourynstrampe
Android Central Newsletter
Get the best of Android Central in in your inbox, every day!
Thank you for signing up to Android Central. You will receive a verification email shortly.
There was a problem. Please refresh the page and try again.