These Screen Protectors Are a Good Idea if you Own an Essential Phone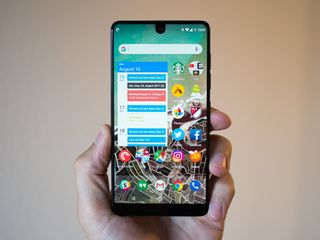 The Essential Phone features one of the most unique-looking screens we've ever seen on an Android phone. With tiny bezels around the display and the unique camera divot at the top, it's a phone that's sure to stand out from the crowd for some time.
But you'll want people to be staring at your Essential Phone for the right reasons. That means keeping it protected from scratches, cracks and worse with a quality screen protector. We've rounded up some of your best screen protector options and the good news is there's value to be had across the board.
amFilm Essential Phone Tempered Glass Screen Protector (2-Pack)
First up is this two-pack of tempered glass screen protectors from amFilm. These screen protectors are just .33mm thick but will provide the necessary protection for your Essential Phone against drops, bumps, scratches, and normal wear and tear.
This kit includes everything required for a clean installation: wet and dry wipes, dust removal stickers, and a squeeze card for removing any air bubbles. With this two-pack, you'll have a backup in case your first one takes a hit on behalf of your phone. Get yours for just $8!
See at Amazon (opens in new tab)
Mr Shield Tempered Glass Screen Protector (3-Pack)
Two is good, but three is better! If you're seeking out the best value on tempered glass screen protectors for your new Essential Phone, look no further than Mr Shield's offerings. You get three slabs of rugged tempered glass that feature rounded edges for a smooth feel for your fingers, along with everything you need for a clean installation — all for only $8 on Amazon.
These protectors are also covered by Mr Shield's lifetime replacement warranty, which means they will send you a replacement free of charge if you run into an issue during installation such as air bubbles.
See at Amazon (opens in new tab)
J&D Tech Matte Film Screen Protector (8-Pack)
Tempered glass is typically the way to go, but if you're more concerned about scuffs and scratches on your screen, a film screen protector should offer adequate protection. That makes this 8-pack of Essential Phone screen protectors from J&D Tech virtually a lifetime supply for only $8.
Made from high-quality PET film, these screen protectors feature a matte finish that helps to cut down on glare and they're also resistant to fingerprint smudges. It protects the full display, but does not provide edge-to-edge coverage because of the curved edges of the phone — but it does allow these screen protectors to be compatible with cases. You just get the eight screen protectors in the box, so you'll have to do the work to ensure the screen is clean during installation, but then again you'll have seven other tries to get it right if you mess up the first time.
See at Amazon (opens in new tab)
Picking up a screen protector for your Essential Phone?
What accessories are you eyeing to keep your Essential Phone in mint condition? Or do you like to gamble and keep it entirely bare? Let us know in the comments below!
Android Central Newsletter
Get instant access to breaking news, the hottest reviews, great deals and helpful tips
Marc Lagace was an Apps and Games Editor at Android Central between 2016 and 2020. You can reach out to him on Twitter [@spacelagace.
Good idea . . . if you can get the phone . . .

I got my PH-1 today, this phone looks and feels like no other phone I have owned before. I already ordered the 3 pack of tempered screen protector for the PH-1 from Amazon for $8.

Phone looks great, be sure to share your thoughts in the forums!

I did, in the Essential phone review article.

I ordered "Orzero" brand and the fit is horrible. returning them.

Damn. That's what I ordered and just got them in the mail today, still waiting on my phone from Sprint though. That looks awful AF, which is kind of surprising because I bought the same brand for my daughter's Moto G Play and it looked great. But I'm assuming it has more to do with the 2.5D curved edges on the Essential Phone's display, so if that's the case then pretty much no glass out there will look good on this phone. What sucks even worse is there are literally NO cases out there for this phone, except for one Chinese made crap-tastic folio case on Amazon that I wouldn't be caught dead with on my phone. I don't even have the damn thing yet and already am second guessing my purchase. I was so excited for this....

https://photos.google.com/share/AF1QipPLPfDGR7qgCEQGNcHHO7sDgMdZ5VDAVOUe... Orzero brand. wondering if they all suck this bad.

Those edges look craptastic😱

Unfortunately, I had to post an unfavorable review on Amazon about the J&D Tempered Glass Screen Protector Here were my comments: "The screen installed easily but does not stick to the edges of the Essential PH-1 phone. There is an air gap around the entire edge, which really ruins the clean appearance of this beautiful phone!" I read the instruction carefully and installed the screen as directed but the edges of the protector do not seal to the screen. Too bad!

I ordered these, crossing my fingers.
https://www.amazon.com/gp/aw/d/B071XHTLGR/ref=ya_st_dp_summary?ie=UTF8&p...

Do not order any of the tempered screen protectors, they will all have that nasty halo effect around the edges, and it's real bad, the halo takes up one eight of an inch of the entire edge around the phone, it just looks horrible. I am returning mine for a full refund, and have notified Amazon to take them all of their site.
The only ones that will work with this phone are these. And none of them can be ordered until October 5th. https://www.amazon.com/Essential-Protector-LiQuidSkin-Coverage-Anti-Bubb... https://www.amazon.com/Skinomi-TechSkin-Essential-Protector-Anti-Bubble/... https://www.amazon.com/Essential-Protector-DeltaShield-Military-Grade-An...
Android Central Newsletter
Get instant access to breaking news, the hottest reviews, great deals and helpful tips
Thank you for signing up to Android Central. You will receive a verification email shortly.
There was a problem. Please refresh the page and try again.