These are the new HTC One colors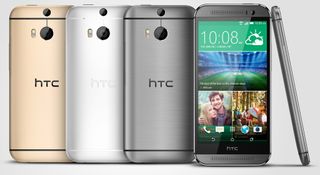 The new HTC One — aka the M8 — comes in not one, not two, but three colors. (And two finishes, actually.) A couple may look familiar, and the third looks pretty stunning.
And, of course, they've all got flouncy names. Consider: Amber Gold, Glacial Silver, and Gunmetal Gray. Otherwise known as gold, silver and gray.
The gold's actually more of a champagne-like color. It's quite subtle, and quite nice. The silver is nearly identical (if not spot-on) to the 2013 HTC One. Both have the same finish as the previous iteration, with just a tad of texture to it.
The Gunmetal Gray is the outlier here. It's done up in a brushed-metal finish that looks quite nice — it's our favorite, if only because it's a little different. But it's also a bit glossy. Not to the point that fingerprints are an issue, but it tends to be a little slick in the hand. It looks great, but we prefer the touch of the gold and silver models.
Have a gander at the gallery.
Image 1 of 13
Android Central Newsletter
Get instant access to breaking news, the hottest reviews, great deals and helpful tips
Wow! You guys sure got these posted quick! Almost like you already knew everything about the phone....... Also, where's the blue one? I really wanted to see a blue one.

Blue one will be a Best Buy exclusive next quarter. And the press got their hands on the M8 a week ago.

I wish they had a solid jet black one.

Agree, I would have enjoyed a Black one. I think that was the best colour from the previous One series. Posted via Android Central App

I agree, I am gutted that they didn't include a Black One. From the previous series the Black was by far the best looking. Posted via Android Central App

I chatted with a Sprint rep yesterday, and she said that the Stealth Black would be available the 1st week of April. I have the black M7, and it's my favorite color as well.

How can you write this and be live-blogging, Phil? Octopus genes? Impressive!

Exporting them as CMYK can be deceiving when viewing the photos in RGB monitors.

I would have bought the new HTC One (current S4 owner) had the phone been designed with less bezel. The side bezel is not horrible (similar to S4/S5) but all the wasted space on the bottom of the phone just ruins it for me. I guess I'm waiting on LG to release the G3 now as the S5 does not excite me either...

Agreed. I thought I was the only one bothered by the huge bezel just for the logo Posted using my Galaxy Note 3 via Android Central App

It's not wasted space. A lot of stuff for Blyth the screen and other things are sitting behind it. Posted via Android Central App

Apple iPhone colors much?

No..... Apple didn't invent gray, silver or gold. Sorry if you've been misguided

Good Lord. Enough with that crap. People accuse Google devices of copying Apple because you also hold Google Smartphones in your hand, and these same clowns defend Apple when it's obvious they've stolen software ideas from Google (pull down notification, holo themes, design language of home screen, etc). Stop digging so deep to try to find ways that someone has stolen the idea from Apple to build a smartphone. Apple wasn't the first and they wont be the last.

Must get my hands on a gold one. **come to butthead**

Buy Ecurrency PerfectMoney, paypal, webmoney, payza, Bitcoin,wgopay,moneybooker at Ecurrecy exchange goo.gl/Q5qxbB

I did love my Red HTC One I got for Sprint when they released it even though I'm using my G2 now... I'm still probably getting one of these but I'd love to see the Red return.

Are you worry about get cash in your Perfect money, Bitcoin or Paypal. Now get upload your belance with wester union goo.gl/Q5qxbB

Damn, that gunmetal is sexy! Whew!

The texture is sand paper-ishon the gun metal. The white scuffs aren't as noticeable.

Now exchange E-currency with western union. Easy and Fast exchange just visit goo.gl/Q5qxbB

Why is it when Apple released a gold phone it was called tacky? Now both HTC and Samsung have gold phones and they are praised for it. That being said, Apple and HTC got it right. Samsung not so much. The gold galaxy s5 is just horrible.

Ecurrency Exchange PerfectMoney, paypal, webmoney, payza, Bitcoin,wgopay,moneybooker at Ecurrecy exchange goo.gl/Q5qxbB

Would you like to sale your Ecurrency in good rate just visit goo.gl/Q5qxbB

this phone is awesome i have the water down version from boost and omg i can only imagine how the real HTC one is, the beats audio makes a hugeeeee difference when playing music. http://www.mobile-phone.pk/htc-mobiles/
Android Central Newsletter
Get instant access to breaking news, the hottest reviews, great deals and helpful tips
Thank you for signing up to Android Central. You will receive a verification email shortly.
There was a problem. Please refresh the page and try again.