That's so millennial of you [#acpodcast]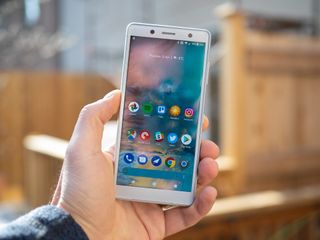 Daniel Bader, Andrew Martonik, and Jerry Hildenbrand dissect Samsung Galaxy S9 battery life and the claim that numerous Android OEMs have been lying about security patches. They also check out the new Sony Xperia XZ2 and XZ2 Compact, the latter of which is the new standard for small phones.
Android TV has been approved by the FCC, signaling an impending launch for Google's streaming dongle. Additionally, LG is trying to regroup with the G7 ThinQ and efforts to offer Oreo support and improved stability for the G6.
Finally, a new Gmail new is launching soon for desktop. How will this trickle down to mobile platforms, and is Google heading towards a one app future?
Listen now
Show Notes and Links:
Samsung's Galaxy S9 battery 'issues' are all about Apple
Android TV dongle passes through FCC with giant Google logo
Numerous Android OEMs discovered to be lying about security patches
Sony Xperia XZ2 and XZ2 Compact U.S. pre-orders begin April 13
The LG G7 launch needs to be perfect, but LG has a dismal track record
LG's new 'Global Software Upgrade Center' promises Oreo for the G6 by end of April, improved stability
A new Gmail design is launching 'in the coming weeks' with fresh features
This is an early look at Gmail's new design for desktop
Sponsors:
Thrifter.com: All the best deals from Amazon, Best Buy, and more, fussily curated and constantly updated.
GameStash: Hundreds of awesome games on your Android phone. Try it free for 14 days!
Yes! As always, the best podcast on the internet, regards, Richard U.K

The download link in the app still isn't working. Hasn't for months.

Works fine in podkicker and Pocket cast.

In the mobile app - podcast section - that section hasn't been updated in awhile - months. Link in the article works though...
I use Podcast Addict...

Me too (I'm actually listening to this episode now). My only guess is that they don't want people listening to podcasts through the app anymore.

Just use your favourite browser when searching for/downloading the podcasts in android central.

Judging by the comments, Millennial sounds just about right!

What does that even mean? Are you just typing high again?

He's obviously referring to the dozens of comments about avocado toast and fidget spinners in this thread.

Til that you can just all Google home to play the podcast, and it can skip ahead by x amount of minutes. No more casting it for me lol.

While I agree that Android TV has yet to really take off. There is a huge following of people that use Kodi and don't necessarily want an Amazon fire HD to use it. For years I was using the Nexus player but it's older cpu and 1gb of ram started to show it's age. I'm currently using a 70 dollar Chinese android box and am anxiously waiting for Google to release a follow-up to the Nexus player. I don't think I'm alone when I say that if Google released a 100.00 pixel player running stock Android TV it would fill a void for a niche audience that doesn't use common streaming services and need local decoding. On a side note with control over HDMI you can use your TV or sound system remote to control almost every device connected to it so the whole question of lack of remote features or teaching your family to use a new one goes away. Also yatse allows you to voice search and play any TV show or movie in your Kodi library from an app on your phone.
Android Central Newsletter
Thank you for signing up to Android Central. You will receive a verification email shortly.
There was a problem. Please refresh the page and try again.