Samsung addresses battery issues with Exynos-powered Galaxy S9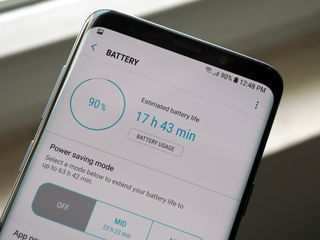 Depending on where you live, you've got access to one of two variants of the Galaxy S9/S9+ – one that's powered by Qualcomm's Snapdragon 845 processor and another that uses Samsung's own Exynos 9810 chipset. Reports came out earlier this month highlighting the Exynos version's considerably worse battery performance compared to the Snapdragon one, and since then, users have been demanding answers from the company.
A little less than two weeks since a light was shed on the matter, a Samsung spokesperson commented on it, saying –
In other words, Samsung's saying that the Exynos Galaxy S9 is fine and that the shorter battery life is a non-issue.
Daniel recently wrote a great explainer highlighting why the Exynos chip is delivering consistently poor longevity, and it essentially boils down to the 9810 being incredibly fast but up to 50% less power efficient when compared to other mobile processors.
As noted in that piece:
With all that said, it doesn't sound like Samsung's rushing to come up with a fix for the Exynos variant of its latest phone. People who live in regions where that's the version sold are simply out of luck this time around, and those with the Snapdragon model can gloat about their longer endurance.
If you have an Exynos Galaxy S9/S9+, what do you think about Samsung's stance here?
Get the Android Central Newsletter
Instant access to breaking news, the hottest reviews, great deals and helpful tips.
Joe Maring was a Senior Editor for Android Central between 2017 and 2021. You can reach him on Twitter at @JoeMaring1.
Well, this sucks for the rest of the world. :(

I have exynos version here in India S9+ 128gb and get very very good battery life from 1.5 days to 2 days depends on my use....In fact double of what I use to get with my Note 8

I'd like to complain about this as i live in Europe, i hope i'll complain when the price drops LOL, for the moment, I am pretty happy with my Moto Z Play :)

I'm getting terrible battery life and hot spot issues with Oreo on my S8+. The battery drains noticeably faster doing the same things I was with android 7.0, and I have to manage the background processes more than before. If I create a hot spot and drive a couple miles, the connected device won't get a good connection speed. However, if I turn the hot spot off and on everything fixes itself. I've had this issue in different areas and in different states, so I don't think it's a regional issue or a carrier issue. Yes, I have done a factory restore, and the issues persist. I wish I could rollback to 7.0. It was much better, and there is nothing worthwhile in Oreo that 7.0 didn't have. Games load faster on Oreo, but I'll sacrifice a few seconds to get a more reliable device.

You can roll back to 7.0 nougat. Go to Sammobile, go to the firmware section, search for your model number and download the latest 7.0 firmware for your phone on your carrier. Use the latest Odin to flash. Follow the directions exactly as they are on Sammobile. There's a video too that you can watch. It's real easy. Just backup all of your data first. I rolled back shortly after upgrading to Oreo and realizing how terrible it is. Couldn't be happier.

After you upgraded to Oreo, did you factory default phone? It's highly recommended to default. Regardless, you will be required to default if you revert back to Nougat. No harm in trying a factory default of Oreo before you commit to the downgrade.

Did you even bother reading his comment? He answered that question already. And I've never heard someone say "factory default" before...

My guess is they'll secretly roll out some future update to mitigate as much of the issue as they can. And, admit to nothing.

Well they better be, because Im tired with the battery life here, been savin up for 2 years to get this phone, but that answered from Samsung is ruined my mood, I'm F done, i even felt regret now!

One more reason never to buy a Samsung phone again

I'm getting much better battery life than I did with my S8+

Andrei is fixing it & Samsung also made a rather big source update recently.

Sorry Lazar, what do you mean?
I read the article of Andrei, but right he is not a developer at samsung (I think)
From the statement, i fear the samsung aren't interested in changing the scheduler.. or i'm missing something?
Are they optimizing the scheduler?

Never buying their pile of **** again. Have had enough of their "our valued customers" crap.

Would have been nice to mention who has what chip in the article or a way to discern.