Samsung Galaxy S9 battery problems, explained: Exynos vs. Snapdragon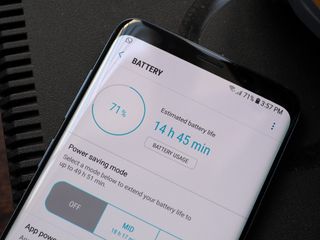 New phones should have better battery life than their predecessors. That's a given, and part of the unspoken rule of technological progress. And yet in recent years that hasn't been a given. Along the way, we've seen blips — Snapdragon 810, anyone? — on the way to greater efficiency.
This year, the culprit is Samsung's Exynos 9810, the ultra-fast chip that ships with all Galaxy S9 and S9+ units outside of the U.S. Samsung's new custom M3 cores inside the phone are clocked extremely high, up to 2.7GHz when only one of the four performance cores is engaged, and that, according to an excellent overview by AnandTech, ramps up the voltage (and the heat output), causing it to churn through the Galaxy S9's battery like a raccoon through garbage.
Technically, there is nothing surprising about this — the Exynos 9810's M3 cores are extremely powerful, besting Qualcomm's proprietary Kryo cores by a large margin in synthetic tests like Geekbench. But Samsung appears to have failed the task of balancing real-world performance with device longevity, and given Android's scalability, such theoretical performance advantages are not always borne out in the mundanities of daily tasks.
In other words, it looks like the Exynos 9810 is a battery dud. Here's what AnandTech's Andrei Frumusanu had to say about the chip:
To summarize, the chip used in the majority of the world's markets is around 20% faster than its predecessor, but in some cases over 50% less efficient. This isn't theoretical, either:
Separate tests from Strategy Analytics, an independent research firm based in the UK, show that AnandTech's results are not unique: the Exynos Galaxy S9 measured a 25% battery disadvantage compared to SA's leader, the upcoming Sony Xperia XZ2 (though it must be said that Sony commissioned the test).
The reason for Samsung's poor showing isn't because the Exynos 9810 is a bad chip, or even that it's inherently power-hungry; it appears that Samsung merely programmed the core scheduler poorly, resulting in clock speeds and voltage settings that aren't appropriate for the task at hand. Again, AnandTech:
To (mis)use a car analogy, the S9 has been programmed to use the wrong gears for the task at hand, burning fuel at times when the car could be cruising, and puttering along on a single cylinder when two or more are needed. This is theoretically fixable with a firmware update, but Samsung must have done extensive testing of the Exynos-based S9 before shipping it to consumers, and this looks really bad, especially when it is also shipping U.S. and Canadian models with the extremely efficient, altogether improved Snapdragon 845.
In a recent essay, my iMore colleague, Rene Ritchie, made a good point about Samsung's divided focus:
He is referring to the fact that Samsung Electronics builds the same phone using system-on-a-chip components from two companies: Samsung LSI, which operates independently from its parent company, and Qualcomm, which designs the Snapdragon 845. There are a number of reasons for this division, and some would argue that it's Qualcomm's fault that Samsung is in this position at all (you can catch up on that story on your own time), but the reality is that Samsung's attention is divided, and it may not have devoted the necessary resources to properly optimizing the Exynos-equipped S9 to achieve the same combination of performance and battery longevity that customers expect.
One can also safely make the assumption that a company like Samsung LSI is trying to bottle the same kind of magic that Apple has achieved with its A-series chips, which still dominate many of the same synthetic benchmarks that Samsung attempts to dominate by ramping up peak speeds. Apple's silicon advantage isn't nearly as cut-and-dry as many Apple pundits would like to present it — Android's silicon flexibility requires being able to scale to levels of performance that Apple has never needed to achieve with iOS — but there's no question that on a high level, Apple's in-house silicon team is ahead of the competition. AnandTech again:
Qualcomm, on the other hand, appears to have another successful product with the Snapdragon 845: it's slightly faster than its predecessor without regressing in efficiency, so the U.S. variant of the S9 appears to offer slightly better battery life than the S8. The Galaxy series has never excelled in uptime, but there's never been such a gulf between Samsung's two versions, until now.
Leaving aside the complicated technical aspects of the story, this is nothing but a bad-news story for Samsung, as it wants nothing more than to make customers believe they are buying the same phone wherever they happen to live. Samsung goes out of its way not to specify the processor in the Galaxy S9's marketing, and for good reason. Many of Samsung's millions of customers will know the differences, and subsequent advantages or disadvantages, of the two SoCs, but most will not.
What Samsung risks, however, is providing an experience that those unwitting owners would consider sub-optimal, with battery life less than its last-generation product, and a gaping maw of real-world battery life tests between the U.S. and the rest of the world.
Let's hope a fix is in the works.
Get the Android Central Newsletter
Instant access to breaking news, the hottest reviews, great deals and helpful tips.
Daniel Bader was a former Android Central Editor-in-Chief and Executive Editor for iMore and Windows Central.