Samsung Galaxy S9+ tested: Exynos 9810 vs. Snapdragon 845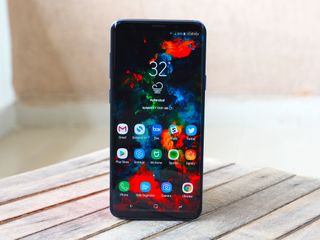 From the Galaxy S7 onward, Samsung has offered two variants of its flagships — a model powered by Qualcomm's Snapdragon platform for the U.S. and China, and a global variant featuring the manufacturer's in-house Exynos chipset. That's the case this year as well: the Galaxy S9 and S9+ sold in the U.S. and China are powered by Qualcomm's latest Snapdragon 845, while the models sold in South Korea, UK, India, and other global markets are running the Exynos 9810.
Traditionally, there haven't been a lot of differences between the two variants — the Exynos 8895-powered Galaxy S8+ had marginally better battery life over its Snapdragon sibling, but there wasn't a performance differential. With my unit powered by the Exynos 9810, and my colleague Andrew Martonik using the Snapdragon variant, it's time to see how the two variants differ.
Hardware
There isn't a whole lot to separate the Exynos 9810 from the Snapdragon 845 when it comes to the manufacturing side of things, as both chipsets are built on Samsung Foundry's second-gen 10nm node. The Exynos 9810 features Samsung's third-generation custom core, the M3, along with a Mali-G72 MP18 GPU. The Snapdragon 845, meanwhile, sees the introduction of the Kryo 385 cores, along with the Adreno 630 GPU.
As is to be expected, both chipsets offer increased performance, with Samsung touting a 2x increase in single-core performance compared to last year's Exynos 8895, as well as a 40% uptick in multi-core performance. That's largely due to the M3 cores, which are now clocked at 2.90GHz, a significant bump from the 2.3GHz M2 cores last year. The configuration of the cores itself hasn't changed — there are four M3 high-performance cores that go up to 2.90GHz, backed by four energy-efficient Cortex A55 cores at 1.90GHz.
The second set of cores are also significant, as they're the long-awaited sequel to the Cortex A53. The A53 has been a mainstay on budget phones and flagships alike for a few years now, and the A55 delivers more performance while consuming less power.
The uptick isn't as radical when it comes to the GPU side of things. Like its predecessor, the Mali-G72 MP18 is based on ARM's Bifrost architecture, and introduces several tweaks and optimizations to eke out more performance. This year's GPU has 18 cores (hence the MP18 denomination) whereas the one seen in the Galaxy S8+ last year, the Mali-G71 MP20, had 20 cores. The core frequency hasn't seen a drastic uptick either — the G72 is clocked at 572MHz, just 30MHz more than the G71. As a result, the overall graphics performance is marginally better than last year.
With the Snapdragon 845, Qualcomm is also sticking to an octa-core layout, with four high-performance cores joined by four energy-efficient cores. This year we have the Kryo 385 core, which is a semi-custom design that's based on two of ARM's cores.
The heavy lifting is done by the 2.80GHz core based on the Cortex A75 — ARM's latest offering — and the energy-efficient tasks are handled by a 1.77GHz core based on the Cortex A55. As for the GPU, Qualcomm is touting a 30% uptick in performance from the Adreno 630 over last year's Adreno 540.
Benchmarks
Synthetic benchmarks give us a high-level overview of where the two chipsets differ. Based on the hardware, the Exynos 9810's M3 CPU should outperform the Snapdragon 845, whereas the Adreno 630 should have no issues pulling out ahead of the Mali-G72. Let's see if that's indeed the case. I've also included scores from the Exynos 8895-powered Galaxy S9+ to see how things have changed over the course of a year.
AnTuTu
AnTuTu Benchmark v7.0.4
| Device | Overall score |
| --- | --- |
| Galaxy S9+ (Snapdragon 845) | 263494 |
| Galaxy S9+ (Exynos 9810) | 235913 |
| Galaxy S8+ (Exynos 8895) | 184806 |
AnTuTu Benchmark v7.0.4
| Device | CPU | GPU | UX | Memory |
| --- | --- | --- | --- | --- |
| Galaxy S9+ (Snapdragon 845) | 88377 | 107305 | 58657 | 9155 |
| Galaxy S9+ (Exynos 9810) | 81915 | 94881 | 50681 | 8436 |
| Galaxy S8+ (Exynos 8895) | 58957 | 77255 | 44139 | 4455 |
AnTuTu isn't a reliable indicator of how good a device is to use on a day-to-day basis, but it maintains a leaderboard that gives us an idea of where a particular phone ranks in the overall scheme of things.
As you can make out from the scores above, the Adreno 630 is some way ahead of the Mali G72, breaking the 100,000 mark on AnTuTu.
Geekbench
Geekbench 4.0
| Device | Single-core | Multi-core |
| --- | --- | --- |
| Galaxy S9+ (Snapdragon 845) | 2443 | 8359 |
| Galaxy S9+ (Exynos 9810) | 3668 | 9006 |
| Galaxy S8+ (Exynos 8895) | 1956 | 6624 |
Geekbench 4.0 includes CPU tests that are modeled after real-world usage, allowing you to get an overview of how a processor handles day-to-day tasks, including multi-core performance.
Here that we get to see the Exynos 9810 pull ahead of the Snapdragon 845, both in single-core and multi-core performance.
Basemark
Basemark OS II
| Device | Overall | System | Memory | Graphics | Web |
| --- | --- | --- | --- | --- | --- |
| Galaxy S9+ (Snapdragon 845) | 4145 | 7791 | 3561 | 7958 | 1337 |
| Galaxy S9+ (Exynos 9810) | 3165 | 6042 | 2388 | 6371 | 1097 |
| Galaxy S8+ (Exynos 8895) | 3045 | 4934 | 2474 | 6219 | 1135 |
Basemark OS II is a system-level benchmarking tool that gives a high-level overview of a device's performance. The suite consists of an array of tests that gauge the system, internal and external memory, graphics, and web browsing performance.
Basemark Web 3.0
| Device | Score |
| --- | --- |
| Galaxy S9+ (Snapdragon 845) | 322.11 |
| Galaxy S9+ (Exynos 9810) | 216.80 |
| Galaxy S8+ (Exynos 8895) | 198.96 |
Basemark Web 3.0 offers a set of over 20 web benchmarks that measure browser performance and graphics, including page load responsiveness, along with CSS, and HTML5 capabilities.
GFXBench
GFXBench 4.0 Manhattan 3.1 (ES3.1)
| Device | FPS |
| --- | --- |
| Galaxy S9+ (Snapdragon 845) | 32 |
| Galaxy S9+ (Exynos 9810) | 24 |
| Galaxy S8+ (Exynos 8895) | 23 |
GFXBench 4.0 1080p Car Chase Offscreen (ES3.1)
| Device | FPS |
| --- | --- |
| Galaxy S9+ (Snapdragon 845) | 35 |
| Galaxy S9+ (Exynos 9810) | 28 |
| Galaxy S8+ (Exynos 8895) | 25 |
GFXBench 4.0 T-Rex (ES2.0)
| Device | FPS |
| --- | --- |
| Galaxy S9+ (Snapdragon 845) | 60 |
| Galaxy S9+ (Exynos 9810) | 60 |
| Galaxy S8+ (Exynos 8895) | 58 |
GFXBench tests the graphics performance of a device, and we see the Adreno 630 once again edging out the Mali G72.
3DMark
3DMark Sling Shot Extreme (ES3.1)
| Device | Overall | Graphics | Physics |
| --- | --- | --- | --- |
| Galaxy S9+ (Snapdragon 845) | 4587 | 5078 | 3428 |
| Galaxy S9+ (Exynos 9810) | 3282 | 3614 | 2484 |
| Galaxy S8+ (Exynos 8895) | 2145 | 2286 | 1764 |
Chrome
Google Octane 2.0
| Device | Score |
| --- | --- |
| Galaxy S9+ (Snapdragon 845) | 15359 |
| Galaxy S9+ (Exynos 9810) | 12827 |
| Galaxy S8+ (Exynos 8895) | 9707 |
JetStream 1.1
| Device | Score |
| --- | --- |
| Galaxy S9+ (Snapdragon 845) | 88 |
| Galaxy S9+ (Exynos 9810) | 57 |
| Galaxy S8+ (Exynos 8895) | 53 |
Kraken 1.1
| Device | Total in ms (lower is better) |
| --- | --- |
| Galaxy S9+ (Snapdragon 845) | 2414 |
| Galaxy S9+ (Exynos 9810) | 3655 |
| Galaxy S8+ (Exynos 8895) | 3506 |
Which is better?
Hardware is just one part of the story with these two chipsets, as the way the software is set up makes a lot of difference as well. With Samsung Experience 9.0 atop Android 8.0 Oreo, the overall experience is similar between both devices.
I haven't faced any slowdowns on my Exynos Galaxy S9+ even while playing visually-intensive games, and in his review, Andrew said that the Snapdragon 845 is "far more powerful than anything we need in a smartphone today:"
Regardless of whatever model you end up with, you're getting a phone with top-notch performance.
Harish Jonnalagadda is a Senior Editor overseeing Asia at Android Central. He leads the site's coverage of Chinese phone brands, contributing to reviews, features, and buying guides. He also writes about storage servers, audio products, and the semiconductor industry. Contact him on Twitter at @chunkynerd.
I am curious if there is difference in the power efficiency (battery life) of the two devices. I am also guessing that the Exynos version has no love for Verizon (CDMA)?

I don't think the exynos can be used with CDMA networks!

You need SD for CDMA. Qalcomm owns the majority of CDMA technology patents. It just costs too much to buy the licenses.

It's not a requirement to use a Snapdragon chip to get CDMA, but it makes it far easier for the company to do so.

CDMA networks in Canada were shut down January 31, 2017. It's a non-issue for premium smartphone s which use high speed LTE technology. CDMA is disappearing in America too... But it's one of a couple of reasons Samsung deals with Qualcomm in America. Part of the deal is Samsung will be first to receive 5G LTE modems in upcoming phones from Qualcomm.

Thank you for this review. I'm surprised snapdragon 845 is the better chip. Qualcomm did a good job after all. Not sure why they are in a position of takeover by another company. I thought last year it was the other way around.

Another year where Samsung can't figure out how to pair a decent GPU with exynos....and Snapdragon just can't match the raw speed of Exynos...

Mali GPU's are quite good, it's just that they have pretty poor drivers. Anyway, as a consumer you won't be able to tell a difference unless you frequently run emulators.

SD is better for gaming (GPU), while Exynos has been better for battery life (CPU). Which is why I always plan on getting an unlocked Exynos version to use in the U.S. on T-Mobile if I should ever buy Samsung devices, since I don't game.

Before you pull the trigger on the Exynos version, know that it does not support T-Mobile 600mhz Band 71.

Is the battery life thing confirmed?

It is never a huge difference. Also benchmarks for battery use are subjective and not real life applicable in some ways..And if you do not game just tweak the UI in ways to save the same battery life as the Exynos. I would rather have snappier interaction with the SD unit and have almost the same battery life than to sacrifice that and LTE coverage while using T-Mobile.

I get identical battery life to a year old u11.

Nice comparison review.
Have you done any speed test (data) between the 2 devices?
The snapdragon version in theory should achieve faster download and upload speeds compared to the exynos version (especially in T mobile)...but nobody has tested to see if this is real.

Thanks for the article... I was curious about this. Wonder if Phone Buff will do one of their app speed tests.

Thanks for this article, your knowledge is very welcomed! Keep it up!

Battery life on my new S9 with the 845 has been exceptional with my usage (heavy business email to the BlackBerry HUB, call and messaging communications and some news) I do not game on my mobile or stream movies. I get a day and a half to 2 days. I am on T-Mobile here in a major city in California and signal strength has been full bars everywhere.

Is this battery life you're reporting from a regular S9 or S9+?

I've seen quite the opposite.

Usage of course varies. I have the S9, not the plus, I optimized performance with the mid option and I close all apps from running in the background. My phone was on for 14 hours and had 3 hours SOT and handled all my business communications and calls. (I own an appraisal business) and my phone has 70 percent battery left. If I could attach a screen shot it would validate. Usage patterns vary but this is my real time data. My former S7 would have been @ 50 percent in similar usage. Again I do not game, stream video or use Facebook, Instagram, etc. I do utilize Twitter for some news channels.

No chip can be more powerful than what's needed. Things change, apps change, what's needed now may be so-so in a couple of years.

How's the power performance between the 2? Which one is more efficient? Any tests out there for that?

BUT how are the DACs in both of them? Forgot those comparisons.

Such a flawed article... Embarrassing really... It is well understood Samsung is frustrated they are locked into a CPU deal with Qualcomm because their Exynos chips have superior video performance. Where the Qualcomm deal payoff exists is that Samsung will be offering the first phones with 5G LTE modems... At least one product cycle faster than all other competitors, thus having an early marketing advantage, even if 5G networks won't be ready or exist yet. The Exynos 9810 supports 4K UHD video at 120 frames per second. The Qualcomm Snapdragon 845 does not do120 fps 4K video...

This site tells me not to put too much into benchmarks then does a comparison using benchmarks 😕

Other sites beat this site to thorough benchmark comparisons last month... This site knew they were beat,and thus chose not to repeat.

Has there even been an official-ish reason why the they do the two different SOC's for US vs the rest of the world?

Because Samsung signed a 25 year contract to Qualcomm to make its US chips.

Access to chips. Qualcomm was the best solution for the all but retired CDMA network technology. Samsung will be first to get Qualcomm 5G LTE modems. But yeah, Qualcomm CPU chips are now inferior to what Samsung produces.... Qualcomm 845s can't do 4K UHD video at 120 frames per second... Samsung Exynos can.

Before I read this article, I predict that the Exynos 9810 will be more powerful than the Snapdragon 845.

If I got the s9 plus, I'd go for the snapdragon variant simply because it still allows call recording while Samsung's home made chipset have been intentionally set to block the possibility. Why? Because of law.. never mind that the laws differentiate between countries and that even the phones that are designated for those countries where it's perfectly legal to record a conversation where you're one of the sides - it's still blanket-blocked..
What's the deal, Samsung? Is this the "freedom" you afford your customers? It started with the non removable battery in the name of unibody design (I call BS on that as a removable battery is still possible via slotting), and seems to be slowly drifting towards Apple like designs. It's a sad, sad day.
Android Central Newsletter
Get the best of Android Central in in your inbox, every day!
Thank you for signing up to Android Central. You will receive a verification email shortly.
There was a problem. Please refresh the page and try again.