TCL brings Android TV sets to the U.S. alongside more popular Roku options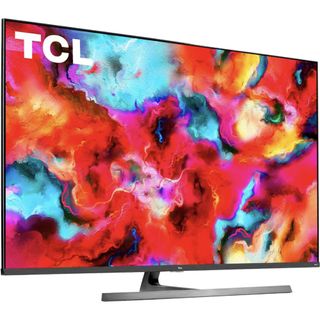 (Image credit: Best Buy)
What you need to know
TCL has partnered with Google to bring Android-powered smart TVs to the U.S.
TCL already sells popular smart TVs running the Roku platform.
The company has drawn closer to Google in the past few months, launching its first own-branded Android-smartphones as well.
TCL today announced that it will be bringing TVs with Android TV to the United States. It's a boon for the platform as TVCL has primarily sold TVs with Roku built-in. But TCL has expanded its partnership with Google in the past few months, launching the affordable TCL 10-Series of smartphones, expanding this to Tvs makes sense.
Google's Shalini Govil-Pai, Senior Director of Product Management for Android TV, said in a press release on Friday:
TCL may have recently branched out into phones, but TVs are one of its stronger suits, and more choice in the Android TV market helps. TCL currently sells two TVs in BestBuy, ranging from 32" to 42". They'll set you back $129 (opens in new tab) and $199 (opens in new tab) respectively.
Get the Android Central Newsletter
Instant access to breaking news, the hottest reviews, great deals and helpful tips.
I predict people buying this and regretting it and it taking it back for the Roku version. For example I went to a best buy set on a TCL Roku TV and the the person proced to tell me TCL TV's are junk and I'd be better off with something else. Picked up a Sony Android TV and I'm kicking myself for not taking it back. Android TV is nothing more than a buggy mess.

I agree, Roku is the way to go and the most neutral platform where you get most of the support from major streamers. The only thing Roku is missing right now is HBO Max support which it will eventually get. Android TV on the other side it's slow and buggy compared to Roku.

I have been using Android TV on various devices since 2014. It has never at any point been a "buggy mess." There were real issues with the once hard to figure out and navigate interface (which have long been fixed) and a lack of apps (which have long gotten much better to the point where all the "major" apps that are also on Fire TV and Apple TV and main smart TV platforms are now on Android TV which trust me WAS NOT the case as recently as 2-3 years ago) but the platform has never at any time been buggy or unreliable from a software perspective. Hardware? Another story entirely. From Razer refusing to pay Netflix for DRM rights and not adding providing bluetooth audio support to the Nexus Player having 1 GB of RAM, no Ethernet or even full sized USB ports and an underpowered Intel CPU to Xiaomi's Mi Box actually costing much more than the Amazon Fire Stick while being inferior in almost every way ... that has been the problem. No one has had these problems with the Nvidia Shield, the only Android TV devices that have actually consistently had hardware good enough to not undermine the software. (The Ematic Jetstream Android TV box is pretty good too.) I have heard that most Android TV smart TVs have the basic architecture as smart TVs designed to run much less capable operating systems like lgOS, Tizen and Roku OS. Meaning they don't have enough memory or a powerful enough CPU to run Android TV. (Or at least Android TV today. Android TV when it was first launched in 2014 - right after Android went from being a 32 bit OS to a 64 bit one - was pretty bare bones). So if these TCL devices aren't going to have twice as much RAM and a much better CPU than their Roku OS counterparts, yeah the user experience is going to stink. It is why it is better to buy a "dumb" TV and save your money for a TV box. So long as the TV box costs less than a decent Android tablet - and it should as it would have the same SOC and RAM stick plus not needing a rechargeable battery or a screen should make it CHEAPER - it shouldn't be a big deal.

Yes the support is much better than a couple years ago and I also own a couple of Nvidia shields (first Gen) and they're still running strong, but we're talking about TV's here which yourself just said it, Android needs more resources than Fire or Roku and that translates to a buggy experience in low end sets which TCL makes tons of. So the experience/support that the Shield provides its not what you get on your typical Android TV.
In another area where Android TV does NOT excel is in app support where Roku really shines which I think it is the most supported platform along with maybe Apple TV, hell even Roku has an app for it!

"TCL may have recently branched out into phones, but TVs are one of its stronger suits" TCL is probably going to be the first company to even try to market an affordable 5G phone in America, even though the Snapdragon midrange 5G chips and the MediaTek 5G chips have been available for months. (I refuse to acknowledge the Motorola Edge+ which costs more than the LG V60 despite the latter having two screens and a flagship chip. And LG shouldn't get too much credit either, because they are using the LG 768G in a very expensive device that will probably only be sold in South Korea. Samsung more of the same: when they FINALLY bring their A51 5G device to America, it will probably cost $600 despite the midrange chip, and no they won't have the "having to use another board socket for the separate 5G modem drove up the cost" excuse.) Other than the TCL device, we won't get a 5G device that costs less than $500 in the United States until AFTER Apple sells about 50 million 5G iPhones in 4th quarter 2020. It shows how absurd they are. Yes Google, this includes you too. There is no reason not to use the 765/768G in the Pixel 4A, especially since you are delaying it. Even if you put it in the Pixel 5, it is going to come out AFTER Apple launches their own 5G devices that they are going to sell a ton of. But hey, these are the same people who would rather put terrible Intel M3 and I3 processors in Chromebooks instead of the MediaTek Dimensity 800/820 which have 5G modems built in, cost about the same, perform as good or better as those cheap dual core Intel chips, are MUCH better for Android apps and even support Linux. But hey, they aren't getting good design advice from the "we want to prove that we are better at software than Apple" Google poseurs on this so you really can't blame them.

The Edge+ has the same snap 865.. Also MediaTek has been terrible at supporting and releasing drivers for their chips. Don't blame the OEM's who are hesitant to use an unproven chip.