The T-Mobile Sprint merger is approved and is finally going ahead [Updated]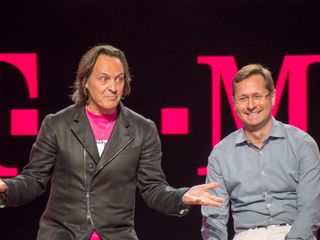 (Image credit: Android Central)
What you need to know
Federal judge set to approve T-Mobile / Sprint merger.
The ruling comes after more than a dozen states sued to block the merger.
The new T-Mobile would have more than 100 million customers when combined.
Updated February 11, 2020: As expected, the merger of T-Mobile / Sprint has been approved. In his ruling, Southern District of New York judge, Victor Marrero, had this to say about his decision,
The leading attorney for the opposition, California Attorney General Xavier Becerra, issued this statement after the ruling.
FCC Chairman Ajit Pai also tweeted out his approval of the decision, saying, "This is a big win for American consumers."
I'm pleased that a federal court has approved the @TMobile/@sprint transaction. Post-merger, the company has committed to bringing #5G to 99% of Americans within 6 years. The deal will also put critical mid-band spectrum assets to use. This is a big win for American consumers. pic.twitter.com/2ofEqxmDBqI'm pleased that a federal court has approved the @TMobile/@sprint transaction. Post-merger, the company has committed to bringing #5G to 99% of Americans within 6 years. The deal will also put critical mid-band spectrum assets to use. This is a big win for American consumers. pic.twitter.com/2ofEqxmDBq— Ajit Pai (@AjitPai) February 11, 2020February 11, 2020
After nearly two years in regulatory limbo, a federal judge is slated to approve the T-Mobile / Sprint merger, overturning state-level lawsuits that were separately filed in June 2019 and setting the stage for the largest telecommunications merger in years. The announcement is expected to be made early Tuesday, February 11 — the same day as the Samsung Galaxy S20 launch, where 5G is likely to be front and center during the event.
The new T-Mobile, as it will be called, will have a combined customer base of over 100 million, still below AT&T and Verizon, but positioning the company as a much stronger contender in the race to own 5G in the U.S.
While the judge's conditions for the approval have not been shared, the ruling isn't expected to dramatically alter the core tenets of the Department of Justice's demands to the two companies, whereby Sprint would sell Boost Mobile, its largest prepaid subsidiary, to Dish Network, and T-Mobile would be required to provide unfettered MVNO access to Dish for seven years as the satellite company builds out its own 5G network.
T-Mobile also promised federal regulators that it would not raise prices for existing customers for at least three years, and that it would offer several generous plans, such as a $15 prepaid plan, free service to first responders, and a promise of $10 billion in funding towards providing broadband access to rural and low-income parts of the country.
The combined companies say that they will focus on building out the strongest 5G network in the country, combining T-Mobile's low-band and millimeter-wave spectrum with Sprint's vast acreage of mid-band spectrum. Sprint's spectrum is particularly valuable, since it perfectly fits the mold for 5G service, offering signals that traverse long distances on channels wide enough to carry vast amounts of data. T-Mobile's low-band 600Mhz 5G network has been criticized for performing at near the same levels as its existing LTE network.
The merger announcement comes just months before T-Mobile CEO John Legere is set to retire and pave the way for Mike Sievert, the company's current President and COO. Whether the ruling can be delayed further by state-level opponents of the deal remains to be seen, but this federal ruling is likely to be the last hurdle the two companies have to face before finally going ahead with what it intended to do back in April of 2018.
Get the Android Central Newsletter
Instant access to breaking news, the hottest reviews, great deals and helpful tips.
Daniel Bader was a former Android Central Editor-in-Chief and Executive Editor for iMore and Windows Central.
Just hope mid-band 5G n41 can be deployed nationwide very soon.

I am a current Metro by T-Mobile customer. Having said this, this must be an indictment on the quality of Boost Mobile and to a lesser extent CDMA, as it's the one to be jettisoned to Dish Network. I don't have a problem with the merger as most industries are oligarchic in nature and this allows a check on AT&T and Verizon.

Not really. Dish will likely sunset Sprint's CDMA.

How will Google FI be affected?

My guess is Google will play TMobile against dish. Google has the cash to assist dish build out their network and dish is highly leveraged. But who knows how committed Google is to Fi.

Dish's initial network will be as an MVNO of the new T-Mobile. 🤣🤣

Likely unaffected. Probably.

What's going to happen to Metro By T-Mobile

Adds the same stuff the main company will benefit from

If I'm not mistaken and remember correctly, I think both companies have sell those off, as part of the deal. Then again, that may have change since they first talked about the possibility of the merger happening.
So Boost and Metro would need to be sold.

Only Boost is being sold (to Dish).

That would play interesting too, as the original owner of Boost wants to buy the company back.

I wonder how this is going to work with one GSM and the other CDMA??

Cdma will be repurposed like how metro by tmobile used to be to gsm

Yes. This is probably correct.

you mean metro used to be CDMA and now GSM since they run on the T-mobile network. There CDMA was turned into more LTE

Wow guess this is a banner day for TMobile. I kinda hate to see Sprint being absorbed and disappearing. They provided cheap cell service to a lot of lower income people and they have tried so hard to compete the last few years. It's the end of an era. Farewell.

In a sense, yes, but if memory serves part of T-Mobile's commitments includes a very low cost option that should be beneficial to that segment. Plus, had the merger not been approved, those customers would most likely have found themselves being force to seek other options regardless in the next few years as Sprint was well down what was almost certainly an irreversible path towards being sold for parts (yes, T-Mobile made a huge turnaround, but their situation wasn't as dire and the general wireless landscape and path are far different today).

Finally yes took long enough

Let's see how many of their claims turn out to be a lie like AT&T/Timewarner. Once it is approved there is nothing that can or will be done if everything they were saying was a lie.

All their claims will be lies, as is what always happens with these BS mergers.

Yay, get ready for prices to go up, everyone.

At least not for 3 years. Plus everyone talks about TMobile prices, but all 4 are closely aligned with prices now

In the end it's good for both companies. It allows Sprint without going out of business officially to be rolled into another company. Hopefully T-Mobile commits to what they promised with bringing in jobs.

I hope this can improve the coverage quality.

How fast will your cell phone bill go up now?

3 years without being able to raise pricing for existing customers, so... not at all for quite some time.

Lol yeah just wait until this is done and the ink won't even be try and prices will go up. Just like with every merger.