The Sprint / T-Mobile merger is complete, so what happens now? An FAQ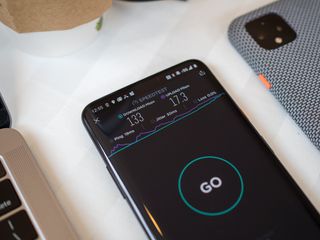 (Image credit: Andrew Martonik / Android Central)
Despite all of the opposition and debate, T-Mobile has finally completed its purchase of Sprint. Whether this ends up being a good thing for the customer remains to be seen, but in the short term, the combined company under the T-Mobile name will be a real competitor for AT&T and Verizon, especially when it comes to 5G
Low-band and Mid-band 5G
(opens in new tab)
A phone that works with both of T-Mobile's sub-6 bands
The Samsung Galaxy S20 is one of the best options to try out 5G thanks to great network compatibility and a huge battery.
The corporate side
A long and slow ride
The technology
Dish Network
Should we be excited?
The corporate side
Is the deal done?
As of April 1, 2020, the deal is done and T-Mobile has completed its purchase of Sprint with John Legere stepping down as CEO to make way for Mike Sievert. Sprint is now officially a T-Mobile company and the two brands are joined under the name "The New T-Mobile" and will trade under the "TMUS" symbol. John Legere was initially planned to remain as CEO until April 30 but is moving forward ahead of schedule.
Is Sprint Gone?
T-Mobile estimates that it will take three years to fully complete the network integration and points to its successful purchase of Metro PCS as an example of how smoothly things will progress. The Sprint brand is gone with even Sprint's website redirecting to T-Mobile. For now, many people will remain on Sprint's network for quite a while but T-Mobile revealed in early August (opens in new tab) that more than 10% of Sprint postpaid customers were on the T-Mobile network.
For better or worse, your Sprint service and devices likely won't see any significant change for quite some time with Sprint stores even staying as they are for the time being. The plan is that you could walk into any store and receive great service no matter which carrier you signed up with.
What is 5G for Good?
5G for good is an initiative being pushed by T-Mobile that would use the power of the T-Mobile 5G network for the greater good. The greater good. With three parts, 5G for Good consists of the Connecting Heroes Initiative which would provide free 5G service to first responders. Project 10Million aims to provide students with a quality internet connection and T-Mobile Connect is a cheaper plan to help people get connected for a low cost.
Of course, this initiative was likely an effort to improve public opinion about the New T-Mobile but at least some good might come out of all of this.
A long and slow ride
How long until this affects customers?
No matter which carrier you use, you're probably not going to notice anything different for quite a while. It's going to take a lot of time and work behind the scenes before the two networks will be able to function as one. In its merger FAQ (opens in new tab), T-Mobile says that it's working on ways to make it easy for Sprint customers that wish to migrate to do so.
Many Sprint customers may have seen improvements in service thanks to a roaming deal that allowed Sprint customers to connect to T-Mobile towers in areas Sprint had a weak signal. Customers with a compatible 5G phone from Sprint, mainly the Galaxy S20, will be able to use T-Mobile's 5G network as well.
Will my service change?
There's the infrastructure to install or change, equipment that needs to be approved for use, and a lot of financing to be obtained before a single line is transferred to any all-new network. Expect everything to stay just the way it is until well into 2020 at the earliest. Depending on your device it may even be longer. While some newer devices will be able to make the transition to the new network more easily than older devices, T-Mobile will continue to operate both networks for now.
As a T-Mobile customer, the short term gain here is a well-balanced plan for a 5G network rollout at scale. Sprint's spectrum assets only need an influx of cash to become the basis for a strong 5G proto-network and T-Mobile has a strange knack for making money as well as plenty of its own 600MHz spectrum. These short-term gains can't be ignored.
If you were one of the few using Sprint's 5G service early on, your 5G coverage has been impacted. A few newer 5G phones were enabled to work with T-Mobile's 5G with a software update but many of them are stuck with LTE now.
Will my coverage be affected?
For now, your coverage will remain mostly the same. Some newer devices will technically be able to take advantage of both networks but there is a lot of work to get done on the back end before either Sprint or T-Mobile customers will see a boost. It's better to make sure everyone's calls and texts go through first.
T-Mobile has been offering Sprint customers roaming on its LTE network for a while and even increased capacity on March 14, 2020 (opens in new tab) allowing for some immediate quality-of-life improvements for Sprint customers.
5G for Sprint customers has ended except for those with a Galaxy S20 series phone or newer that has been designed to work with T-Mobile's 5G network. Sprint's 5G network is dead and devices that haven't received an update will be stuck with LTE.
Will my plan change?
Your monthly bill will remain unchanged and in time may even go down. T-Mobile has committed to three years without increasing the cost of service and may even offer plans at a lower rate to customers. T-Mobile has promised regulators that it will not raise prices for three years after the merger. T-Mobile has also stated that it will continue to offer the benefits of certain Sprint plans, like Hulu and Tidal, and is working on additional benefits.
In time you will likely be ushered into a new plan with upgrade benefits but if you like your plan right now, you don't have to give it up. Not for a few years.
Are phone upgrades affected?
Recently, some Sprint customers have started to notice that they have lost some options when it comes to upgrading their phones. The problem is that T-Mobile moved to a standard credit system for both Sprint and T-Mobile customers which led some Sprint customers not to be able to upgrade their phones unless they paid the full amount. Sprint customers could still upgrade their phones with a 24-month installment plan if they have the available credit or were willing to pay off some of the devices on their account.
Unfortunately, this has left some customers in a confusing and frustrating situation during their upgrades. This is a real drag for those people and should have been communicated much more clearly by T-Mobile, especially given that many won't immediately understand the differences between Sprint's older style of leasing and the newer installment plans.
Who's paying for this?
Someone has to pay for a new T-Mobile 5G-ready network. T-Mobile isn't going to eat the costs without passing them along and pricing is going to have to change somewhere. New plans will have to be built in a way that turns a profit once billions are spent on the new T-Mobile network.
T-Mobile will also be able to offer new services like home internet over 5G to cover rural customers or customers in hard to reach places. Verizon has already done something similar to this with its 5G Home Internet service but T-Mobile will be much more flexible thanks to its vast reserves of spectrum across the country.
The technology
Is this all about 5G?
It may be more appropriate to say this is about the spectrum. The more devices you have connected and accessing data, the more spectrum you need. T-Mobile approximates it will have more than 400 MHz of spectrum available on average nationwide. Even with the increased efficiency of 5G, to keep download speeds high, as much spectrum as possible is needed.
T-Mobile with Sprint's spectrum assets can build a Sub-6 5G network that covers the majority of people in the US without a huge expenditure. In layman's terms, that means a T-Mobile network that has coverage similar to LTE with superior capacity and speed. As time goes on, further expansion into the millimeter wave spectrum can help keep speeds high in dense areas with crowded towers. This has already been demonstrated in the past in sports stadiums in the US.
T-Mobile has already shown what's possible with its low-band network in a fairly short period and, like T-Mobile's 600MHz deployment, Sprint's 2.5GHz expansion will also improve speeds for LTE customers.
Does T-Mobile need Sprint for 5G?
T-Mobile started with 5G spectrum in the high-band at 28GHz and 32GHz as well as low-band at 600MHz. While 600MHz is great for coverage it won't be able to provide as much speed or capacity as mid or high-band 5G. Sprint's sub-6 (mid-band) 2.5GHz spectrum sits right in the middle with a good balance in coverage and speed.
T-Mobile has described the potential network as a layer cake.
With all three layers together, the new T-Mobile will have a network that can be optimized for any kind of area with different geography and density. At some point, all carriers will be able to decommission sub-6 3G and 4G bands for use with 5G but Sprint had its assets ready to go early on.
Dish Network
How does Dish Network fit in?
If everything goes as planned, Dish becomes the new Sprint: the fourth player in U.S. wireless providers. It's a distant fourth, though, as the top three will have well over 100 million subscribers each, have a huge advantage when it comes to spectrum and other assets, and the benefit of an existing customer base. Dish has a momentous climb to relevance even with the concessions made as part of the merger.
Where Dish has an advantage is a well-established entertainment network. A Dish-owned network has a turn-key option for Satellite TV, Home Broadband, and now Mobile Broadband packages much like AT&T or Verizon offer. That's a pretty big deal as an all-in-one package seems like a great value when we are shopping for any of those kinds of offerings. And Dish will be able to piggyback on T-Mobile's network for seven years, so it has plenty of time to find the right way to entice customers before it is forced to spend real money on a network.
What does Dish get?
The newly formed company has sold off Boost Mobile and its subscribers as well as its 800MHz spectrum assets to Dish Wireless, This would make Dish the de facto Sprint replacement and the fourth-largest carrier in the U.S. based on current subscriber counts. To help keep Dish's dreams alive, over 20,000 cell sites and retail outlets plus free access to the current T-Mobile network for seven years is also part of the deal. Dish is optimistic that it can be the new Sprint and be better than the old Sprint was, and with this kind of help, it might be able to make that happen.
Can Dish really compete?
Still, the idea of Dish becoming a strong competitor and the current landscape of having four different choices staying in place is, well, a lie. Let's not mince words. Dish could pull this off and become a viable number four but as of today, it's the proud owner of 50 million or so Sprint prepaid network customers through all the concessions made. Going from that to a major player is no easy ride.
These hurdles seem a lot easier to jump if Google actually works with Dish to make it a competitive carrier, though my gut says the talks would simply create another Google Fi situation.
Should we be excited?
Is the world better without Sprint?
Indeed, a merger is probably the only way Sprint doesn't go bankrupt. The company has hemorrhaged cash for so long it can't afford to follow its existing LTE roadmap, let alone work on a 5G roadmap that is economically feasible, so the options for the company look pretty bleak. Today, as a Sprint customer, this approval means you get to keep the service you have at the price you have instead of seeing the company chopped up and its assets auctioned off. Or worse — becoming a federally funded and controlled network carrier.
Is it worth it?
It's the long-term that worries me, though. Sprint, in particular, carved a current niche as a carrier that offers nationwide network family access at a fraction of the price of its competitors' offers. Someone with four or more lines on a Sprint unlimited family plan is paying less than most other carriers. For the individual, T-Mobile leads the industry when it comes to an affordable and robust unlimited network. In both cases, there are ways AT&T or Verizon outclasses the competition, but overall you get a good value from either Sprint or T-Mobile.
The new T-Mobile promised that this will continue (opens in new tab), but there is no consumer model to keep them in check. Be honest — if you're unhappy with the service from T-Mobile, would you consider a "lesser" network from Dish or a more expensive network from Verizon as an apt replacement? What if pricing on plans inches closer and closer to AT&T's rates now that there is no viable budget carrier to keep things honest? Companies exist only to make a profit, and we should expect the new T-Mobile to do anything it can get away with to make that happen.
Taking away a choice has never made for more and better choices, and this will turn out no different, in my opinion.
Low-band and Mid-band 5G
(opens in new tab)
A phone that works with both of T-Mobile's sub-6 bands
The Samsung Galaxy S20 is one of the best options to try out 5G thanks to great network compatibility and a huge battery.
When Samuel is not writing about networking or 5G at Android Central, he spends most of his time researching computer components and obsessing over what CPU goes into the ultimate Windows 98 computer. It's the Pentium 3.
I've been a Sprint customer since it was Nextel with a business model only and two phones to choose from. There were very few times I wasn't happy with the service or price. I'm sitting now on two lines and a 50G hotspot for $99 a month. I've been watching this with great interest. We've moved to a more rural area now and sometimes, my coverage isn't the greatest, but those spots are few. However, people who live out here who have Verizon swear by it though it's more expensive of course. Once all of this shakes out, I may end up taking my longtime loyalty elsewhere. Time will tell...

So would this meant the networks would be merged? I currently have an unlocked Oneplus 6t on T-Mobile but it also supports Sprints current lte bands of 25,26 and 41- would that meant I could use Sprints network too in the future?

Jerry, your analysis of the last two big M&A's has been fantastic and why I still regularly check this site.

I have trouble believing this will affect me in the slightest, but it's interesting to read about.

I still think this is better than sprint going down the drain and then having AT&T and Verizon outbid everyone else for the very excellent spectrum that Sprint owns. Truly, a lesser of two evils in my eyes.

I agree with you... Absolutely

Yep this better than Sprint being sold and picked off

Got to agree with this. At least there are some guarantees in place now going forward, but whenever Sprint would go bankrupt in the future, most of these guarantees would not be in play.

So as a Sprint customer I basically have Fi now...that's it

"Taking away a choice has never made for more and better choices, and this will turn out no different in my opinion." Agreed!

As grandma would say, "better the devil you know than the devil you don't know".

Like the previous comment, I too have been a very long time Sprint customer dating back to even before they bought out Nextel. I only left them briefly for a few years when AT&T held the exclusive rights to the iPhone and I wanted it. The HTC Evo 4G was announced and I've been back ever since. I'm in the Seattle metro area and service is damn good. I'm excited to be able to try out some of the GSM only phones that as Flossy Carter so eloquently says I'm assed out on eventually. 🤣

Feels so go in the hands, Ladies!👏👏👏👏

I have been hoping for this so they could better build out in my area in southern Alabama because neither of them has had a reliable signal here so Verizon/AT&T is the only reliable option. Maybe now they will build out here and take some of the strain off Verizon/AT&T because their speeds suffer since everyone has to have one of them. Everywhere else I go my data speeds are a lot better with Verizon I assume because there is less strain on the network.

I'm in southern Alabama, and I've only had hiccups in like three areas along I-10 with T-Mobile. Other than that, I've been good.

As with ANY merger, the new company simply doesn't eat the costs of buying a competitor. Those costs are ALWAYS passed to the customer. Indeed the new, larger T-Mobile customer base will stand toe to toe with AT&T and Verizon numbers, but in areas T-Mobile ALREADY oversells, this is a nightmare. Here in NYC, yes am urban and very dense area, T-Mobile speeds really suffer GREATLY because they followed the old Starbuck's franchise model, allowing retail partner store to open RIGHT ACROSS THE STREET FROM ONE ANOTHER. T-Mobile Tuesday's need to GO! And $ spent on ACTUAL infrastructure and backhaul. And yes, I agree a failed Sprint would have led to AT&T and/or Verizon vultures picking the best assets (fueled with their deep pockets). Frankly, NO COMPANY has EVER really demonstrated altruism towards its customers after a large merger.

Very well written article. Although I've never had either AT&T or Sprint, I'm quite curious as to how this merger is going to play out. I'm going to be following it closely. Thanks Jerry.

As a TMobile MVNO customer, I'm thinking of how the merger is going to affect MVNOs, and it can't be good. I'm afraid that my bill will be going up. Not as high as a TMobile bill would, but up. And I already get sufficient coverage, so I'll gain nothing from it. (I rarely use mobile data, I'm within range of good WiFi wherever I am, so that won't be affected.) And Sprint's coverage at my house is iffy at best, so even adding their equipment to TMobile's won't affect me much, if at all. I'll just pay more to stay where I am.

Holding on to my last Sprint phone just might pay off. Migrated over to Xfinity and saved a bunch of money.
Now if service is better, and it would have to be over the top. I'd come back and let T-MOBILE, hit me!
Just please get rid of Sprints customer service ala the dead weight. They all aren't bad and I wouldn't want people to be out of a job. So maybe they could reassess Sprints Customer service right away.. It'll probably take a year to finally convert over, so the waiting game begins.

Have to say some of the decisions made by tmo like refarming pcs hspa instead of edge(& some of those areas also have low capacity att) & pulling product out of 3rd party stores I gave up last trip to the US & since I had imported a rm-927 I used that on vzw prepaid & counldnt have been happier(aside from not getting the account pin via txt & the myaccount app on windows store is depracated) shame asus is being a dick about providing the nessary compatibilty for rog but I could see why given that the zenfone v/live & ar are still supported under agreement why not push for them to sell it officially

In the end this may be the best outcome we could expect. Both companies needed what the other had. With proding we'll have a fourth carrier that might just shake up things. As you said Jerry it won't be all sunshine and roses. I can live with that so long as we get a third carrier that can go toe to toe with the VZW Deathstar duopoly. I'll be a pragmatist about it and hope something better comes out of this. If this all goes south, well there's Fi.

Wonder if after the merger they will allow any new CDMA connections or will they have to be GSM / 4G and run down the old CDMA network.

Jerry H ... All this whining about loosing a budget (4th) carrier -
======================
"It's the long-term that worries me, though. Sprint, in particular, carved a current niche as a carrier that offers nationwide network family access at a fraction of the price its competitors offer."
===================== Did you ever stop to think about putting 2 + 2 together, i.e., the reason Sprint & T-Mo were budget carriers was because that was the only way for them to gain new subscribers since their networks were not as strong as AT&T and Verizon. You lament that Sprint had a Family plan for 4 for $100 but that price timed out after a year. Sprint was loosing money on the plan so would you prefer they stay in business giving away a money losing plan and then going bankrupt? If Sprint goes BK then we're down to 3 viable wireless carriers. Therefore, what's the difference if T-Mo takes on Sprint and we're left with 3 viable wireless carriers of if Sprint goes BK and were left with 3 viable carriers. FACT: The gov screwed Sprint when Sprint acquired NEXTEL by refusing to allow Sprint to shut down NEXTL and use the spectrum for their move to 4G. At the time Sprint was the wireless leader and because of the gov requirement on the NEXTEL acquisition Verizon and AT&T were able to overtake Sprint. The gov screwed Sprint again when they told Sprint that they could not buy or merge with T-Mo back a few years ago. This forced delay in allowing Sprint to shut down NEXTEL gave more time for Verizon and AT&T to build out their 4G and start on their 5G network thereby pushing Sprint and T-Mo farther behind. FACT: T-Mo & especially Sprint have the right spectrum to build out a true nationwide 5G network, why else would the gov slow them down other than to give Verizon and AT&T a chance to get a lead. BTW - The gov never stood in the way of all the earlier AT&T acquisitions until AT&T tried to buy T-Mo The real villain in all this is Dish ... had Dish did what the said they would do when they acquired all the wireless spectrum and built-out a network at that time, we would currently have 5 national carriers, albeit 3 of them would have been weaker than Verizon and AT&T, and the merger of Sprint into T-Mo would not have been an issue. T-Mo has alrady agreed to not raise prices for 3yrs as part of the approval ... wait and see, Verizon and AT&T will lower their price to compete with the new T-Mo because the new T-Mo will have about 100M subscribers and will be able to dictate to the handset manufactures terms and conditions that they were not able to do in the past. This merger between T-Mo and Sprint will be a big win for subscribers in the long run.

Considering that Sprint would simply go bankrupt if not allowed to be bought out, I really can't say anything other than bring it on. Nice article too, thanks.

"The FCC is an independent government agency....". I nearly snorted my coffee. If by independent you mean not beholden to consumer interests, you nailed. It's run by a carrier lobbyist.
Surprised you didn't say more about Google Fi, since this is an Android site. Their claim to fame is that they can switch between T-MO, Sprint and US Cellular. I've never seen my phone hit the latter. I imagine they have some decent deals with the carriers since they compete. When they are one, what happens to the arrangement? Currently I find Fi coverage excellent. If T-Mint (or Spobile) coverage is effectively the same, will Fi still compete? We all know what Google does with projects they tire of.

Since when has Fi ever been famous? :p U. S. Cellular is a regional MNO. If you live in the region that USC serves (mainly through Nebraska, Iowa and Wisconsin), you'll see it. If not, one backup carrier is still better than none. And the VPN that comes at no extra charge, and protects you from snooping by the MNO carriers, open Wi-Fi hotspots and the NSA is the real "killer app" for Fi. I use Wi-Fi most of the time anyway. If and when the merger happens (it's still not a done deal), it will take years to complete. Part of the deal is that DISH gets enough assets to become a national MNO. Meanwhile Charter and Comcast (who run their own MVNOs) plan to hang radios from their overhead lines to become regional MNOs themselves. Google could sign new agreements (with the new T-Mobile to get 5G service) and keep going, or license its auto-failover tech to other MVNOs. After all, the holy grail would be to have it work with all major carriers.

Buy Sprint stock at $7... get it bumped to $70 when Tmo absorbs it

I don't understand the conclusion. You said that Sprint would probably have gone bankrupt. You think the long-term effects are bad due to the loss of competition. But you also think Sprint was going to go bankrupt. You think them being bankrupt and sold off would result in a different (better) outcome? It sounds like the same result, but without some extra steps of lawyer fees and auctions.

Sprint has already been bankrupt for over a decade. Japanese conglomerate Softbank for some reason decided that Sprint was worth buying in 2012, but not worth turning around to become profitable. If Sprint had been forced into liquidation before T-Mobile entered the US market, AT&T and Verizon would have swooped in to buy the assets cheap. That would have made them bigger and more odious monopolies than they already are. At least T-Mobile has the ability to bring capitalistic competition back to a market that has been dominated by monopolies. Putting Sprint out of business now would not be the same result as a merger.

ATT will NOT be reaching any agreements in the near future. We respect Tmobles need need to be connected as well as sprints on going concern for it's previous investment but there are MANY things being left out in the contracts that sprints is not being made legally aware of. And because underhanded contract were drawn up without ATT being made aware and repeat offenses of breach of privacy we have decided to CUT access to our support in any further court proceedings. If the CEO p a m would like to make private contact with our lead of human relations they should leave a public SERVICE MSG statement on our wall ashwillow333@gmail.com and we can arrange a meeting by Nov 23 12pm otherwise we may have to take legal action against the mergers best interests

Much needed merger sprint is awful with horrible coverage. Can't wait until they are completely merged which will give Tmobile users better coverage.

I found the last few times I visited major US cities both att & tmos coverage sucked so I tried a rm-927 on vzw prepaid that I imported it was quite useful(sadly could manage my account since they stopped updating the app & didnt send me a text)) in areas like ksc wdd where even vzw lte was weak now that theres barely any dual mode handsets(even though the retire dates been pushed back probably due to weak fringe coverage) question is what to get. was eyeing 1 of there inseego hspa/lte portables paired with thier walmart sim kit & maybe drag along my w8 variant note5(using my rm-927s esn to get my n5 dmd whitelisted) paired with same kit on cheaper plan

Jerry & Samuel, This is an excellent article filled with lots of easy to understand information! As a happy T-Mobile customer of 12 years, I look forward to seeing the increased coverage and bandwidth this will offer. My 3 kids and girlfriend switched to T-Mobile from AT&T two years ago and couldn't be happier. All of them have said there has been no downside to making the switch and saving money was icing on the cake. I hate to see John Legere leave, but he did a phenomenal job turning T-Mobile into a strong competitor to Verizon.
AT&T is run by crooks and I see them falling to third in the not too distant future.

I think everyone is trying to project the worst, when the likelihood of people being negatively affected by the merger is very minimal. Just like many Verizon and ATT customers can attest to, there are many of those customers that are on legacy plans still. If the Big 2 could do that, there's no reason the New T-Mobile couldn't either. And, I have much more faith in the new T-mobile offering new plan promotions more frequently than ATT or Verizon, while also improving the Network to be just as consistent if not better (with Sprint's spectrum assets).

T-mobile is going to be the reason many longtome sprint customers switch carriers, especially with this whole upgrade fiasco. Verizon and AT&T are just opening the door for former sprint folks who feel slighted. Bad business to make such drastic changes and not have the decency to at the least inform your customers of whats to come? Why? Because they knew a mass exodus would result. Oh well, its been real sprint.

Been with TMO for a few years and love it now the second largest carrier in the states.
Android Central Newsletter
Get the best of Android Central in in your inbox, every day!
Thank you for signing up to Android Central. You will receive a verification email shortly.
There was a problem. Please refresh the page and try again.