The T-Mobile and Sprint merger is officially completed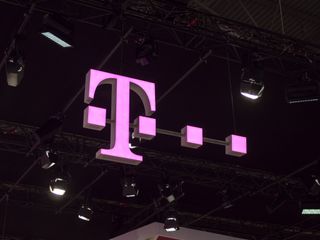 (Image credit: Android Central)
What you need to know
On April 1, 2020, T-Mobile officially completed its merger with Sprint.
"The New T-Mobile," is the name of the joined brands, but it will continue to operate as "T-Mobile."
John Legere is stepping down as CEO ahead of schedule, handing the reins over to Mike Sievert.
Back in June 2018, it was announced that T-Mobile and Sprint would be joining forces and come together as one carrier. It's been a long and bumpy ride since that initial announcement video, but now on April 1, 2020, the deal is finally completed.
The completion of the merger was confirmed (opens in new tab) in a press release on T-Mobile's blog, with the company saying:
Business will continue under the T-Mobile name we already have, along with the company's stock still trading as TMUS.
In addition to this merger finally going in the books as a done deal, today also marks John Legere's departure as CEO of T-Mobile. Legere announced he would be leaving the company on April 30, but with the merger now complete, he's taking off ahead of schedule. As expected, former COO Mike Sievert is T-Mobile's new CEO effective immediately.
As you might expect, combining two of the nation's top wireless providers is a move that comes with a lot of money. As noted in today's press release:
Seeing as how T-Mobile and Sprint were given a thumbs up by the feds back in February, today's announcement doesn't come as a surprise. That said, it still marks a major shift in the U.S. wireless space as we go from four top players down to three.
The coming months and years are bound to be immensely interesting, so buckle up.
Joe Maring was a Senior Editor for Android Central between 2017 and 2021. You can reach him on Twitter at @JoeMaring1.
Sweet now John can now be on the board of directors like he said he would be

Wondering how that will effect Google Fi.

I don't quite understand the commonly shared opinion about "Only Three Left" mantra. If one was counting independent carrier's in this country (USA), then the title for the "Fourth Major Carrier" would naturally be passed to a different company. A couple come to mind, one being X-finity Mobile.
Sure wish more people think for themselves.

I stand corrected on the Comcast front. Carry on.

So as a Sprint customer, or I guess former Sprint customer, when can I start buying and using phones compatible with T Mobile?

Probably in five months I would think? Unless they started the integration process prior to the completion I would think there is still a lot that has to be converted over. I wouldn't be surprised if they have a dual system for a while where you can either have Sprint or a T-Mobile for a while. Remember when Sprint acquired Nextel? They had a dual system for well over a year before they finally integrated everyone over to Sprint. Hopefully TMobile does right though and everyone that has a lease on Sprint they will allow to get a comparable phone without paying an absorbent amount of money. That is my only downfall about T-Mobile is that their costs out of pocket are much more than what I could walk in with a Sprint. I'm on the business side and it was atrocious with T-Mobiles upfront costs compared to Sprint. That is with a great credit class too.

I'm on Sprint and have been looking forward to this since 2014. One thing I will miss from Sprint is being able to buy my phones at Best Buy at a discounted price. T-mobile doesn't sell their phones at Best Buy. Hopefully I will be able to the Note 20 through Sprint/Best Buy this year. The main thing I'm happy about is, no more CDMA.

Good point CDMA is old technology im not sure if T-mobile will ever sell its phones at Best Buy.

So would this open up more bands on unlocked phones to work on TMobile ? Would unlocked phones we're using now be able to take advantage of Sprint bands now?

That's what I'd like to know.

My phone was slowed on the first. Slowed. Lol it had no service all day! My husband and I are on the original Haha unlimited 55 plus plan. $60 BYOD credit checked and everything. Now phones not recognized, a rep changed something according to our bill. I think we've been on the essentials 60 plan. Only reason I got through was my att internet.... "oh" says the rep. Then blames it all on Corona virus!! Ha ha ha lol ! Thats like what apple did to owners of iphone 6 correct... oh well, Time to upgrade to a new device and a new expensive plan. Or just go somewhere else! Sound like a hot mess! Shame for not being transparent. It wasnt because of the virus, it was moving day.
Android Central Newsletter
Thank you for signing up to Android Central. You will receive a verification email shortly.
There was a problem. Please refresh the page and try again.