T-Mobile Galaxy S3 getting Android 4.3 update today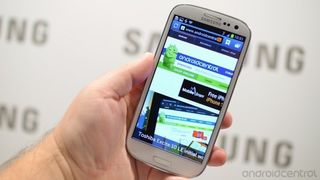 486MB update brings Android 4.3 and Galaxy Gear support to original T-Mobile Galaxy S3
The Android 4.3 update may be up in the air for some models, but users with the original (T999) Samsung Galaxy S3 from T-Mobile have the new firmware ready for installation OTA or via Samsung Kies.
Right off the bat — this is for the older version that isn't LTE capable. T-Mobile has no word on when to expect any updates for the LTE version. We think this means something, but we're not going to guess what. Here's your quick and dirty change log:
Version:
Android version 4.3/Software version T999TUVUEMJC
Approved 11/19/2013
OTA manual pull down and Samsung Kies update available
New Features:
KNOX
Samsung Galaxy Gear support
Prerequisites
T999UVDMD5
Device software is not rooted
50% battery life
Latest version of Kies software downloaded on PC or MAC
Data connection
File size of update is 486 MB
Check your device settings, or plug into Kies if you're daring, and give it a click!
Senior Editor — Google Ecosystem
Jerry is an amateur woodworker and struggling shade tree mechanic. There's nothing he can't take apart, but many things he can't reassemble. You'll find him writing and speaking his loud opinion on Android Central and occasionally on Twitter.
Well I sent the headline to y'all but you must have seen it already. Just loaded on the wifes S3 about a hour ago, so far so good.

Been talking to T-Mo a little bit seeing if we could find out more about the other S3 and it's update. They got nothing :)

I work there, no news yet. Posted via Android Central App

What about other carriers like our hated friend Verizon?

T-Mobile is the only carrier who has an S3 without LTE and an S3 with LTE. The fact that all the LTE versions aren't getting any updates (of have had the pulled) recently is worth investigating. Unfortunately, nobody wants to say anything.

Hi, Does flash player still work in the native browser in 4.3? 4.1 was supposed to be the last version that would support Flash. I'm curious if that functionality is lost with this update. Thanks

No it doesnt! If only I'd have known this I would have never updated. So far its just a st ep backwards.

Yet still waiting for the 4.3 update on my T-Mobile GS4..... Posted via Android Central App

Popped my sim back into the S3 and grabbing the update. Then I visited here, saw it just dropped today, timing. I miss this phone. Like the N5, but miss some of the S3 features.

What about the s4 update that was supposed to be yesterday? Posted via Android Central App

Why is at&t always last..... Posted via Android Central App

I thought it was Verizon. Posted via Android Central App

It is always Verizon last. Posted via Android Central App

Moto X 4.4 updates for Verizon would suggest otherwise..

Yeah and every other phone ever on Verizon would outweigh the Moto X update as being the only time they weren't dead last. Verizon is a joke.

Is anyone seeing a larger S3 update download? like 527mb

Yes. Mine was 527 or 528.

Yeah, it was that size on my wife's S3 as well.

WTF!! THAT'S NOT FAIR!! Posted via Android Central App

I know! I have the Lte version and I'm still waiting for the update.

I thought it would take a lot longer since the international version 4.3 updade was pulled out.

Enjoy your 4.3 update folks :-) Posted via Android Central App

Me and the rest of the Moto X clan on Verizon yawn at your puny 4.3 update, Samsung. Jelly Beans are so out of style. Kit Kat, BITCH!

well, it's like, your opinion, man.

-The Dude Posted via Android Central App

Spoken like a true tool, kit kat will come too. Posted via Android Central App

Are you sure about that?? Samsung is getting ready to drop the S3 from their update program.. they just needed Gear support for it and that's it..

Watch out everyone, big bad boy coming through. Posted via Android Central App

I'm sorry, but you're a little too excited about a phone update, lol. Posted via Android Central App

Well even 4.3 with TouchWiz has more features than the Moto X. Plus 4.4 seems like a breeze to update, so I'm sure Samsung will update their device to it soon.

I have noticed that camera shortcuts STILL don't stay when you change them. Lame but everything else is great so far. Posted via Android Central App

SO they suspend the update, yet T-Mobile gets it. Does this look like things are still a go? My VZW S3 is due to get 4.3 on Friday.

Did someone get it? I am waiting to see if it has bugs like the international version. If you downloaded it please post how it went

It went and goes just fine. Haven't noticed a bug yet. Posted via Android Central App

I'm also anxious to know if there are any problems with it since every 4.3 update for this device was halted. I unfortunately flashed CyanogenMod yesterday so I can't just OTA update and figure it out myself in a timely manner. Posted via Android Central App

What feature did it get note 2 on att getting their's tomorrow "AT&T Samsung Galaxy Note 2"

so far I noticed that Zynga is gone now(finally) & the one feature that I seem to miss is the swipe lock (why because I have to remove my security pin in order to use dash clock widgets) other than that. the update went smooth. I don't really notice a difference in battery because I have the zero lemon. any one find anything else?

Just curious if you got the ANT+ support on the T-mobile 4.3 version or not. Has anyone found out if ANT+ support really did make it into the Euro release, and if so, has anyone actually seen how it is implemented/controlled?

This is bull$#!+ Posted via Android Central App

The S3 gets 4.3 before the S4? Strange! Posted via Android Central App

To those whining the original wasnt gonna get 4.3 can now stop thanks

There appears to be a compatibility issue with Google Hangouts... Posted via Android Central App

To further that, the issue seems to correlate only to sending MMS.. Posted via Android Central App

They must be using the T-Mobile S3 as a test then if things are a go then give it to the T-Mobile S4 customers Posted via Android Central App

Come on Finland, pull finger from arse and release the flipping update! Posted via Android Central App

But wash your hands first, please!

So far no problems but just updated an hour ago seems to run great I'm so happy I have been waiting for 4.3 for awhile now. A few different things are samsung knox, new toggle in pull down bar, lock screen widgets, samsung hub, and some more things that I am still looking at but just wanted to post really quick and say so far so good. Posted via Android Central App

Thanks for the reply. I am waiting for the T mobile S3 - 4.3 updates in the light of recent issues. I am updating my S3.

Maybe the reason the S3 got updated before S4 is because there's a whole lot more TouchWiz and other bloatware to go through on the S4 before a stable version can be pushed...

Call it a conspiracy theory but does anyone else find it weird that Samsung has Tizen on the horizon and all of a sudden they are being bogged down with update issues through a majority of their phones? Not to mention remaining mum about it.....

Finally u can move you're apps to the SD with this update Posted via Android Central App

Upgraded my wife's S3 last night. Everything went perfectly, other than the fact that she HATES updates of any kind. She'd still be using her G1 if I didn't cojole her to upgrade.

Updated last night. No issues so far, but keeping a wary eye on the battery. Juice seems to be depleting at the normal rate though. Also update was indeed 527 MB.

My battery is dropping like a rock after the update!

Thanks for the report. Just upgraded and it works flawlessly! ~Lone androider in a tribe of sourapples~

My wife and I have tmobile just updated the 4.3 on my wives s3 phone but no updates for my galaxy s4?!?!??
WHAT? UPSET!

I am updating now. The 4.1.2 update caused a huge issue with WiFi. Neither Samsung nor T-Mobile could get it resolved. Anyone on 4.3 have any info on WiFi functionality? I had to step my phone back to 4.1.1 to correct it before. I am hoping I don't have to do that again.

My daughter owns an old S3 from T-mobile and was shutting down unexpectedly all the time. I tried to update to the OS 4.3 but could not do it because the phone was rooted, which I didn't know until I have to do the update. (I bought used). Well, I found out how to unroot it and as soon as the stock ROM was successfully implanted, the phone updated to the new 4.3.
Android Central Newsletter
Thank you for signing up to Android Central. You will receive a verification email shortly.
There was a problem. Please refresh the page and try again.