T-Mobile G2X Gingerbread OTA has officially started rolling out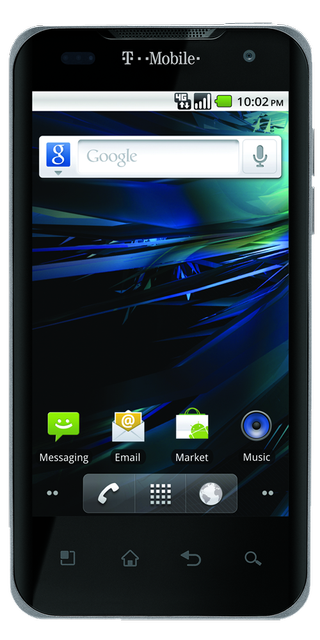 A few days ago, T-Mobile G2X users could get the Android 2.3 Gingerbread update by downloading LG's update tool. It appears now that T-Mobile has started to roll out the update via OTA, so if you misplaced your USB cord or didn't want to bother with LG's tools, you're in luck.
Here are the details for the update:
Android 2.3 (Gingerbread)
Improved battery life
Improved front-facing camera operation when using Qik record and share
Improved disabling Car Home
Helps address unexpected reboots
If you don't see it yet, don't fret as they appear to be slowly rolling it out. This is great news for G2X users though, who have been waiting patiently for their Gingerbread update.
If you have received the update or have more questions, sing out in the G2X Forum
Source: T-Mobile (opens in new tab)
finally this is rolling out

I don't understand the hype about STOCK phones on TMOB if they don't get timely updates... how could my EVO get Gingerbread before a Stock device?... Baffles me

HTC EVO Release date: 04 Jun 2010
LG G2x Release date: 15 Apr 2011 I hope that helps.

You make a damn good point sir. I just think its funny because the cyangoenmod team do dev work for free and push out updates on the nightly. And entire million dollarcompanies can't hurry and get a update out in a timely matter? Weird.

Yeah..... I rooted my G2x back on July 10th because I was sick and tired of waiting for them. I don't think I'll be going back from my root because it makes the phone really awesome to use.

Question that I should know the answer to...I rooted but didn't install a custom ROM (just wanted to remove bloatware) - will I still get the OTA? I should, right?

Does this apply to refurbished phones, or is it that same crap again?

Any differences with the LG vs. OTA update? I did the LG update and wondering if I'm missing any benefits of the OTA update path. Thanks

I guess the only difference is with OTA you have to wait for it and with LG you just download it directly. There shouldn't be any actual difference with the content of the update.

I did mine via Lg's s/w updater. Its pretty
simple and took about 10mn.

Anyone gotten the OTA yet? I wanna know if it's a different build number from the LG Update.

I'm curios too. The LG updater build # GRI40 is what I'm showing.

Yeah...that's what I have too. I'm kinda hoping that it wasn't the final build, because I've still had some bugginess here and there.

i recently got the OTA update and it crashed my phone. I called Customer support and supposedly its only going OTA for a certain people like a beta stage. I was very upset and Tmobile made me pay for a replacement which the crash was clearly blamed on them and they admitted it to me. so now im phoneless for a whole week and a half.

I too would like to know if this ota is a different build than the one LG pushed out last week. Anyone know yet?

Received mine this morning and the build is GRI40, was wishing it was 2.3.4 to get the new GTALK. I have the new Android Market and that is all I'm missing before the ICS upgrade.

Update: Run as smooth as butter and so far the camera software is default android and not the custom LG one, bummer!!

the refurbs are screwed. My refurb can't get the update at all. Thanks LG/TMO. You sell me an out of the box POS that bricks and then send me another POS that works but can't update to new software that would fix the other issues. Good luck to me fighting them for one of the store models which they seem to have plenty of at the store I bought this from.
Android Central Newsletter
Thank you for signing up to Android Central. You will receive a verification email shortly.
There was a problem. Please refresh the page and try again.