T-Mobile G2X Gingerbread leak teased, leaked again, ready for flashing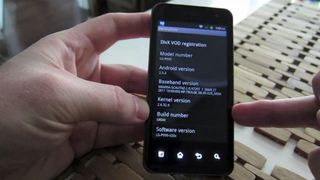 Seen the video of the Gingerbread leak for the T-Mobile G2X teased by former Engadget Mobile editor (and current This is My Next-er) Chris Ziegler? That's as close as you've been able to get to it -- just a video. Until now.
The leaked Android 2.3.3 ROM has been leaked yet again and packaged into a handy update.zip file for those of you who have unshackled your G2X from the bonds of official update-dom. Bugfixes, the tweaked UI, and all the usual Gingerbread goodness we've come to know and love on other devices are all there.
So get your download on at the source leak, and there's a quick hands-on with the leak after the break.
Download: MoDaCo; Source: This is My Next
T-Mobile G2X Specs | T-Mobile G2X Forums | T-Mobile G2X Accessories
Wow already a leak?! Looks like LG is keeping their word on a quick update.

Well I'm excited. Hopefully this will drop soon. Hope 2.3.4 isn't far behind it.

I assume you gotta be rooted to use this ?

Yup, from the source link: "I have repacked the ROM to update zip format and pre-rooted it, that aside, it's 100% stock" So unless you're already rooted, it won't work from what I can tell.
Android Central Newsletter
Get the best of Android Central in in your inbox, every day!
Thank you for signing up to Android Central. You will receive a verification email shortly.
There was a problem. Please refresh the page and try again.