T-Mobile is doing a Galaxy S8 BOGO offer for Mother's Day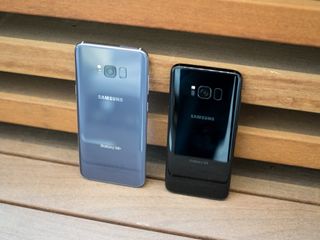 T-Mobile has a pretty rad offer for Mother's Day: buy a Galaxy S8 on a T-Mobile One plan and get the second one free, or free-ish, with the start of another line. Let's break it down.
The deal is pretty simple: if you buy a Galaxy S8 or S8+ on T-Mo's Equipment Installment Plan (0% financing over 24 months) on the company's Unlimited Plan (which we rated the best in the U.S. right now), you get a $750 prepaid credit card to cover the cost of a second Galaxy S8 as long as you sign up for a second line with T-Mobile One. If you buy a Galaxy S8+, you'll need to put down an extra $100 up front.
There are a couple catches: you'll have to put money down on the second S8 at the time of purchase, and pay taxes on the full $750 cost, and T-Mobile will issue a rebate, through a prepaid card, within eight weeks. And if you cancel service before the card is issued, you obviously don't get the card and have to pay full price on the second phone.
Interested? Let us know in the comments!
See at T-Mobile (opens in new tab)
Daniel Bader was a former Android Central Editor-in-Chief and Executive Editor for iMore and Windows Central.
8 weeks to issue a rebate pre paid "card"?... After paying full msrp +100? why cant these carriers just do a straight up discount AT THE TIME OF PURCHASE.?

Because time and time again, the research shows that if you give a rebate that the user has to fill out and send in, there will be a % of people that never do it. They loose the form or forget.
It's like free money for the company.

You don't pay full MSRP dude, it's financed over 24 months just like any other T-Mobile purchase. You pay the $0+tax (or $100+tax for S8+) and then file the claim, after a few weeks you get the prepaid card and then after the required period cancel the new line and keep the phone. This is how I got two S7 edges last summer, and it's legit. Not even hard at all.

What if I dont want to do payments over 2 years?... Is there a way to pay for the device up front?

Yeah you just pay for it right then and there. You can also go in anytime and make any extra payments you want. When I got my prepaid card for $789 I took it to the T-Mobile store and paid off my other two phones and put the balance on one of those.

It's a game/exercise basically. Don't want the payment? It's zero percent interest anyway. Carrier have moved away from contracts, but we all know allowing you to pay for a device over 24 months is almost the same thing. To get us to signup for a line of service or to keep a line (revenue stream) they come up with this offers. I'm sure in addition to getting the amount as a pre-paid card, you have to have service active: 1. At the time the rebate is processed (can take up to 8 weeks, but we all know it won't/shouldn't take that long.
2. Has some requirement for minimum months of service (say 3-6 months). Let's be real, if the carrier is giving you the phone for free, why not support them by paying for the service? Money doesn't grow on trees. We don't work for free. This is better than the trade-in deals where you get 24 monthly credits, but lose any reamaining credit if you pay the phone off early. (i'm talking about Verizon an ATT here). Basically, hold onto your cash (set it aside in the bank), pay the minimum monthly payments, when you get the giftcard, go online and pay the device off.

No. T-Mobile wants to lock you into a 2 year commitment in exchange for the BOGO promotion.

You can use the prepaid card to pay off the phone. At that point you're no longer under contract.

Going to seriously consider this myself, as I got two S7 edges last summer for the price of one.

I'd consider it, but I have no interest in going to One right now. I pay $70 for 3 lines (2 lines at $70/6GB each and a free 3rd line). Even with taxes, I'm cheaper than if I have to upgrade one of those lines for the free phone. I'll stick with my G6 for now.

I did this last year with the S7. It's a legit offer.
You have to add a line. What I did was add a line
That I didn't need and the plan price stayed the same I had 4 for 140. After I got the visa card I cancel the line no with no problem.

What happens if you upgrade an existing line and then cancel the add-a-line as soon as you receive the rebate check?

The bill credit would stop and you would have to pay the remaining balance of the phone in a balloon payment.

And then you pay that with the rebate check. Then what happens? This doesn't seem like that great of an idea by T-Mobile if that loophole is open.

It had my interest until I saw T-MOBILE One. I'm on an older unlimited plan with Jump on Demand, so I think I'll stay where I'm at

Doing one for the LG G6 as well

I was waiting for something like this to jump from AT&T. T-Mobile told me that it stacks with the "Samsung Entertainment Bundle". So you get 6 months of Netflix, clear cover, and 64GB EVO+ SD card. Times 2!

Or you can stack with GearVR and controller promo. I think you can only choose 1 Samsung promo along with the T-Mobile finance promo.

T-Mobile rep here. You can get them all!

Hey is it gonna available for other customers too like unlimited simple choice plan ??

I filled out both promos online. I was approved for the 1st one I filled out (Entertainment Bundle). Still waiting for approval of "Gear VR Bundle". It does say that each purchase is only eligible for 1 Samsung promotion per phone but I have my fingers crossed.

I just received a confirmation email from Samsung saying that I was approved for the Gear VR promo!!! So I ended up with 2 Galaxy S8s, 2 Gear VRs, 2 Controllers, 2 Clear View Standing Covers, 2 64GB Evo+ SD Cards, & $119.88 Netflix Credit for the cost of 1 phone. Too good of a deal to pass up.

So, can I get the phone, wait 8 weeks, get the card, pay the phone off, then cancel the 2nd line, sell the phone near full price, then pay off the first phone with the money I got for selling the second getting both ultimately free? In short, do I need to pay over months, or can I pay early with the financing?

This is the same promo TMO had last year and, yes, you would do that. I had a Note 5 on Jump, and then did a BOGO. When I got my rebate, I paid off the "extra phone", unlocked it, canceled the new line, and then sold it on eBay for almost full price. I took that money and paid off the remaining small balance on the Jump and then sold the Note 5 after the unlock...which allowed me to pay off the "new" Galaxy S7 Edge with a little extra cash. You can pay it off anytime you want. There are no "contracts" with TMO.
Android Central Newsletter
Get the best of Android Central in in your inbox, every day!
Thank you for signing up to Android Central. You will receive a verification email shortly.
There was a problem. Please refresh the page and try again.