How to switch from iPhone to Android in 2020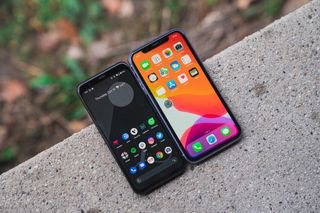 (Image credit: Android Central)
As much love as we have for the iPhone and what it's done for the mobile industry, we'll never not be excited when someone switches over from it to an Android handset. We'd argue that a lot of Android phones are better than Apple's fruit phone, and if you've finally decided to make the conversion, we have a few tips to help you out. Going from iPhone to Android can be quite daunting, but by keeping a few things in mind, you can make the process substantially easier.
There's a learning curve
Switching from iPhone to Android isn't the same as upgrading the from the iPhone X to the iPhone 11. It's more akin to switching from Mac to Windows (though not as drastic). General functions are similar, but major Android phone manufacturers will often have proprietary user interfaces, distinguishing them from other makers.
Therein lies the rub. There is no single version of Android in the way that there's only one iOS. Companies take the Android operating system, interpret it and mold it according to their vision, meaning you'll get a different experience using a Samsung phone than you would using a Google or OnePlus phones.
Though all Android operate similarly on a fundamental level, it's the little, finicky differences that set them all apart. It may take some getting used to.
If you're just about to turn off your iPhone and put your SIM card into a brand new Pixel, Galaxy or something else shiny, here's what you need to know!
Turn off iMessage
When you message other iPhones from your iPhone, they'll communicate via iMessage when you're connected to the internet. This is different from regular SMS texting, and if you leave iMessage turned on on your iPhone, many of your texts will still be routed through that service.
If you're on your new Android phone, you won't receive any of those messages. You need to disable iMessage before making the switch! (And while you're at it, turn off FaceTime.)
You might have to buy your apps again
If you have pay-upfront apps on your iPhone that you paid for, you'll likely have to buy them again from the Google Play Store if you want them on your Android phone.
The Google Play Store and the App Store are completely different entities, and the apps they house are made for different platforms. Some of the apps you had on your iPhone may not even be available for your Android phone and vice versa. That said, if you're subscribing to a service like Spotify or Evernote, you just need to download the app and log in on your new Android phone to get going.
Re-sync your life
If you have all of your contacts, calendar events, photos, documents, and more synced with iCloud, and everything's on your iPhone, you'll likely have to re-sync everything on your Android phone.
Android's version of the cloud is housed in your Google apps, like Docs, Gmail, Contacts, Drive, and more. When setting up your Android phone, you'll set up a Google account. From there, you can actually sync some of your iCloud content with your Google account, so that you don't have to re-enter a lot of info.
What you'll need to bring with you
You don't have to leave your life behind on your iPhone. You can bring your information with you so that you're not taking hours to populate your Android phone with all of your stuff.
Contacts
Yes, Google and Apple are direct competitors and the two biggest competitors in the mobile game, but neither makes it too difficult to switch teams. Rather than manually enter all of your contacts into your new Android phone, you can export your iPhone contacts in a few different ways.
Calendars
If your calendar is flush with events, it'd be a major pain in the behind to have to add them all in again once you've made the switch to Android. Luckily, all of your calendar info resides in ICS files, which are widely used and easy to transfer.
Photos
Like most of us, your phone is probably your primary camera. You'll want to take those precious memories with you when you leave the land of Apple, especially if you're planning on erasing and selling your iPhone after. We recommend using Google Photos. Most Android phones have Google Photos pre-installed (and if not, it can be downloaded from the Play Store) and it's a super quick and easy process.
Documents
If you use iCloud Drive, then you probably have a few documents stored away. Maybe you want to get rid of iCloud Drive in favor of Google Drive when you switch to Android. Transferring those files is easy if you use the iCloud Drive and Google Drive desktop apps!
Manufacturer tools
Some manufacturers have their own tools to help you migrate your information from a computer. So if you have all your iPhone data on a computer, you can add it to your Android phone using the maker's tool.
You won't be able to add an iPhone backup to your Android phone, but you'll be able to drag and drop contacts, music, and more from your computer.
Samsung
Samsung phones come with an included USB-OTG connector, which lets you simply connect your Samsung phone to your iPhone and transfer files and data that way. You can also use Samsung's software, Smart Switch (opens in new tab).
Pixel Switch
Each Google Pixel comes with a USB-OTG adapter that allows you to quickly and easily transfer files, contacts, calendar entries and even iMessages from an iPhone to your new Android phone.
Things to remember
At the end of the day, switching to Android from iPhone is nowhere near as difficult as switching your writing hand, or even using that hand to write a test! An Android phone still performs the same basic functions you're used to: making calls, messaging, surfing the web, playing games, and more.
It may take some getting used to, but you might find yourself feeling free with all the customizable options that Android has to offer (I took three days to decide my home screen layout when I got my first Android phone after switching from iPhone).
Have fun with it and do your research before buying your first Android phone so that you make sure you're buying what's best for you.
If you need some help with choosing, check out our Smartphone Buyer's Guide, where we show you the particulars on just about every Android phone around, so that you can make an informed decision when it comes to switching over.
Our top equipment picks
Stunning cameras
(opens in new tab)
Google's latest flagship impresses
The Pixel 4 XL is not a perfect phone, but it's also one of our top Android recommendations. Assuming you can put up with the so-so battery life, the Pixel 4 XL delivers a wonderful experience thanks to its jaw-dropping cameras, 90Hz AMOLED display, and clean build of Android 10 backed by guaranteed software updates and security patches.
Joe Maring was a Senior Editor for Android Central between 2017 and 2021. You can reach him on Twitter at @JoeMaring1.
Android Central Newsletter
Get the best of Android Central in in your inbox, every day!
Thank you for signing up to Android Central. You will receive a verification email shortly.
There was a problem. Please refresh the page and try again.