Switching from the Galaxy S9 to the OnePlus 6 has only made me more excited for the 6T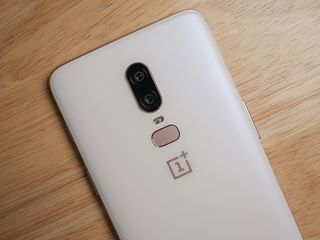 As a reviewer, part of my job is switching phones on a semi-regular basis, but up until recently, I've always come back to the Galaxy S9 when I'm done. It's the perfect size for me, the hardware is stunningly gorgeous and well-crafted, and I just can't get over how good the camera is, especially in low light.
But while Samsung's software these days is leagues better than TouchWiz iterations of the past, it's still slow and clunky at times, even with the raw power of the Snapdragon 845. Performance isn't bad enough for me to stop recommending the S9, and it alone wasn't enough to drive me away from the phone, but compounded with the increasingly poor battery life I've been experiencing lately, I figured it was time to try something else.
My OnePlus 6 had actually been sitting in a drawer with the rest of my review units since shortly after I got it; by the time my unit came in, we had already reviewed the phone on Android Central and compared it to just about every other phone on the market. In all honesty, I was more or less just given the phone to take a look at the Silk White finish — which remains my favorite in OnePlus's selection thanks to its matte texture and almost rose gold trim.
Coincidentally, OnePlus had just released the Android 9 Pie beta for the OnePlus 6, and I still hadn't had a chance to check out Google's new operating system since I don't own a Pixel — so I was eager to install the update and see what the fuss was all about. I popped my SIM card into the OnePlus 6, flashed the beta software, and powered my S9 down.
The first thing I noticed was how immediately snappy and responsive the OnePlus 6 is. Seriously, it's outrageously fast, even more so than my fiancée's Pixel 2 — and this is running beta software. In fact, it's probably the fastest Android phone I've ever used, and more importantly, it's consistent; the S9 is laughably slow by comparison.
There were a few other things I noticed that I was a bit less keen on. Having gotten used to the compact size and curved edges of the Galaxy S9, the OnePlus 6 feels absolutely massive. That's nice when I'm watching YouTube videos, but I'm just not a big phone type of guy these days. The 6 also has a pretty bad speaker, especially compared to the S9's excellent stereo setup, and it's not officially rated for water resistance — though it actually fell into a sink full of water last week and it's been perfectly fine since.
That kind of raises another issue I have with the phone; it's slippery as hell. I've never broken a phone, and I almost never even drop them, but this thing has already suffered through four drops onto my hardwood floors, and slipped off of the surface of my sink when I wasn't even touching it. It's a miracle that it hasn't cracked yet, but there are definitely a few scuffs on the screen — thankfully you can't see them while it's on.
Those minor hardware gripes aside, though, I've been absolutely blown away by this phone and the value that it represents. Even on a beta version, Android Pie runs miraculously well on the OnePlus 6, with only a small handful of bugs; notifications don't always come in right away, and Wi-Fi range is a bit worse than on Oreo. I still love the subtle improvements Oxygen OS brings to stock Android, and I've always been astounded that other Android manufacturers don't adopt the sound profile switcher.
As far as cameras go, the OnePlus 6 isn't quite up to par with the Galaxy S9, especially when it comes to low light performance, but frankly I was happy with a lot of the photos I was able to take with the Moto Z3 Play, which costs about as much as the OnePlus 6, and this has a way better camera than that. On top of that, OnePlus's camera software perfectly blends a clean and simple interface with easy access to pro controls, including features you don't get in every phone like a histogram and artificial horizon line.
On top of all of that, the OnePlus 6 has some of the best battery life I've ever gotten on a phone. While it's not quite up in the ranks of the Huawei Mate 10 Pro, I consistently hit anywhere from five and a half to almost seven hours of screen-on time, even on days where I'm navigating around town with Google Maps. I almost never have to worry about my phone's battery anymore, which is pretty incredible coming from the S9, which I had to charge sometimes twice a day.
I was pretty passively excited about the OnePlus 6 at launch; sure, it's a great phone for the money, but I'm lucky enough to have access to just about any high-end phone I want to try, so why get worked up about it? Well, as it turns out, I actually like this phone a lot more than the more expensive ones — even if it's missing some of the luxury features I enjoy.
All of this is to say that I'll be paying a lot closer attention to the OnePlus 6T, which we're expecting to see on October 17. I'm a bit concerned about the move from a rear fingerprint sensor to an in-display one, and I know that a lot of people will be upset about the removal of the headphone jack, but especially considering we're expecting T-Mobile to carry the 6T in the U.S., this phone will be a big deal, and an important one to keep an eye on.
Have you used the OnePlus 6? Are you as impressed with it as I am, and are you looking forward to the launch of the 6T next month? Let me know in the comments below!
Hayato was a product reviewer and video editor for Android Central.
Needing to replace my Nexus 6P. Looking very hard at the OnePlus 6, but the last phone I had that had downfiring speakers was the nexus 5, and the audio volume was terrible. I've been leery of non-front facing speakers ever since.

If you don't mind me asking the obvious, why isn't the Pixel an option?

The Pixel is not a flagship, premium device. The Pixel... Even the upcoming three, are all very average.

In that case neither the OP6 is a flagship, premium device.

Neither are high end. But both are the flagship of the company that produces them. Both are mid ranged devices, one with a mid ranged price, the other with a high end camera and high end price. Whilst they do appear to have some elements of a high end device (Onplus more than the Pixel), their battery size, lack of a jack, lack of wireless charging, lack of stereo video recording (OnePlus), screens, poor availability, make them decidedly mid ranged devices. I understand OnePlus skimping in some areas, as their price point seems to dictate some corners will have to be cut. Google have no such excuse, and don't qualify for a pass. Their Pixel 2 range should have been better.

Peach001 - Why is there any concern about the lack stereo video recording? Genuinely curious on your take on it.

I went Nexus 6p to Galaxy S8. LOVED the screen quality and camera, hated the laggy and somewhat buggy software. Until the update to Oreo, then it became rock solid stable. Now I have a Galaxy S9+ and it has been rock solid stable since day 1 and is awesome in all other respects. Great selection of accessories too. Slap Nova launcher on there and you can have it like you want it. And I just got the September security patch....in September! Color me surprised. Not one complaint about going Galaxy...they bring it.

Security updates are almost always on time for Galaxy flagships. Since I got the Note 5 I used to receive my monthly patches during the same month, there were some misses here and there, but no big deal. The same happened to my former S7 and now I'm also enjoying monthly patches most of the time on my Note 8.

I have all 3 phones...S9, oneplus 5t and google pixel. All are flagship, quality devices, don't know where you get the idea they are not. That said, each has pros and cons. Samsung makes very aesthetically appealing phones. But they double down on redundancies. ie: Bixby was the stupidest idea yet to get us using Samsung's assistant when OK google comes with the android OS. And I HATE! HATE the stupid curved screen. False real estate. Pixel is the least pleasing to look at, cases can't save it from being bland on the outside. It's bland inside to, but the sucker is a work horse. It does exactly what a smartphone should do, hands free. Intuitive. And mine is sitting on my night stand 24/7. The 5t is the first phone in 4 years that I can't put down. (Seriously, I have 6 phones and swap often on my second line). It's been in continuous use since it arrived with preorder last fall. The RAM is not a gimmick, it's a freaking lighting. Downloaded my playlists in seconds. Gestures built in so I didn't need Nova launcher. The only place it comes in 3rd place is camera, which is still excellent.
Begging for CDMA ....

I have been swapping phones for the last few years and even went to the dark side across the pond (Apple) for a brief time. Couldn't see a phone I was satisfied with until now when I brought my OnePlus 6. Got to admit this is a blazingly fast and seamless smartphone especially Oxygen OS light take on Pure Android and it's customisation. There's no overkill just the right tweaks here and there that make it worthwhile. Now with official Android 9 Pie update its even better with more customisation like changing the Accent colour for whatever hue you want. This should be my daily driver for some time to come. I am definitely settled with the Never Settle phone. 😁

I basically stopped reading at "the phone feels massive". It really sucks that options for a 'small' phone are basically Pixel and Galaxy S whatever. I have an S7 that needs replacing soon and I do NOT want a larger phone. All these smaller companies coming out with stuff makes me excited, but all of the new phones are ginormous. I've said a dozen times over my phone having life "I'll never use a phone bigger than this" and I always have to cave because high end small phones keep disappearing. I'm standing my ground this time.

Agreed. I switch from small to large each time I buy a new phone, and I'm never happy with the large. This last time I bought I had to make a hard decision, buy a phone for camera or buy a phone for size. Ended up with the Pixel 2 XL because of the camera issues with the Pixel 2,and my Essential PH-1 just couldn't keep up with our (at the time) newborn. I shudder to think of how blurry he would be now that he's fully mobile. I stick with a stock(ish) Android because every time I've tried a Samsung phone because of size, I'm left wishing I just couldn't see the lag & screen refreshing that their interface leaves. So here I am, looking at the OnePlus', and they're as bad as the Pixel XLs, so I'm a sad panda.

Well at least OnePlus has always stuck with the same form factor. The phones haven't physically gotten larger for the most part.

Manufacturers bring to market what sells. Small phones don't sell and lack utility. You will appreciate big phones once your eyes start to loose elasticity in your 40s+.

I think it's just wider as opposed to skinny

What about the Xperia XZ2 compact? It costs around $500 and also comes with the SD845. My only gripe is lack of 3.5mm jack but the phone is as small as a flagship can get nowadays.

Sony XZ2 Compact doesn't have a glass back, but it does have an SD card slot. It might even be my replacement for my existing Sony if I decide I can live without a headphone socket.

Went from a Pixel 2 --> OnePlus 6 --> Note 9. Which do I like most? OnePlus. The only downside was the camera. I have to have great pictures. The software features on the OnePlus are by far the best. Once that camera is on par with everyone else, I'll be moving back to OnePlus and never look back.

Camera is important to me as well i have the pixel 2 XL. but my girlfriends one plus 6 camera isnt bad at all. not the best but pretty good. What bothers me is the one plus6 runs circles around my pixel 2 its actually ******* me off. my pixel has run like **** since android 9 i even got a replacement because i thought something was wrong. well the replacement runs like **** also. my pixel 1 is faster at this point. honestly i might upgrade to the one plus 6T in the future. even the screen is nicer even though its lower res.

Haha. That's exactly why I sold my Pixel 2 xl. Lag. The oneplus 6 buries it on speed. I couldn't believe how slow it got.

All smartphones from the past 3 years have decent cameras at the flagship level. This is not really a major way to differentiate unless you're offering something truly innovative (like Samsung's dual aperture- unfortunately spoiled [for me] by iffy auto-exposure, white balance and poor post processing). The differences in cameras are mostly down to software, these days.

There's still some pretty clear differences, like the poor low light shots of the iPhone 8 and 8 Plus. I guess Moto does not count because they don't really have a flagship so to speak.

Is this article serious? First off of course the battery life is going to be better on the OnePlus it has a larger battery and is an overall larger phone.
If you compare it to the S9+ (which is a better comparison) it actually gets worse battery life.
You had to charge your phone twice a day? LOL what the heck are you doing and is the use case the same on both phones? Are the same apps installed? Or is the OnePlus a fresh start?
Even on my S8+ I only charged to 80% in the morning and was still rocking 30%+ when I went to bed.
And I use my phone to stream Pandora, navigate, surf the web, watch youtube tv, etc..... Then "laughably slow", "slow and clunky"???
This has to be just an outright lie or there is something else going on you are not telling us about. I had an S8+ and now a Note 9 and they are both buttery smooth and lightening fast. Full disclosure: I use Nova Launcher and also turn on developer options and set all animations to half speed (most people have no clue this is the biggest speed perception changer you can make on an Android phone). But enjoy your phone hope you don't miss wireless charging or Samsung Pay. Personally I use the crap out of those and would never go back for those reasons alone. And its fine to like the OnePlus more its hard to consider these types of articles credible when you embellish so much its borderline lies.

I don't see the embellishment at all. I too have a OnePlus 6 and agree with everything he says having had the Samsung S9 and currently using a Note 9 next to my OnePlus 6. As a side note, I also use Nova Launcher and make adjustments to the animations to .5 as well but the OnePlus 6 is without a doubt faster than any of Samsung's offerings.

Not saying the OnePlus doesnt feel faster. But author claims S9 is "laughably slow" "slow and clunky" which is in fact embellishment/lie.

My S9, which I preordered when it came out has been zippy. I've not had any issues with it since. I came from an LG G6

Use the stock TouchWiz launcher for awhile

This articles are just some sort of hype... 6T is coming...

What animations setting? Agreed, this article is a OnePlus pump. The Android market is Samsung and little else in North America.

Turn off the animation scale choices. Mine has 3 of them. Windows/Transition/Animator. You'll notice screen changes will be far more snappy.

Until the 6T comes out and becomes more mainstream.

You still believe in fairytales? The day OP decides to work with more than one carrier and stops the BS invitation system, then I'll believe.

Do you live under a rock? The invitation system was dead 3 years ago and they work with multiple carriers around the world, Tmobile just happens to be the first here. So where is the relevance to your comment?

Yeah not to mention it supports every band used by AT&T and T-Mobile (Plus US Cellular, I suppose). Even works on Verizon though it's missing the primary B13 LTE. Extra ironic since this is a Dual SIM Phone and finally partnering with a US Carrier on top of all that.

The Apple/Samsung duopoly in the US is the result of protectionism. Apple uses a lot of Samsung parts and if either had a complete monopoly there would be an anti-trust case.
Fortunately for the rest of us the rest of the world is a lot more diverse with a lot more choice.

Can use the Gear S3 for Samsung Pay. Wireless charging? It's personal preference. Unless you buy several pucks, it's too expensive but the 6T should take care of that issue. No need to change any settings on the OP6 to make it behave. Why buy a phone just to have to modify the settings to make it work the way it should? Battery life? It blows away my Note 8.

Check the animations setings that came with OP. It is about perception of things. A short animation time it make you feel a snappier phone. By default, I do not know why, in Developer Options all 3 animations are at 1 for Samsung, Sony, Huawei.

They are always at 1X for all devices. It's the default on Android. Same for OnePlus. The animations are just faster in the first place.

Don't see the point of Samsung Pay - contactless is universal (in Europe at least) and Google Pay works nicely. The lack of added duplicate software from Samsung is a major plus.

Google Pay does more than work nicely. Better security than contactless plastic, history easily viewed on screen, these days my "real" credit card lives in the safe and practically never gets exposed online or IRL.

True I have the OnePlus 6 and Note 9. I do in fact have Nova Launcher on the Note 9 and have the animation speeds set to 0.5X. You are a smart man. I was thinking the same when I read this article, that it wasn't a fair comparison and these two changes might be the reason. When I first got the Note 9, there seemed to be a lot of lag and stutter. Didn't seem consistent. However, it seems fine now after the latest couple updates. Definitely smooth and fast though not quite as fast as OnePlus. OnePlus easily beats the Note 9 at unlocking speed. Note 9 feels slow in that regard for both FP Scanner and Face Unlock (Though Note 9 is far more secure for Face Unlock and also has the Iris Scanner). For battery life, I don't think you're quite right. You're certainly right that the author unfairly compares the smaller S9 to the OnePlus 6. Note 9 definitely beats OnePlus 6. However, the Note 9 has a 4000 mAh Battery. The S9+ doesn't readily beat the OnePlus 6 as it has a smaller 3500 mAh Battery. And that's not even getting into charging technology. Samsung's Adaptive Fast Charging is one of the worst fast charging technologies out there and just isn't comparable to Dash Charge.

If all you've had is Samsung then no wonder you don't understand how the software in your hand is slow and clunky. Had an S7, 3T, S9 and 6 and comparing the two from Samsung to the Oneplus devices isn't even a comparison. Neither of those galaxy devices could even keep up with their equal Oneplus counterparts. Actually, my overclocked 3T has less lag than my S9 and in a few instances l, opening up large apps and games, is faster. It's all in the software development. Samsung pushes too much and it slows down their own software. You can lie to yourself all you want but the truth is the truth. Too much bs software slows it down no matter what.

Very well said. I have the note 9 too and it's absolutely great! I'm a strictly note guy and upgrade every year (except the 5. No SD is unforgivable). Samsung was wise to keep the jack. That would put me off beyond comprehension. It's not as bad as no SD, but it's pretty bad. I've been using Next Launcher for years and for some reason the bloke disappeared a few years ago and stopped supporting it. I'm looking for a launcher that is close in customization. I do that thing with the animations too!! It DOES make a big difference. I LOVE that. The minute I fired up my Note 9 I made those adjustments. B E A utiful. My note 9 can last most of the day and the wife's s9 can make it through a day of teaching middle school students.

The fact remains that most flagship android device get quite sluggish after 6 months out of the box (without any tweaks). I have used all android flagships since Galaxy S2, and I've always had to update my phone within a year either because it was too slow or battery life was way below where it started. I ended up going for OnePlus 3T couple years ago, and guess what? I'm still using that device. I don't have any reservations against getting a flagship, and there are many times I wish to get latest galaxy for its superior camera or LG for the quad dac, but I know I will be disappointed. I gave those manufacturers a chance - LG, Sony, Samsung, HTC, Motorola - all of them (and some of them, more than one). Oneplus is the only one that hasn't disappointed me so far.

I still use a OnePlus 3 lol. I haven't had any issues or screen issues. Best phone I've ever had I was thinking of waiting for the pixel 3 to drop and see what they have for specs and size. Im a lil disappointed that they stopped with the beautiful design of the OP3 it is such a beautiful aluminum case. Also another reason I haven't got a new 6 yet is due to the fact this 3 is still treating me very good. I do wish OnePlus would up the camera works and costs a little more. That's theain thing they seem to lack in compared to other devices. Also is there going to. Be more colors later on for the 6?

There's always that one butthurt Samsung user. It isn't our fault you paid $1200 on a phone that gets blown away by a $580 phone.

Bloatware on Samsung phones are atrocious. With all the competition from Chinese OEMs, you'd think Samsung would listen to customer gripes and address them accordingly. But, nope. It's just a matter of time before Samsung becomes another LG.

Samsung is building an ecosystem. Can't really integrate the way they want with Google apps. They don't own the code for those, nor will they ever. Complaints about bloatware are dripping with ignorance. That's not bloat. You're just not taking advantage of the benefits they offer.

It's not really ignorance. It's just options that are redundant and people don't want to use them but you're right about them building an eco system.

You do realize you're talking about the company who sells the most phones... PERIOD! Apparently, someone is using their ecosystem, including myself. One Plus will not sell anywhere close to one model of A Samsung phone, much less a Samsung flagship. You can take One Plus sales numbers for the next five years and they won't match one quarter of Samsung sales. Apparently, Samsung is doing something right. Some of their apps are much better than Google versions. This writer is trying to degrade the S9 to make his argument look better. If the One Plus and Pixel were as great as writers on this site claims, people would be flocking to them and the numbers would prove how great they are. You could put these two companies sale numbers together for a solid five years and they would be luke warm at best. The cream rises to the top and One Plus is clearly still at the bottom of the bucket.

The thing about bloatware is that it shifts depending on who's complaining. I consider the non-removable Gmail app and Chrome bloatware. I don't like the red on the Gmail app and don't like Chrome on mobile, you can't block the irritating social media buttons (I hate them more that add) they take my screen real estate.

This. Which is why I said that the complaints drip with ignorance. Something the person who replied to me completely lacks understanding of. Some of us used Android even when we didn't use Googles ecosystem. We did it because there were no other viable options on the carrier we used; back when iPhones were only on AT&T or platforms like Windows Mobile (6.x), BlackBerry OS (7.x), WebOS, and Symbian were dead men walking. We needed a more modern platform with a better app ecosystem. That's what the Google Account was for - Android Market Access. Googles apps were literally bloadware to me. I was in the Microsoft ecosystem, as I used Windows Mobile prior and jumped straight onto WP7 when it was released, until Microsoft destroyed that. Samsung's apps provide people like me with a well-integrated, built in option that supports all of the phones hardware and software functionality out of the box - while not being so tied down to Google Play Services that we can have everything we type, send, view, etc. siphoned off for ad personalization. Carriers suck with Android because they (e.g. Verizon) do things like rip out Samsung Cloud to push their own third part services; with awful generic apps, and often terrible device integration. "Bloatware" is code speak for "apps I personally don't want preloaded," and it's incredibly personal. I literally know people who use VZNavigator and Verizon Sync services. They'll never complain about those preloads, or delayed upgrades for certification to make sure they work properly after a FW upgrade.

Totally agreed.
One of the first things I did after upgrading my At&t Note 8 to Oreo was basically flash the N950U1 (factory unlocked) ROM on it and I couldn't be happier.
I got rid of all those unused At&t duplicated apps while I also preserved the Samsung apps I like the most: Internet (ad-blocker FTW), calendar, secure folder and Samsung Gear.

Chinese OEMs have bloatware, but more disconcerting is one day they all blow up during an attack and after transferring all your data to Chinese servers.

No Verizon, no OnePlus. It's as simple as that.

Perhaps there's a certification reason why they didn't include the primary B13 LTE. They may add it eventually in either the 6T or 7. As it stands, it does fully support CDMA and other LTE Bands.

To each his own. I personally thought Camera was weakest point of otherwise brilliant phone. I click lot of pic of my 1.5 yr old boy and since he won't stay stable, pics were most of time hazy. I find pics clicked on my iPhone X before and note9 much better . Other thing which I didn't like at all was speakers on the phone. I think if you can afford latest note or iPhone that's much better . But if you look value for money one plus is good but poco f1 is best.

Huh...I'm a recent switcher to the OP6 (coming from the HTC U11), and I think the photos are great. I think it's the fastest autofocus on any phone so I have no problem with blurry pictures, although my kids are older than yours (just turned 7 and about to turn 11). Still the action shots are great, IMHO, and it's my favorite selfie camera yet.

Autofocus isn't that helpful if it cannot lock focus well on erratic, moving targets. Also, Apple and Samsung use photo stacking and processing that gives you usable photos out of situations that would otherwise result in blurry pictures. The software is more of an issue than the hardware.

I can only say I have had no focus issues with moving targets thus far. The last Sammy I had was the S7 Edge and I did like the camera there too. I grew to HEAVILY dislike the lag creep and overall redundancy of Touchwiz tho. The OP6 seems like such a breath of fresh air in comparison, and it really is buttery to use in every day. Even moreso than the virtually stock Essential Phone I had late last year.

I don't know buddy I thought outdoors pics were good on one plus but most phones click good pics outside
In indoors it's a different story. for me pics were just okay nothing good. Besides I had s8 for few months and it didn't lag then got s9 plus which was good too . Now I have note 9 which is awesome too. No app crash no lag at all

Samsung phones always start that way. They rarely stay that way in my personal experience.

My Note 8 has been top notch since I bought it (Oct last year). It's no slouch, but of course my friend's OP6 is faster and I would never argue with that.

Snappy phones? We are talking about milliseconds differences between any decent phones. Choice is a good thing. One Plus has no carrier support in Canada, so they don't really exist.

That's the problem here in South Africa too, they not available on Carriers and here they cost the same as the Galaxy S8 which is available everywhere and can easily be fixed if it breaks, and are only slightly cheaper than the S9 which is also available on a lot of different deals and can be repaired if you break it. With OnePlus 6, I don't know where you go to if you broke it. And you have to buy it cash, and that not funny for a phone that cost US$781

OnePlus supports virtually every LTE Band used in North America except B13 on Verizon.

I made the same 'hands on' comparison ... being a S7 Edge owner ... and the 6 spanked the 9. One Plus simply supports their customer base on a fundamental - and more regular basis - Better. Personally I found the 9+ sluggish. Great screen but not much more.

Those prices don't matter. People here are financing $1,000 phones. OnePlus needs to get in Carrier Stores, or Samsung wins by default. Maybe it's just me, but I find Stock (and whatever very closely resembles it) repulsive to use.

Tmobile in October. They must be making inroads.

Hopefully it doesn't end up with locked bootloaders, bloatware and carrier exclusives.

The point of buying an unlocked phone would be to avoid more expensive financing in lieu of cheaper plans.

I love it. I gave up mt Note 8 for it.

Does anyone really give a **** what device this guy uses? I don't..

Does this article signal the end of the constant "The Samsung Galaxy S9 is the best (insert category) phone you can buy" articles that are being published?

I had the exact same experience as the reviewer, only coming from an S8.

Until the phone supports one of the biggest networks and vice-versa, these articles are junk for me.

They need 2 things before I'd consider it. Better camera, and on Verizon. Until then it's just a fun read.

I've not used a phone without a case in years, found S7 pretty slippery without too. Also not bought on-contract for years, get a far better deal going SIM only and just buying handset outright.

Im all for switching phones. I go from my S9+, S7 edge, M8 and iphone 6+!

I'm still rocking the OP3 (because it still works) and it's buttery till this day. Yes, the camera sucks but man this thing seems to run forever until it cannot support newer app updates anymore.

How's the battery going? My dad used to have a OP2 and battery went south after 2 years. Phone was dead by noon.
He's now rocking a Pixel XL, so far so good but it hasn't been 2 years yet.

I agree. I love my 3 look and feel and I keep thinking one of these days this battery is gonna go, but it keeps on trucking. I'd say in OnePlus history this 3 is by far the best of it's time. Yeah and OnePlus does lack in camera. Almost wish something would happen to my 3 so I can get a 6 lol.

I jump around phones, and I'm not loyal to any specific brand. I've had iPhones from the 4 through the 6S Plus and the 8 Plus. I've had the Galaxy Note 2, 8, and now 9. The Galaxy S3, S7 Edge, 8+, and 9+. Other odd phones mixed in there. I'd be more than glad to give One Plus a try if they were available on Verizon. Where I live Verizon is the only carrier that has service everywhere I go. The others work in about 80-90% of the areas, but with my job I need coverage in case of emergencies. So Verizon it is for now. T-Mobile has been improving in our area so maybe in the future they will be an option. I have to say that comparing all the different phones over the years I've never seen all this horrible lag or slowness on any of the phones. Yes right now my old 6 Plus iPhone is a little slow compared to the newer models, but it's several years old with 1 GB of ram. Still works fine, but you can tell it's really struggling with the newer iOS. On the price side of things the price of the One Plus is great, but in reality I only paid $500 for my Galaxy Note 9 which makes it a great bargain in my opinion. We got in on the BOGO deal at Verizon so my wife and I got one each. We had to add a line, but we had a line that we're using with a hotspot that was out of contract. We just added the line, and moved the phone over to my wife's line. Then we cancelled the hotspot line, and put the new line sim over in the old jetpack. Same number of lines and a free second Note 9. For me that makes the Note 9 the bargain of the year at $500 each.

The author states the the S9 is superior in many aspects, "but"... In other words, the OP6 is not a flagship killer. The author is "happy" with the OnePlus.

Both phones are superior in different aspects. S9+ should be the phone compared to the OP6 tho.

my review
i use an iphone x for work and personal a oneplus 6. if someone ask me what to buy i honestly have to say oneplus.
1 software android is just better in everything and with oneplus i am getting updates!
2 size i found the size just fit better for me i know iphone xs max is bigger but triple the money INSANE
3 easy to use because the phone knows what i am doing like smart lock or different profiles they are only two reason why i use the iphone x over the oneplus
imessage
camera

So the speed you need is a right slogan indeed. I always laugh at youtubers when they said phones in the last 2 years are fast enough. Unless it's a Samsung of course. Who would complain about more speed? If the processor is much faster and much more efficient than last year would you not want that? I believe when the kirin 980 and the next generations of processor comes up to match the A12 than everyone would again come up with a new comment. Now all the new phones are fast enough.

S9 doesn't ever lag for me, it's the smoothest running Android phone I've ever used. Maybe it's the apps you're running, my S9+ is just as smooth if not smoother than my backup iPhone 8 Plus. We all use our phones differently so your mileage will vary.

I'll never use a cheap, inferior Chinese phone.

How about expensive Chinese phones with a fruit symbol on the back?
Your problem nowadays is finding something that isn't Chinese. And then there's the question whether the hardware is cheap or whether it's just low margin. How much money do you want to give away to a carrier or a marketing campaign?
I'd never buy a badly engineered product if I could avoid it. But you can pay a lot of money for products that are fragile, have major design faults, or are just plain overpriced. To avoid being a mug, you need to dig a bit deeper.

Here are my 2 cents. I have a galaxy s9+ I have used since launch. And I have a OnePlus 6 I've had for 2 months to replace my other line. My s9+ is a good phone but has lag. Using face unlock on both phones the OnePlus 6 is much faster. Running Android 9 on the OnePlus 6 runs very well. In Canada I have discovered Samsung phones take months to upgrade to the latest version of an OS and it's still usually behind. The S8 finally got 8.0 in spring of 2018 which is months after it was released last August. The OnePlus is smooth, fast and with a great battery. The screen may not be as great as the Samsung but it still looks great. I have had 0 issues with the OnePlus but since my last software update which was supposed to only be a monthly security update I get random reboots and the odd app crashing. The apps that crash the most are the Samsung messages and Samsung internet browser. Almost all the other apps don't crash including all the ones I put on it. Even switching my animation from 1 to .5 doesn't see a huge difference on my Samsung. Also since that last software update I usually pull my phone's off chargers at 9 or so. And my Samsung is under 50 percent by 1 and my OnePlus is usually at 45 percent at bedtime. I use my OnePlus for all my social media, Netflix or YouTube and I stream music on it most of the afternoon.

The SD card slot is where? Remember when all Samsungs had field replaceable batteries? So convenient not to have to be tethered to a wall or car charger.

I'm a big fan of a rear FP sensor. This might have been the year I was going to try an OP device but IDK now.

I would have bailed out on my Pixel 2 for this new OnePlus, but the lack of a real headphone jack is a dealbreaker for me. I know there was a major decision to include an in-screen fingerprint sensor instead of the headphone jack, but I think they decided wrongly. Sorry.

My wife and I both had OnePlus 3t phones. Hers got dropped on the road, and we found it the next day. It was not pretty to say the least. But we purchased insurance when we got them. So we had a $364 check to put toward a OnePlus 6 and just pay the difference. That thing is great! It's faster than 3t smooth, the camera is Miles Ahead of the 3t. The notch isn't a big deal, she has had it a month and hasn't said a word about it. It seems to make good use of it's battery. I will purchase the 6t in a couple of weeks. I'm sure I could wait for the 7 and get an early 5G phone, it's just that I seem to get 30 to 60 megabytes per second download speed on LTE most times so I really don't care that much about 5G at this point. It's going to take a few years for the infrastructure to be everywhere I would need anyway. By that time who knows the op8-9 could be out. OnePlus 6 is a great phone, when I buy 6t I will miss the headphone jack, but at least it should come with an adapter.

I am a cheap phone kind of guy. My wife and kids all have I-phone X or better. I also really hate Apple phones, the prices are ridiculous. We had T- moble and a couple old apple 6 Iphones sitting around. So I traded one in and got the one plus 6t phone for 280. It is fast, very very FAST... The camera takes better photos than my daughter's iphone XR... she hates my cheap phone ... But I think she is Jelly of this one ... I have only had it one day but I can see why you are so excited. The T-Mobile deal I think ended At midnight. But the phone is worth it. I am sure T-Mobile or Best buy will have it for sale on black Friday. I even like that it is USB C ... I had millions micro USB cables ... But at the Dollar tree (dollar store). They had USB micro to USB C converters for $1 bought 5 . The 6T Charges so fast and my battery last all day. I am a Realtor so I use my phone all day... This is the first phone I think will be able to go all day without a charge. To early to say, but I had 36% at end of the day today. Awesome phone
Really.. I hope the company does well so the price of Apples & Samsungs phones come down.

I own a 1+6 and I love it... However, it would have been perfect if it had the notch and battery of the 1+6T and Dual stereo speakers. Wireless charging and an in-display fingerprint scanner are just unnecessary luxuries in my opinion. Besides, these aren't efficient yet. But honestly, the 1+6 is the year's most optimised and value-for-money handset available.
Android Central Newsletter
Thank you for signing up to Android Central. You will receive a verification email shortly.
There was a problem. Please refresh the page and try again.