Switching from the Galaxy S9 to the OnePlus 6 has only made me more excited for the 6T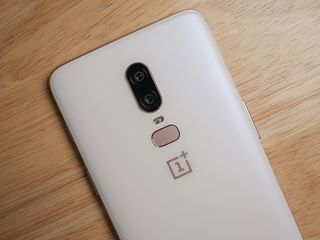 As a reviewer, part of my job is switching phones on a semi-regular basis, but up until recently, I've always come back to the Galaxy S9 when I'm done. It's the perfect size for me, the hardware is stunningly gorgeous and well-crafted, and I just can't get over how good the camera is, especially in low light.
But while Samsung's software these days is leagues better than TouchWiz iterations of the past, it's still slow and clunky at times, even with the raw power of the Snapdragon 845. Performance isn't bad enough for me to stop recommending the S9, and it alone wasn't enough to drive me away from the phone, but compounded with the increasingly poor battery life I've been experiencing lately, I figured it was time to try something else.
My OnePlus 6 had actually been sitting in a drawer with the rest of my review units since shortly after I got it; by the time my unit came in, we had already reviewed the phone on Android Central and compared it to just about every other phone on the market. In all honesty, I was more or less just given the phone to take a look at the Silk White finish — which remains my favorite in OnePlus's selection thanks to its matte texture and almost rose gold trim.
Coincidentally, OnePlus had just released the Android 9 Pie beta for the OnePlus 6, and I still hadn't had a chance to check out Google's new operating system since I don't own a Pixel — so I was eager to install the update and see what the fuss was all about. I popped my SIM card into the OnePlus 6, flashed the beta software, and powered my S9 down.
The first thing I noticed was how immediately snappy and responsive the OnePlus 6 is. Seriously, it's outrageously fast, even more so than my fiancée's Pixel 2 — and this is running beta software. In fact, it's probably the fastest Android phone I've ever used, and more importantly, it's consistent; the S9 is laughably slow by comparison.
There were a few other things I noticed that I was a bit less keen on. Having gotten used to the compact size and curved edges of the Galaxy S9, the OnePlus 6 feels absolutely massive. That's nice when I'm watching YouTube videos, but I'm just not a big phone type of guy these days. The 6 also has a pretty bad speaker, especially compared to the S9's excellent stereo setup, and it's not officially rated for water resistance — though it actually fell into a sink full of water last week and it's been perfectly fine since.
That kind of raises another issue I have with the phone; it's slippery as hell. I've never broken a phone, and I almost never even drop them, but this thing has already suffered through four drops onto my hardwood floors, and slipped off of the surface of my sink when I wasn't even touching it. It's a miracle that it hasn't cracked yet, but there are definitely a few scuffs on the screen — thankfully you can't see them while it's on.
Those minor hardware gripes aside, though, I've been absolutely blown away by this phone and the value that it represents. Even on a beta version, Android Pie runs miraculously well on the OnePlus 6, with only a small handful of bugs; notifications don't always come in right away, and Wi-Fi range is a bit worse than on Oreo. I still love the subtle improvements Oxygen OS brings to stock Android, and I've always been astounded that other Android manufacturers don't adopt the sound profile switcher.
As far as cameras go, the OnePlus 6 isn't quite up to par with the Galaxy S9, especially when it comes to low light performance, but frankly I was happy with a lot of the photos I was able to take with the Moto Z3 Play, which costs about as much as the OnePlus 6, and this has a way better camera than that. On top of that, OnePlus's camera software perfectly blends a clean and simple interface with easy access to pro controls, including features you don't get in every phone like a histogram and artificial horizon line.
On top of all of that, the OnePlus 6 has some of the best battery life I've ever gotten on a phone. While it's not quite up in the ranks of the Huawei Mate 10 Pro, I consistently hit anywhere from five and a half to almost seven hours of screen-on time, even on days where I'm navigating around town with Google Maps. I almost never have to worry about my phone's battery anymore, which is pretty incredible coming from the S9, which I had to charge sometimes twice a day.
I was pretty passively excited about the OnePlus 6 at launch; sure, it's a great phone for the money, but I'm lucky enough to have access to just about any high-end phone I want to try, so why get worked up about it? Well, as it turns out, I actually like this phone a lot more than the more expensive ones — even if it's missing some of the luxury features I enjoy.
All of this is to say that I'll be paying a lot closer attention to the OnePlus 6T, which we're expecting to see on October 17. I'm a bit concerned about the move from a rear fingerprint sensor to an in-display one, and I know that a lot of people will be upset about the removal of the headphone jack, but especially considering we're expecting T-Mobile to carry the 6T in the U.S., this phone will be a big deal, and an important one to keep an eye on.
Have you used the OnePlus 6? Are you as impressed with it as I am, and are you looking forward to the launch of the 6T next month? Let me know in the comments below!
Sign up for Black Friday email alerts!
Get the hottest deals available in your inbox plus news, reviews, opinion, analysis and more from the Android Central team.
Hayato was a product reviewer and video editor for Android Central.