Microsoft Surface Earbuds vs. Samsung Galaxy Buds Plus: Which should you buy?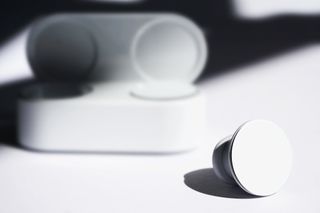 (Image credit: Matt Brown / Android Central)
Samsung Galaxy Buds+
The ideal fusion of function and ease of use, Samsung Galaxy Buds+ boast incredible value. They exceed expectations in comfort and sound quality, although pair best with Android-based devices.
Samsung Galaxy Buds+
Impressive value
Comfortable
Great audio quality
Strong connectivity
Not ideal for PC usage
Microsoft Surface Earbuds
Microsoft enters the world of truly wireless in-ear audio with the Surface Earbuds. Comfort and sound quality impress, but a heavy reliance on productivity neglects some premium features, ultimately failing to justify the price for most.
Microsoft Surface Earbuds
Comfortable
Good, balanced audio
Excellent battery life
Expensive
Fail to stand out
Microsoft has entered the wireless in-ear audio space with Surface Earbuds, translating its premium hardware lineup into a highly competitive space. Samsung Galaxy Buds+ sit among the best, refreshing its signature earbuds with impressive audio quality, comfort, and battery life improvements. And while Microsoft doubles down on productivity, Galaxy Buds+ remain best suited to the average listener.
Can Surface Earbuds take on Samsung's Galaxy Buds?
Microsoft is the latest jumping on the truly wireless earbud hype, further extending its Surface hardware family beyond its roots with premium PCs. The growing accessories offering follows up the Surface Headphones with a new in-ear alternative, presented for music playback, through to nailing that big presentation. That fusion of lifestyle and productivity carves a distinct angle in a crowded space, while also exceeding expectations in audio fidelity and comfort.
Surface Earbuds share fundamental foundations with any untethered rival, providing hassle-free listening for music, calls, and more, across mobiles, tablets, and PCs. Enhanced functionality comes with the Microsoft 365 suite, hooking into Office applications and Outlook emails to get stuff done while on the move.
Samsung Galaxy Buds+ are the latest from the mobile giant, following up the original Galaxy Buds with an incremental successor. These earbuds sit alongside a broader line of Galaxy-branded devices, focused on the essentials to deliver streamlined, easy to use audio. And with a $150 retail price that undercuts many rivals, it improves one of the best wireless audio picks with new features.
However, both corporations have their priorities and preferred platforms, with exclusive features based on the devices you choose. The ubiquitous Bluetooth connectivity makes both ideal for iOS and Android, or Mac and PC — but based on what you're looking for, it's a simple choice for most.
Microsoft Surface Earbuds and Samsung Galaxy Buds+ both feature impressive hardware — even more impressive when condensed into a compact form factor. Both earbuds showcase their respective manufacturers' audio talent, with comfort to support their ambitions as an all-day companion. While Surface Earbuds weigh a little more than Galaxy Buds+, the design compensates that difference, with no impact on usage.
Each company also has its own in-ear feel, with Microsoft featuring three traditional earbud tips, and Samsung's design sitting in the ear canal, anchored by "wingtips." This age-old debate existed before the wireless era and primarily came down to personal preference.
Microsoft differentiates its earbuds from rivals through several fundamental traits, with the most prominent its disk-shaped design. The additional surface area creates room for side-mounted touchpads on each earbud, enabling simple touch controls by tapping and swiping in preconfigured gestures. These allow the user to control playback, skip tracks, change volume, or even summon their digital assistant. Android users can also triple-tap to generate a randomized Spotify playlist, while iOS (and Android, soon) taps into "Play My Emails" to have their Outlook inbox read aloud. Galaxy Buds+ also feature integrated touchpads, but they're locked down to taps in simple patterns. Various sequences allow you to control music and hail digital assistants, with reliable results.
You'll also be well served by Microsoft and Samsung for battery life, guaranteeing an all-day charge when listening on the move. The Surface Earbuds promise 24 hours, eight hours per charge, and three top-ups via the included charging case. The Galaxy Buds+ pack 22 hours, almost double the original Galaxy Buds, with 11 hours of charge and an identical boost through the cradle. Samsung's case also packs wireless charging, exposing an area where Microsoft falls behind the competition.
Swipe to scroll horizontally
Header Cell - Column 0

Samsung Galaxy Buds+
Surface Earbuds
Earbud Dimensions
0.69" (17.5 mm) x 0.89" (22.5 mm)
0.98" (25 mm) x 0.78" (19.9 mm)
Charging Case Dimensions
2.76" (70 mm) x 1.53" (38.8 mm) x 0.84" (26.5 mm)
2.96" (75 mm) x 1.31" (33.2 mm) x 0.98" (25 mm)
Earbud Weight
6.3g
7.2g with ear tip
Charging Case Weight
40g without earbuds
40g without earbuds
Exterior Color
Black, White, Blue, Red, Pink
Glacier
Microphone
Three microphones per earbud
Two microphones per earbud
Wireless Charging
Yes
No
Battery life
Up to 22 hours battery with charging case
Up to 11 hours of listening per charge
10-minute charge provides up to 3 hours of battery
Up to 24 hours battery with charging case
Up to eight hours of listening per charge
10-minute charge provides up to one hour of battery
Cord
USB-C to USB-A
USB-C to USB-A
Wireless
Bluetooth 5.0
Bluetooth 5.0 LE
Audio codecs
SBC, AAC, Samsung Scalable
SBC and aptX
Waterproof rating
None
IPX4
Controls
Tap, hold
Tap, hold, swipe, voice
Microsoft's signature spin with the Surface Earbuds come with ties to its growing Microsoft 365 offerings, exploring various productivity applications throughout its suite. That includes enhancements to PowerPoint, allowing users to control presentations with an earbud swipe, or transcribing their speech as on-screen captions in real-time. Its growing cloud reliance also allows for instant translation, churning out your captions in over 60 languages. You can dictate documents and emails or listen to your inbox through iOS devices, too. But most of these features aren't unique to Surface Earbuds and can be achieved with any third-party headphones.
But Surface Earbuds don't come without compromise, overlooking several standard features. With no wireless charging for the case, no ability to see how much battery is left in the case, no in-ear detection, and other absent features, they fall behind the AirPods and Galaxy Buds that dominate the space. In my weeks using Surface Earbuds, they sparked frustration over missing features, rather than shining for their strengths. And with a higher asking price than similarly capable earbuds, they fail to justify the investment.
For the average user, Samsung outperforms Microsoft's offerings — especially for those using Android devices. Surface Earbuds target a specific audience, primarily pushing productivity, whether on back-to-back calls or preparing your next presentation. But for everyday audio, whether chatting or entertainment, Galaxy Buds+ lead the pack, while also $50 cheaper.
Easy Audio
Samsung's best in audio and convenience.
Galaxy Buds+ deliver the latest iteration of Samsung's wireless in-ear design, locking down a sturdy trifecta of solid audio quality, comfort, and battery life. And with a lucrative price compared to rivals, they're an ideal pickup for the average user.
Work and Play
Microsoft Surface Earbuds
Crystal-clear audio meets productivity.
Microsoft Surface Earbuds bring the first truly wireless earbuds to the premium product lineup, promising comfortable listening on mobile and PC. They ship with touch controls and voice control, although at a high price.
Sign up for Black Friday email alerts!
Get the hottest deals available in your inbox plus news, reviews, opinion, analysis and more from the Android Central team.