Sundar Pichai promotes Hiroshi Lockheimer to oversee Android, Chrome OS and Chromecast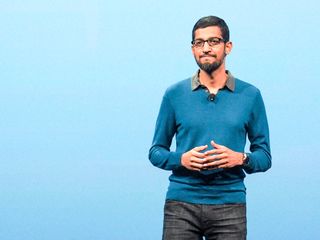 Sundar Pichai has made his first big personnel moves since taking over the helm as new CEO of Google, promoting three vice-presidents to higher roles in the company. Perhaps most importantly to those who read Android Central, Hiroshi Lockheimer is moving up from VP of Android to senior VP of Android, Chrome OS and Chromecast. Pichai knows that role well, as he previously led Android and Chrome OS before moving to head of products and then CEO.
Pichai has also appointed Neal Mohan to SVP of display and video advertising, which he previously held as just a VP. Phillip Schindler picked up a new title as well, moving up to SVP of Global Sales and Operations for the company.
If the name Hiroshi Lockheimer sounds familiar, you'll likely know him from various talks, presentations and videos surrounding Android and Nexus product launches. Lockheimer has been at Google since 2006, and we're sure to see more of him in the public eye as he starts to spread his influence beyond just Android and into the Chrome OS arena as well.
Source: Re/code
Andrew was an Executive Editor, U.S. at Android Central between 2012 and 2020.
Hiroshi Lockheimer = most bad ass name I've seen in a while. Sounds like a super hero!

I want to make an inappropriate world war 2 joke but I will refrain.

it's probably best that way. Nexus 5 | T-Mobile $30 Plan
Android 6.0 Marshmallow

I've read someone else make that connection with his name too, lol

Lol do it Posted via the Android Central App

+1 Posted from my Nexus 6/Nexus 7 2013/Surface Pro 3

Was gonna say the same thing :) via AC App on
VZW Moto X DE/N7

I see nothing wrong with this. At least Sundar seems to presenting himself and his vision better to the public and company as a whole better than Page ever did. I wish Sundar could make some moves of partnership and more open image with rivals like Microsoft's Satya has done. That could help extend the ecosystem even further. Posted via the Android Central App

Matias Duarte should be head of all Android he has done so much for the company, if it wasn't for him I really don't know where Android would be. He has totally redesigned the OS since the Honeycomb days. Not only does he have the vision for software but hardware to go along with it. It's a shame he doesn't get the credit he deserves. Heck I don't even think this site has ever even mentioned him. Posted via the Android Central App

My Google fu says not much in depth since 2012. Is this true AC? He's a rather big deal in the android world. Posted via the Android Central App

Martias knows how to redesign an OS for a more consistent experience. But it takes more that to be head of an entire mobile OS. Leading Android also requires vision for progression, not just refining what already exists. Posted via the Android Central App

Maybe they asked and he said no?

they need more powerful, non atom and non arm based chromebooks, with higher resolution screens at lower prices. why would anyone buy a chromebook now when you can get a more powerful windows machine for the same price

Because Windows is stank?

Like it or not, Windows powers most of the world's infrastructure and operations at the user front. Posted from my Asus ZenFone 2.

But not with $199 POS windows laptops Posted via the Android Central App

Windows is great. Windows laptops in the Chromebook price range are not great. Or good. Or acceptable. Or useful in any context. Posted via the Android Central App

Hope somebody has vision for android, because changing my apps drawer to where it was 4 years ago seems like a start in going backwards. Could of just built in options of styles like Nova or any other launcher than just deciding what I prefer for me. Not the Android I know of as different but the same. Android Users want innovation, not the same old tired fixing of what isn't broke like every other company does.
Android Central Newsletter
Get the best of Android Central in in your inbox, every day!
Thank you for signing up to Android Central. You will receive a verification email shortly.
There was a problem. Please refresh the page and try again.