Straight Talk Buyer's Guide: Everything you need to know!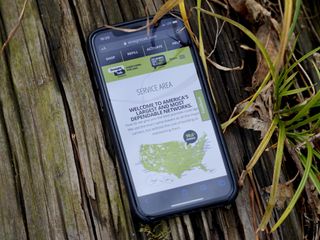 (Image credit: Samuel Contreras / Android Central)
Straight Talk Wireless is an alternative carrier, or Mobile Virtual Network Operator (MVNO), that offers prepaid wireless service through a partnership with TracFone and Walmart. Straight Talk offers support for both CDMA and GSM devices, as it piggybacks on the T-Mobile, Sprint, AT&T, and Verizon's networks.
Straight Talk offers no-contract plans for individuals on 30-day refills that start at basic talk, text, and limited data, all the way up to unlimited data. Straight Talk Wireless is provided by TracFone, which is owned by América Móvil. It focuses mainly on selling budget devices but you can still pick out the outstanding Samsung Galaxy Note 10 (opens in new tab), or opt to bring your own device (opens in new tab).
Straight Talk has a lot to offer for a price conscious consumer, so read on and find a plan that works for you!
No frills, just service
Simple data plans
A wide range of plans makes it easy to find a fit for every person and every device. Switching carriers has never been easier with Straight Talk supporting phones on all major carriers.
The plans
Straight Talk offers prepaid 30-day plans as well as some extended 90-day, six-month, and one-year plans like we've seen from Mint Mobile. There are no contract commitments required unless you decide to buy a phone on a monthly payment plan.
You're able to buy a new plan at Walmart (opens in new tab) or directly from Straight Talk (opens in new tab). You also have the option to save a few bucks and sign up for the auto-refill option, which you can opt out of at any time with no cancelation fees incurred.
Straight Talk is rather generous with its high-speed data rates, and since it borrows the Big Four Networks existing infrastructure and equipment it's able to pass along great savings while still offering outstanding coverage from coast to coast (opens in new tab).
Basic
3GB
25GB
Unlimited
25GB international
Talk and text
1500 minutes
unlimited texts
unlimited
unlimited
unlimited
unlimited
High speed data
100MB
3GB
25GB
unlimited
25GB
International calling
+$10
+$10
+$10
+$10
included
Price
$30
50% more data with auto-refill
$35
$34 with auto-refill
$45
$44 with auto-refill
$55
$50 with auto-refill
$60
$59 with auto-refill
If you're looking to make international calls, you can add a global calling card for $10 per month if you only need it occasionally or upgrade to a 25GB data plan with international support for $60 per month.
What about phones?
Straight Talk offers a fairly limited number of low-budget Android phones alongside the usual Apple devices, but you can still get the latest and greatest from Samsung, the Galaxy S10 series. The S10 and the S10+ are both available to be purchased outright or on a 15- or 24-month payment plan (opens in new tab). You actually need to enter your ZIP code to see what's offered in your area, but the Galaxy S10 should definitely be available nationwide through Straight Talk. Of course, you can also stop in at your local participating Walmart and see what's available in-store.
Beyond the Galaxy line, you can shop at Walmart (opens in new tab) or on Straight Talk's own online store (opens in new tab). You can choose from a wide range of phones, including cheaper phones.
Making sure your phone is compatible
You also have the option to Bring Your Own Device (opens in new tab). Straight Talk is a subsidiary of Tracfone, a company unique in that it has deals with all four U.S. carriers. If you decide to buy your phone directly from Straight Talk, the representative (or website) will make sure you get the right SIM card, but if you decide to use your existing unlocked phone, things get a little tricky.
That's because while the phone, if purchased in the U.S., is more than likely compatible with one of Straight Talk's networks (since they offer support for both CDMA and GSM devices, you should be in luck), it must have the right SIM card to align with the right parent network. Check your phone's compatibility (opens in new tab) at Straight Talk's website to easily find out which SIM card you need.
Once you have your device and SIM card, you can activate it here (opens in new tab) and then get a monthly plan.
What's that mean for coverage?
For coverage, it's going to come down to the phone you're using and the SIM card it needs. You'll have to check each map (opens in new tab) to determine if your phone will work for you. Even if you're coming from one of these other carriers, you should still double check your location since Straight Talk won't have the same roaming agreements that other carriers have.
How to cancel Straight Talk
Since Straight Talk exclusively offers prepaid contracts with no contracts to sign, you're free to stop using Straight Talk by simply not refilling your account by the end of your current term.
If you bought a phone from Smart Talk on a monthly payment plan, you will either need to return the device or pay the outstanding balance. As outlined in the fine print on its website, it's a lease-to-own transaction, meaning you don't technically own the phone until you've completed the final payment.
How to unlock a Straight Talk phone
Bought your phone through Straight Talk and want to bring it to a different carrier? You can do that but it will depend on the particular device you're looking to unlock! All you need to do is call the Straight Talk customer service department at 1-877-430-CELL (2355) and ask for an unlock code for your device. If it's available to be unlocked the customer service rep will give you the unlock code over the phone and away you go!
Its call center is open between 8:00 a.m. and 11:45 p.m. (EST), seven days a week. Learn more here.
Finding another MVNO
If you're not happy with Straight Talk for one reason or another, there are plenty of alternative carriers to choose from.
No frills, just service
Simple data plans
A wide range of plans makes it easy to find a fit for every person and every device. Switching carriers has never been easier with Straight Talk supporting phones on all major carriers.
When Samuel is not writing about networking or 5G at Android Central, he spends most of his time researching computer components and obsessing over what CPU goes into the ultimate Windows 98 computer. It's the Pentium 3.
Reminds me of the South Park episode when Jimmy is calling out ads masquerading as articles. AC has really been pumping out the MVNO ads lately posing as articles.

True, especially since the article is mostly "this is an MNVO, here are the plans, buy a Galaxy S8 with it." However, I still find these articles helpful. I'm more likely to read a succinct article on AC about MVNO plans than to go to each MVNO's website for listings. Plus, I hadn't heard of some of the MVNOs until reading them here.

Been using straight talk for years with Verizon phones. Never have had a problem. Big thumbs up to their live chat support, most anything can be resolved right there except purchasing a plan.

I too have been on ST for years, using ATT service. Hard to beat the value. Even their customer service has improved.
That said, I've given up on getting a discount for autopay. I've emailed and chatted with customer service multiple times to no avail. They always oh yes, we'll sign you up and it will begin on your next month. It's like waiting for Godot.....

NO!!! Their call centers are idiots reading from scripts with no wiggle room for ingenuity or customer satisfaction. Let alone when something goes wrong it goes wrong in a big way because they hook up to the big four in a very messy solution. When your voicemail fouls up (a lot) it defaults to the major carrier's settings and it's near impossible to get it back if that box is in use by another customer. Trust me, I've dealt with 10 of these issues. Also, Straight Talk/TracFone half the time doesn't even know if they own the iPhone they have sold. It's not in their IMEI database for activation. It's just so sloppy. And you can't even really just swap SIM cards when you want a new phone, inconveniences a plenty. I work with them daily!!! The closer you get to the big four the better you are when it comes to prepaids when things go wrong or when you need help.

Things like this is why I went with the real Verizon last year after testing their network out with Page Plus (another TracFone owned company) when the plan renewed, my data would not reset without having to call or chat with them. It makes me not even consider a TracFone owned company again.

Same thing with Total Wireless. I had to call to reset data. Five months was enough. Went to an LSU football game and could not use my data at all. My brother had Cricket Wireless and he could use his data. I went to Big Red on Black Friday and signed up.

The iPhones are not in their database because they can be used on both Straight Talk or Total Wireless (but can't be changed once branded to one or the other). But I agree their setup is a mess. The commercials talk about being half the price of the major carriers because they dont own the towers. No, it's because they have mostly untrained and incompetent Customer Service representatives from Timbuctoo.

From what ive herd of tf's customer service aside from the main carriers not giving mvno customers equal access in congested areas I just didnt see value in it. Lately ive been visiting areas that have tmos refarmed hspa(sadly few unlocked phones support tmos odd lte band used in these cities) & even in those areas att wasnt optimal that I went vzw prepaid with a rm-927 that I imported & was better served
Android Central Newsletter
Get the best of Android Central in in your inbox, every day!
Thank you for signing up to Android Central. You will receive a verification email shortly.
There was a problem. Please refresh the page and try again.