Sprint teasing EVO 3D via e-mail; not listed on rebates before June 23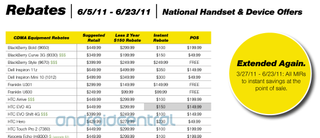 Let's get back to the Sprint EVO 3D launch date for a second, shall we? Or, rather, the lack of a launch date. A bunch of you reminded us that when the EVO 3D was listed under "Week 4" in the recent version of the Sprint Playbook, it referred to the training cycle, and not so much a spot on the calendar. And that's correct.
But let's also take a look at the rebate schedule from said Playbook. The EVO 3D is nowhere to be seen for June 5-23. Now that doesn't mean things can't change -- we'd love to see it come out sooner rather than later. But all the info we currently have suggests we won't see a launch before ... wait for it ... the fourth week of June, at the earliest. But, again, that could well change.
Also, Sprint's started sending out e-mail teasers for the EVO 3D, which AC reader Jamie just sent our way. No, there's no launch date listed there, either, but it's another sure sign that we're marching steadily toward launch. Check it out after the break.
More: EVO 3D forums
Android Central Newsletter
Get instant access to breaking news, the hottest reviews, great deals and helpful tips
I got this email also today, can't wait to get my hands on it.

My teeth are like a neighborhood, could be a little whiter....Cant wait for that evo 3d though!!!

WTF? Not sure what you meant exactly, but comes across as a racist statement.

What kind of racist bullcrap is this? Come on dude.

Well, I guess someone's time on here as a registered user is about to come to a quick end. No room for those types of racist comments here.

.... -_- . . .is it that hard to give us some kind of solid date Sprint?. . . Whatever... these "teases" are just annoying.

This is ridiculous...how many Android phones have Veripoff, AT&Trash, and T-Misery released since Sprint announced the Evo 3D? 6, 3, and 2 respectively! Is this Sprint's way of gaining and retaining customers? Announce a cutting edge phone, but wait until the cutting edge technology is passe before making the device available to customers?

I got the email as well, just waiting impatiently at this point for launch date.

Just checked my mail and found it... As if it wasn't bad enough that we're back at work, Sprint. Thanks.

i work at radioshack and on our sales flyer for the week of june 5th though june 11th has the evo 3d on the front telling customers that they can preorder it at radioshack.com and if they trade in their old phone they get 100 off blah blah etc... so it seems to me the evo wont be released until the week after or the last week of june

3d or sensation decisions decisions decisions...........

I was in a Sprint store the other day, and the rep told me it doesn't look like it will be out before July.

The girl that is the head of the store I pay my bill at, is testing a 3d and has had it for almost 2weeks, i saw her at the bar playing with it and when I said something her and another sprint employee got extra nervous that I saw it and put it away then left the bar, all she would say is b4 July

As long as it's after the 10th of June, then I'm happy, which the 10th is when I get my commission check, i have the money now, but it's nice to have the cushion I have at the moment. What's sad is the Iphone5 is going To be announced on June 6th, one would think Sprint would be on the ball to get the 3D out.

If Apple says they will release the next iPhone on Sprint this year, it will eat into the EVO 3D sales.... I'm now wondering if that's what Sprint is hoping for so they don't end up with a shortage like last year with the Evo 4G.

If the iPhone comes to Sprint, a bunch of people are going to bypass the EVO 3D for it. It would be even funnier if the next iPhone had Dual Core and 3D as well. I don't see it having WiMax though.

how much is the EVO3D going to cost?? it says 299 after 150 rebate but then it say 149 after another 150 rebate. so is it 299 or 149?? it's hard to belive that they would sell this phone for less than 199.

The Evo 3d isn't in the rebate list. That's why they are saying it won't be out till later. You were probably looking at the prices for the Evo 4G.

I tried to resist the EVO and fell for it last December. I'm trying to resist the EVO 3D and I've got until December to keep fighting it off.... I don't think it's going to work...

Few people are talking about the iphone on Sprint. I would only switch phones if the screen was at least 4.3in and has flash. And neither of those are going to happen.
Android Central Newsletter
Get instant access to breaking news, the hottest reviews, great deals and helpful tips
Thank you for signing up to Android Central. You will receive a verification email shortly.
There was a problem. Please refresh the page and try again.