Sprint pushing Samsung Galaxy S III security software update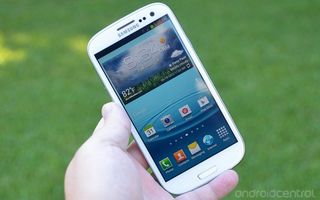 For those of you with a Sprint Samsung Galaxy S III in your hands, Sprint has noted that a software update will soon be pushed (if it hasn't been already) to your device. The update labeled as software version L710VPLF9 is only showing as being a security update for the device so it appears there may not be any other bugs squashing happening but as we know it, not all changes tend to get listed so you'll have to give it a go and then let us know if you spot anything else. Did you get the update yet? Drop a note in the comments or in the Android Central forums if you did and want to talk about it.
Source: Sprint
Android Central Newsletter
Get instant access to breaking news, the hottest reviews, great deals and helpful tips
WOW!! That's just awsome! Now get off your a** Sprint/samsung and release a software update to GSII owners known as ICS. I know your busy playing catch up with LTE and trying to fix your existing 3G service to actually work like it should but this is total Yak squeeze!

Phone already runs ics, do you mean jelly beans perhaps?
I'm still waiting for mine to arrive, but if it comes with Froyo, they will be receiving a strongly worded letter :-)

I was refering to the GSII owners (like me) that are still running GB. Every other carrier has put out ICS for thier version of the GSII but Sprint. Your GSIII is most definatly running ICS andd will be upgraded to JB in the fall of 2015....

Not US Cellular. Their GS2 is still on gingerbread.

Somehow though I think US Cellular will get it before Sprint.

Still missing ICS for my SGS II Skyrocket on AT&T over here.

The update has rolled out for the ATT version. You have to install Kies and update that way, its not an over the air update.

At&t s2 skyrocket has no ics. Your argument is invalid sir.

http://forums.androidcentral.com/t-galaxy-s-ii/ Maybe not the Skyrocket HD but the at&t GSII got the update to ICS. I included a link to the forums just incase you somehow missed it. My argument still valid? I mean I did say GSII.....but I did forget about the Skyrocket HD.

Yes the AT&T SGS II received ICS. The AT&T SGS II Skyrocket has not. The Skyrocket is a different phone and has a different chipset than the AT&T SGS II. There is also no Skyrocket HD on AT&T. I believe Bell in Canada has the SGS II (Skyrocket HD) HD LTE. They are also missing ICS as of yet.

I notice with my SGIII after this update on latitude .My location is dead on to my physical address just by the cell towers. Haven't noticed anything different other than that so far.

It also looks like this update fixes the Google Wallet problem that the 32GB versions had where it would tell you that you have an unsupported device/carrier.
Android Central Newsletter
Get instant access to breaking news, the hottest reviews, great deals and helpful tips
Thank you for signing up to Android Central. You will receive a verification email shortly.
There was a problem. Please refresh the page and try again.