Sprint inviting VIP customers to a Galaxy S III event in Boston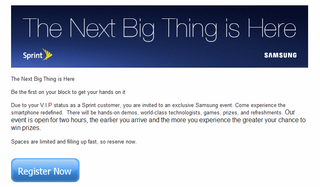 The cat is well and truly out of the bag regarding the Sprint Samsung Galaxy S III, and it seems they're keen to show it off to their customers. Android Central Forums member mercado79 just tipped us off to an invite to an event in Boston scheduled for June 12. Seems that Sprint are keen to let their "VIP" customers get an early hands on with the forthcoming smartphone. There's also talk of prizes, which from Samsung could be a whole array of goodies. It isn't a free-for-all though, to attend you have to register, and with the hype arround the Galaxy S III truly reaching a frenzy, if you're invited early registration is recommended.
We've had a lot of hands-on time with the Galaxy S III since its launch back in London. As we speak too, our very own Alex Dobie is working incredibly hard on bringing you the full, comprehensive review.
Thanks mercado79!
wow, i'm Glad Samsung didn't fold to the USA carriers Luke ie did with the G s 1 and G s 2.

+1. Just look how much faster this is coming to market vs the previous versions. Don't know if it will make a difference on updates but it's a great step.

+1. Just look how much faster this is coming to market vs the previous versions. Don't know if it will make a difference on updates but it's a great step.

what kind of sense would it be to have two press conferences revealing the same phone. Plus NYC blows XD

Please dude, its a far better place than whatever dump you're crawling from. :)

Actually boston pulls off the impossible by sucking and blowing at the same time. NYC RULES!!!!!

What I'd love to see happen is Sprint use this event to (also) announce LTE being turned on for the Boston area.

Wishful thinking.... It's not even live in the initial launch cities yet..

mercado79 guess I'll see you there.....

BOSTON BABY! Celtics Pride!

Not that you probably get anything for it but how does one become a VIP at Sprint? I used to be Premier Gold (or something like that) until Sprint discontinued the program. It was great as you could upgrade your phone much earlier than other users. Once that dropped that perk, I never kept up with any special tiers that they might have.

Sprint didn't send me this "VIP" invite even though I've been with them for 4 years. Yet, someone I know who's only been with them for 6 months did? The only thing I can think of is I live 40 miles away from Boston while he's closer. Maybe they're targeting people geographically. Anyway, of course I will be there! It should be fun to drive into Boston during rush hour for a 6pm event...

I live in Boston and have been with Sprint for 4 years. I was a Premier Customer at some point. I did not get an invite. I think I might head down the street to the Sprint store and see if they can get me in.

You don't need an invite. The registration is still open: https://sprint.eventready.com/index.cfm?fuseaction=reg.info&page=Welcome...

Awesome, thanks. Just got my registration confirmation. Hoping they are giving a few away.

Driving in during rush hour sounds awful, but at least they're covering parking costs. As for the whole "VIP" thing, I'm not sure what that's about. I too have/had Sprint Premier Gold status when the plan was still alive and well, plus I've often given them my email address for phone updates on new releases (Evo, Galaxy Nexus, etc.). So, maybe it's that. I probably gave Samsung my email address at some point too. Oh, one more thing to keep in mind in case you didn't realize...while the Sprint Premier program is now dead, Gold members had one more upgrade available for 2012. It expires at the end of the year. I may just use it on the SGS3.

Shouldn't this say pending approval by US customs??

Go Boston!! Fu*k Lebron!!!!

Received my invitation on Saturday June 9th to an event on June 19 in San Francisco! Responded and will be attending.
Android Central Newsletter
Get the best of Android Central in in your inbox, every day!
Thank you for signing up to Android Central. You will receive a verification email shortly.
There was a problem. Please refresh the page and try again.