Spotify now live in the United States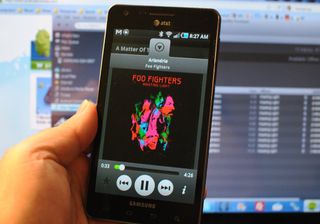 Take just about every feature from every streaming music service available, and you you get Spotify. But until today, those of us in the United States were left on the sidelines. No more. Spotify's now live. Create playlists, share music, search from millions of songs, play offline. And, most important, play on your Android phone.
Free invites are going out fast and furious this morning, and there are deals that can get you bumped up to the premium levels pretty quickly. Or if you don't mind paying monthly, $4.99 a month gets you the basic service, sans advertising. For $9.99 a month "premium" (and this is the one most of you will be shooting for), you gain full Spotify access on your Android smartphone, offline mode, and better streaming quality.
We're right in the middle of deep-diving this thing, but so far, Spotify's living up to its expectations.
More: Spotify
Arlandria is an awesome song. On topic, I look forward to getting an invite so I can try this baby out - I've been kinda stuck on Pandora for many years now and am looking for a new experience.

Klout has some invites: http://klout.com/#/perks

That link doesn't lead anywhere except to a description of someones Twitter profile.

Thank you! Got my free invite!

Here a link to request invites straight from Spotify. http://www.spotify.com/us/hello-america/

I would love an invite to try this out, but sadly it say the EVo 4G is not a supported device. So sad...suppose I'll have to stick with Last.FM, Pandora, Amazon MP3, Google Music...the radio. Though, after reading about Spotify for quite sometime I really would like to try them. :-)

Yeah, what's the deal with all of the EVOs - 4G, Shift, 3D - being unloved?

I've got it rocking my EVO 3D

Where does it say that Spotify is incompatible with EVO 4G?

What's the big difference between this and Rdio?

Why are there ZERO Moto devices supported??????

I'm running it on my Atrix?

Simply because Spotify is developed in Sweden, and Moto don't export to scandinavia, so they havent gotten around to test on moto devices.
That being said, Spotify runs great on all the handsets I've thrown it onto so far, be it android 1.6, 2.x or 3.x, so all moto phones should work great.

Ok, don't laugh, but I've had Napster for quite a while.....what's the difference?

Just signed up for premium. Definitely worth it. Huge selection. Way better connection than MOG. Only thing it's missing is auto-discovery of similar artists. Working perfect on my EVO 3D

Ok so maybe it's me. But I don't see the difference between this and Rhapsody. So what am I missing that makes this a must have app?

Is Spotify free with an invite on mobile devices? I thought it was a pay service on mobile devices.

With the free version you can sync mp3's you own to your phone OTA. If you want to stream content, you'll need to have a premium version ($10 a month)

AC sure likes that Foo Fighters album, I've seen it in their splash images for music services before. I notice this because, well, I like it too.

Anybody have a invite? Owenskyle@gmail.com

Been playing with Spotify for the past 30 minutes. I much prefer Rhapsody. Seems like Spotify does not have channels/radio stations, no editor or user playlists (besides the ones your Facebook friends are sharing), the layout is not as easy to navigate (no sidebar with all the albums of an artist, instead you have to scroll through all the songs on newer albums to get down to the one you want, etc. I've also been a Rhapsody subscriber for too long (since October 2003) to give it up for something that appears to be all hype. But I certainly welcome the competition, and hope this makes Rhapsody continue to innovate. (Sorry, they didn't give me any invites either)

radio feature according to them will be available soon, they have one for the eu version, just not the US one yet. I think this app rocks, never really tinkered with anything other than google music, but the quality is fantastic, and the songs load ridiculously fast... even on 3g

I'd like to see a forum topic once it's out and running comparing it to other options. My big question is why this would be any better than Rhapsody? About the same monthly price and only support 1 device where Rhapsody supports 3 and 2 computers. I am very happy with Rhapsody and believe these guys may have waited too long to strike. Interesting none the less...

OK, so we gave you Spotify - can we have Amazon App Store and Google Voice now please?

I got a free invite and this seems okay. Any info on the deals to get bumped to a premium membership?
Android Central Newsletter
Get the best of Android Central in in your inbox, every day!
Thank you for signing up to Android Central. You will receive a verification email shortly.
There was a problem. Please refresh the page and try again.