Spotify Free app update: Everything you need to know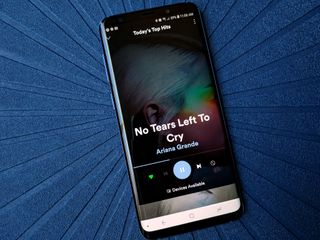 Spotify's Free service is — at its heart — meant to lure you in and then convince you to pay for Premium, To this end, Spotify has rolled out a shiny new update to its Android app that's meant to help draw in more new users and convince them to pay for Premium.
And it is every bit as annoying to use as it is beautiful, so congratulations, Spotify, you succeeded.
PYT (Pretty Young Theme)
The new look for Spotify Free is quite enticing, from simplifying the tabs and the layout to giving the playback screen an intimate and dare I say sexy new look. We now have four tabs instead of five, but since one tab is a giant ad pushing you to Premium, we're going to ignore it and focus on the other three:
The Home tab has been simplified tenfold. Where there was carousel after carousel of genre playlists and promoted playlists, there are now only three things: a single carousel of Recently played, a small section of Made for You mixes filled with the artists you confessed to liking when picking bands during setup, and Play on demand, the playlists that Spotify still lets you use like traditional playlists. We'll get back to that in a bit. The new, scaled back Home tab is a breath of fresh air, and helps avoid overloading users who don't know what they want to listen to.
The Search tab has absorbed the Browse tab, so now we have a search bar and a genre list below it. Tapping a genre will show you the usual featured playlists, podcasts, artists, and albums for that genre for you to peruse. If you want to see what you've recently searched, tap the search bar and your recent searches will appear.
The Your Library tab features four mini tabs of its own: Playlists, Artists, Albums, and Podcasts. If you want to replay what you've listened to recently, you'll need to use the Recently played carousel on the Home tab. Noticeably missing from this tab: a list of your favorited Songs.
You'll notice I said favorited instead of saved. The new Spotify Free now uses the Favorite icon on songs, albums, and artists to add them to your library instead of having users Save to library, a name which may have caused some confusion for users who thought Save meant downloading for offline listening, which is unavailable for free users. The Favorite heart that appeared in radio stations on the old Spotify is now pretty much everywhere, and next to every song in a Play on Demand playlist — or the track listing hidden on an album — you'll now have three icons instead of one: Favorite (heart), Block (No/banned symbol), and Menu (three vertical dots). This can allow users to quickly add slews of songs and block songs they hate, but it also makes the song listing page look a bit more cluttered.
Once you start playing something, you'll see the most drastic — and most beautiful — overhaul in the Spotify free update: the playback screen. The album art is now stretched to take up the full screen, with the Artist name, playback bar, and play/pause button now steeped in the color of the artwork for most tracks. This reminds of the Google Play Music playback window — except, y'know in a dark theme and done properly. It's beautiful, and I was quite disappointed when I logged back into my Premium account and had to kiss it goodbye.
You need some TLC
The new Spotify Free is prettier than Premium, but every Free user would probably give up the makeover happily just to be able to get a little more usefulness out of the app. Let's start with biggest, bluest thorn of all: the Listen in Shuffle icon. This little devil appears on almost every album and playlist on Spotify Free now, except for the highlighted 'Play on demand' section in the Home tab.
Shuffle Play was the default on Spotify Free before, but Play on Shuffle goes a small step further, especially when playing albums. On Spotify Free's new mobile experience, you can't play an album on shuffle; instead it will play a shuffle "Based on this album", which will slip in other songs that may or may not fit the album. This wouldn't be so insidious on its own, except that you only have 6 skips an hour, and these intruder tracks can burn them up quickly.
On this version, you can't pick which song in an album or playlist you start with. If you tap the tracks contained, go to the track listing and tap a song, it'll play a snippet of the song, but not the song itself, which is a major fake-out and is likely to make a number of Free users scream the first time it happens to them. I know I did.
The only playlists where tapping a song actually gets you that song are the 15 'Play On Demand' playlists. These are some of the most popular genre playlists on the service, and chances are you'll find one or three you like. Between this and some expansive playlists, you can probably squeak by on this new Spotify Free without losing your mind.
Probably.
Next stop: Spotify Premium
That said, the goal of this little nip-tuck on Spotify Free is to get more people to sign up for Spotify's paid service, and this nudge will likely drive more than a few longtime free users to Premium, but it may also drive some free users away for good. Spotify already has ads every few songs and collects its own little nest egg of information on its listeners, and the experience on Spotify Free is far less limited on computers than it is on phones, so this update may simply lead some free users to simply forgo the Spotify mobile app and only stream from their work or home computers.
One other thing is quite clear: the free version of the Spotify app is prettier than the paid right now, and that's got to change. It's unclear how long it might take Spotify to shift to this new layout, but at least the playback UI needs to get updated, pronto. Ara wants her colorful, full page playback screen.
So, did the new Spotify update push you off the fence and into a subscription? Did you finally wash your hands of Spotify and move to something else? Is the new UI pretty or just pretty annoying? Whatever your decisions or your thoughts on the update, we want to know them! Share them in the comments, along with whatever you're listening to right now.
Get the Android Central Newsletter
Instant access to breaking news, the hottest reviews, great deals and helpful tips.
Ara Wagoner was a staff writer at Android Central. She themes phones and pokes YouTube Music with a stick. When she's not writing about cases, Chromebooks, or customization, she's wandering around Walt Disney World. If you see her without headphones, RUN. You can follow her on Twitter at @arawagco.
Interesting that the free version would get a makeover before us paying customers.

If you're going to piss off customers, pissing off the free customers first makes sense. But yeah, otherwise it doesn't make a lot of sense...

Well, Ara may want that colorful mess I can see there in the pictures, I definitely do not! A 13 year old is likely to love it! If you want this kind of mess use Play Music. That app looks as crappy as the Spotify free app. Gotta extract the apk right away before an update ruins my Spotify experience and sends me somewhere else!

It is a divisive update, but I kinda like it. It's better executed than the Play Music version, especially with the dark gradients.

Oh man, I just created a fake account and ran Spotify free. My greatest fears have been confirmed. The player screen an ugly mess. Zoomed in pictures where you see a leg here, part of a face there, half words, half artists, etc. stretched out over the entire screen. Just like Google Play Music, only worse! If that is the new norm I'm off to Amazon music, saving a couple $ in the process.

Looks like crap to me. Where is the sexy? I had no problem with the look before.. Just didn't care to listen to albums on shuffle with random unrelated songs thrown in. Google Play with YouTube Red just always seemed like a better deal.

It absolutely is the better deal. 110%

I used spotify for awhile but didn't like it much... switched to Rhapsody that's now Napter again.

Wow. It's okay I guess. I'll see it eventually...

Ara, I see some of the new changes that were described in the article on my Spotify, but I still have the 5 old trans at the bottom, does that mean I haven't gotten the update yet?

Force stop and re-open the app. If you see 5 tabs instead of 4, you're not on the update yet (I think some of the changes are server-side, and some come with the actual update thru Google Play). Gotta love a trollout, right?

Haha, they sure know how to keep you on your toes. I just tried force closing the app but still have the 5 tabs. I guess it's just not my time yet 😿

In the same boat as you, TechTonicX. Received Play Store updates for Spotify today and 4 days ago, but still have the 5 tabs and same UI. Tried Force Stop to no avail. Tried uninstalling and reinstalling to no avail. Guess it isn't my time yet either.

who cares if the free version is prettier than the premium version, you are not going to look at it for long, just choose what you want to listen to and that is it. Granted it must be usable and I do think the premium version could do with a bit of a make over.
I have been using the premium version for a while now and was wondering if it is really worth £10 a month, I do use it more than I used to as i listen to it on the way and back from work and lately have been using it at work since one of my workmates leave a small bluetooth speaker in the warehouse and I connect the phone to that, since our bosses do not seem to bother about us having our phones anymore. As long as we do use them to make calls and text. So I will have to decide what I want to to.

When is the updated app going to be released? With so much talk about it, I would think that it would be available by now.

It's a staged rollout, so some users have seen it and some haven't. I will say that if you're already using Spotify Free that not all of the changes happen until you force stop and reopen the app (or reboot the phone).

I'm sorry Free one looks prettier than Paid one?! 😅I've been there I disagree.

Can't play ANY podcasts, it's no longer a 'genre' option ...waiting for a reply from SpotifyCares as I type.

Hi, I'm hoping someone can answer this - When I had the free version I saved songs I liked and they were added to my "favourites" playlist. Now that I have Premium there's no way to add or remove songs from my favourites. There's the option to Save songs to my music "Your Music," which is quite similar, but I to manually add all of the songs I had previously favourited to this new system.. and there seems to be no way to add or remove songs from the "favourites" playlist. Am I missing something? Is there a way to edit the favourites, or has saving songs officially replaced the favourites option? Is there any way to merge them? Thanks!

I'll say that this new version of free Spotify is CRAP! They removed the Radio functionality in freemium and made the design look overly simplistic with its overwhelmingly large UI. This UI is also very disorganized and you cannot sort your playlists/library or even search for them anymore. I am super disappointed and now I only wished Spotify hadn't touch the free version in the first place. After all, this is all for the sakes of "encouraging more people to dump the free version and get the $10/month Premium version" isn't it? Well it is why they put a useless 4th 'Premium' page as well.

My Spotify Free just updated today and I lost all of my favorites. I can find none of my songs

My problem with the upgrade is that I had downloaded dozens of podcasts that I listened to offline. Now I can't find them. I know they are there because they continue to play but I have no idea where they are so I can choose what I want to listen to or delete them when I am done. Has anyone experienced this? Also I do not have a "your library tab.