Spec comparison: Galaxy S7 vs. Galaxy S6 vs. Galaxy S5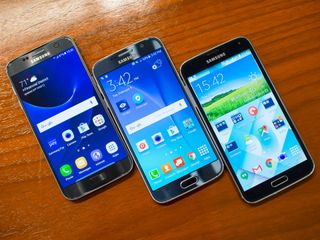 Samsung is on a pretty smooth yearly release cycle with its Galaxy S series, and each time another one hits it's a perfect time to see how far we've come from the previous generations. With the Galaxy S7 now released, we can see how its specs stack up against the Galaxy S6 and Galaxy S5. With the similarities to the GS6 and a few of the features being brought back from the GS5, it's certainly an interesting comparison.
Category
Galaxy S7
Galaxy S6
Galaxy S5
Operating System
Android 6.0
Marshmallow
Android 5.1.1
Lollipop
Android 5.1.1
Lollipop
Display
5.1-inch
2560x1440
Super AMOLED
5.1-inch
2560x1440
Super AMOLED
5.1-inch
1920x1080
Super AMOLED
Processor
Quad-core Snapdragon 820
or Octa-core Samsung Exynos
Octa-core Samsung Exynos 7
Quad-core Snapdragon 801
Storage
32GB
32/64/128GB
16/32GB
Expandable
microSD
Up to 200GB
No
microSD
Up to 128GB
RAM
4GB
3GB
2GB
Rear Camera
12MP f/1.7
1.4-micron pixels
OIS
16MP f/1.9
1.12-micron pixels
OIS
16MP f/2.2
1.12-micron pixels
Front Camera
5MP f/1.7
5MP f/1.9
2MP f/2.4
Connectivity
Wi-Fi 802.11 ac MIMO
Bluetooth v4.2 LE
ANT+, USB 2.0, NFC
Wi-Fi 802.11 ac MIMO
Bluetooth v4.1 LE
ANT+, USB 2.0, NFC
Wi-Fi 802.11 ac
Bluetooth 4.0
USB 3.0, NFC
Charging
micro-USB
Fast charging
Qi wireless
Powermat wireless
micro-USB
Fast charging
Qi wireless
Powermat wireless
micro-USB
Qi wireless (optional)
Battery
3000 mAh
2550 mAh
2800 mAh
Water resistance
IP68 rating
No
IP67 rating
Security
One-touch fingerprint
Samsung KNOX
One-touch fingerprint
Samsung KNOX
Swipe fingerprint scanner
Dimensions
142.4 x 69.6 x 7.9 mm
143.4 x 70.5 x 6.8 mm
142 x 72.5 x 8.1 mm
Weight
152g
138g
145g
Andrew was an Executive Editor, U.S. at Android Central between 2012 and 2020.
Still got the old S5 as a backup. Posted via the Android Central App Via, Note 5, Nexus 6, Nexus 7 (CM12.1), Nexus 7 (13), Nexus 9, Nexus 10, Tab S8.4, all nexus devices running CM 13.

I do also. Gold Platinum Galaxy Note 5

Is anyone surprised about Samsung leaving USB Type C out of their mobile devices? Posted via the Android Central App

The Qualcomm Snapdragon 820 is a Quad Core chip.

But the cores are faster than the 810 cores.

Yes, I know. I was pointing out the mistake in the chart above. At first it said a Octa core Snapdragon 820 or Samsung Exynos. It has since been updated.

Camera sounds like it should be good. If battery is also good may go Samsung this year.
Will wait for full reviews.

So... not the spandragon 820? Posted on my Galaxy s5

No removable battery means I'm still staying on my S5. Sorry, Samsung... you have lost your way and are too-addicted to the anti-consumer design of Apple and their iPhones. I appreciate the return of the MicroSD... one of the original other critical and distinguishing feature-benefits of Samsung over Apple, but it's just not enough.

I told myself I'd switch from my S5 if they brought the memory card and waterproofing back and added a second speaker. 2/3 not bad, but I didn't think they would pull this same-as-last-year's design crap... My S5 is starting to age and I want to update, but I wish there was a new design and USB-C or USB-3 would have been nice... so frustrating. To me it just feels like the S6 was an intermediate that should have never been, and Samsung was just trying to maximize profit like Apple with their intermediate phones. I hope HTC's next One is better than the Samsung's S7.

OMG, preach on! Samsung Galaxy S6 is their attempt at the long-adopted and typical US corporate practice of holding back best quality while dumbing down their products while creating insatiable product desire on top of charging the same or more for an Inferior product. You are dead on point about Samsung's S6 being their attempt at "Apple-F#king" it's captured consumer base: "you need and must has the I-Phone 4!...fast forward 4 months "no people, now we have the REAL I-Phone you really wanted: I-Phone 4-S!" -(with all the fixes), same bait and switch with 5 then 5-S, 6 then 6S. . Samsung quickly realized this approach isn't going to work in the android market because of fierce android platform competition.. ..especially with Ziaomi and Haiwai nearing direct US sales infrastructure allowing $100 MSRP for class-beaters (Cnet.com) in both cellular platforms markets. I'm sticking with my S5 and and try waiting on better and more reasonably priced, sane alternatives choices.

I was thinking maybe upgrading from my S6 64gig to the S7, but I honestly don't see that's it's worth it. I'd be gaining a bigger battery, more ram, slightly better camera, waterproofing, and an SD card slot, but in all honesty the 64gig is enough for me on my S6. Not enough of a difference to make the jump. If somehow I could trade in my mint S6 for an S7 and continue my Sprint contract I would but not going out of my way to do this. I'm also royally pissed that the carrier versions of marshmallow aren't pushing yet, no excuse. Every more so I wished the nexus 5x or 6p were available at retailers immediately or I knew it was going to eventually make its way to bestbuy. I couldn't cough up all that cash at once at initial release.
Android Central Newsletter
Get the best of Android Central in in your inbox, every day!
Thank you for signing up to Android Central. You will receive a verification email shortly.
There was a problem. Please refresh the page and try again.