SoundPal F3 Bluetooth Speaker review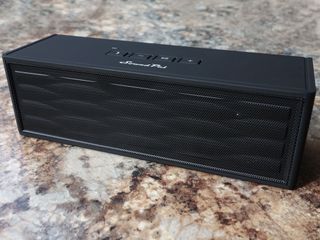 This speaker is one that has built up quite the positive reputation, and for good reason — it sounds really, really good. It's portable, but isn't exactly the most low profile Bluetooth speaker up for grabs. The simple and straightforward design is pleasing when matched with its impressive audio quality — something that isn't always common in the traditional wireless speaker.
Design
The SoundPal F3 is a standard rectangular box design that measures 8 x 2.75 x 2.5-inches. The extremely durable plastic housing features a soft finish that's great on grip, but accumulates fingerprints rather easily. On the front is a textured hexagonal grill with an LED that sits behind it. While the speaker is in use the light stays a solid blue, switching to red while charging.
Between the two rubber feet on the bottom are 2 additional speaker grills for the passive radiators. On top are buttons for adjusting volume or skipping tracks, play/pause, and answering and ending calls. A small microphone opening can be found right above them as well. Turning the F3 Speaker over shows off the power switch, Micro-USB charging port, and an auxiliary input/output. Included with the speaker is a 2ft headphone cable and 2ft Micro-USB charging cable.
Sound Quality and Functionality
Utilizing Bluetooth v2.1, the F3 speaker has two 7.5W, 45mm drivers that deliver its full range sound. The frequency response measures 160HZ - 20kHz with a signal-to-noise ratio ≥ 70dB. There are also 2 passive radiators on the bottom that really enhance the bass tones of the mix. I haven't experienced any distortion whatsoever with any genre of music played through this speaker. It actually sounds best when fully cranked, but tends to be too loud if I'm just listening to my playlists at my desk.
To pair the speaker to your smartphone or tablet, just switch the speaker on and search for nearby devices. Taking calls over the speaker can be done by pressing the call button on top and again to hang it up. For skipping tracks you quickly tap the +/- buttons or hold them to increase and decrease volume levels. On a full charge you can get approximately 10-12 hours of continuous music off its 2,000mAh lithium-ion battery.
Streaming with Chromecast Audio
Connecting your Chromecast Audio will increase your wireless range over the typical 30ft that most Bluetooth speakers are rated at. You'll also be able to receive notifications and manage your calls without interrupting the flow of music streaming from your device. Since you'll need to place the SoundPal F3 somewhere near an outlet to keep the Chromecast Audio powered, it does take away from the portability aspect of the speaker. Still, if you're just using it around the house both Bluetooth and Chromecast Audio should do just fine.
5 speakers under $35 to use with Chromecast Audio
The bottom line
The SoundPal F3 Bluetooth Speaker certainly sounds amazing and can push a mix to deliver smooth highs and lows that leave an impact. Although it's not sized to easily fit in a backpack without taking up a fair amount of space, it seems like a solution that's more meant for the household. It's priced right for anyone's liking and is built very solid.
Android Central Newsletter
Get the best of Android Central in in your inbox, every day!
Thank you for signing up to Android Central. You will receive a verification email shortly.
There was a problem. Please refresh the page and try again.