Sony's upcoming Xperia phone may get a 4K 120Hz screen, but do you care?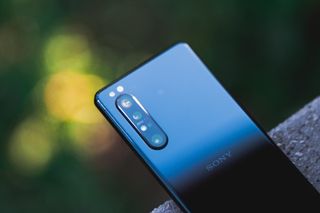 (Image credit: Hayato Huseman / Android Central)
What you need to know
Sony will be announcing new Xperia smartphones at a virtual event on April 14.
The company is rumored to introduce the Xperia 1 III, Xperia 10 III, and Xperia 5 III phones at the event.
Sony's next Android flagship is tipped to feature a 4K 120Hz display, Qualcomm's Snapdragon 888 chipset, and a 5,000mAh battery.
Sony has announced that it will be holding a virtual event on April 14 to unveil its latest Xperia smartphones. The event will be live-streamed on the company's official YouTube channel starting at 3:30 AM ET.
Unfortunately, Sony hasn't revealed any details about the devices that will be unveiled at the upcoming event. According to Weibo leaker ZACKBUCKS, however, the company will be launching three new phones on April 14: Xperia 1 III, Xperia 10 III, and Xperia 5 III.
The Xperia 1 III, which is expected to be a follow-up to last year's Xperia 1 II, is said to sport a 6.5-inch 4K OLED display with the same 120Hz refresh rate as the best Android phones of 2021. As you would expect, the phone is rumored to feature Qualcomm's Snapdragon 888 chipset under the hood, paired with 12GB of RAM and 256GB of storage. A "premium" version of the phone with 16GB of RAM and 512GB of storage is said to be in the works as well.
In the camera department, the phone will apparently have a triple-lens system with a 64MP main sensor, a periscope lens, and a 12MP ultra-wide sensor. The Xperia 1 III is also rumored to include a large 5,000mAh battery with 65W fast charging. The Xperia 5 III, on the other hand, will likely come with similar specs in a more compact design.
Get the Android Central Newsletter
Instant access to breaking news, the hottest reviews, great deals and helpful tips.
I care enough to say cool, maybe it will motivate others to follow, but I won't buy a Sony or any other phone specifically for 4k.

No, won't make a difference on a phone

The title of this article is incredibly dismissive, and I am mad that I clicked on it and encouraged this poor editorial choice.
AC would be over the moon talking about a Samsung device that had a 4k 120hz screen, but for a not-Samsung brand this is a dismissive feature instead of a first of it's kind accomplishment.
Is the implicit negativity necessary? Rewrite the article and cut out everything after the comma.

Indeed, AC has very much been pushing the Samsung-OnePlus duopoly that people shouldn't want for the Android market. They've been pushing "OnePlus is amazing!" articles for the last few weeks, and it's been pretty tiring.

It's sad but this is why HTC and lg are in the places they are. Media pushing Samsung and OnePlus. Android wouldn't be in the light is is today if it weren't for those 2 firms(along with pre lenovo moto of course)

Not at all. Now that LG have cracked the seal, I wouldn't be surprised if Sony gives up on mobile altogether.

I think you are absolutely wrong here. Sony phones are very popular around the world. I wish/hope they will bring them to the US. Sony is not interested in defeating Samsmug or Crapple. They are interested in selling quality cell phones to people who want them and that's what they do.

Exactly where around the world are they popular? Their sales have been consistently declining over the last few years. First quarter last year they sold less than 500,000 units. Hate to break it to ya.

Sony actually is out of the red when it comes to their mobile division. They may not be a huge player but they aren't going anywhere.

Unlike LG, who has tried to do interesting/unique things and win on price from time to time, Sony would be more deserving of failure because they pretty much go very basic and even more expensive. i appreciate their keeping microSD and 3.5mm support, but not at $1,200+.

If a US carrier handled Sony phones I would definitely try one out? But alas, never happen!

Now that there is no note this year, Am thinking of Sony as am proud to have Sony A7C also. Pixel (if released with flagship processor) is my other option.

start earning money today from hundred dollar per hour by just simple on-line working by giving only one hour of your daily life . its very easy. Everybody can now get this job and start earning cash online right now by just follow instructions click on this link and vist tabs( Home, Media, Tech) for more details thanks

Spammer. No way to report posts here.

I absolutely do. I don't think this should be a only two horse race. I have always liked Sony's built quality and form factor. Just wish they brought back their smaller size phones and partnered with more carriers in the US. I think that's the main reason lot of people don't buy their phones.

Best phone available...and it's not even available yet. If the reported specs hold true then there is NO competition.
5000 mAh battery??? Headphone jack??? Notification LED??? Front facing stereo speakers??? No tear drop, no notch, and no disgusting hole punch??? Couldn't really care less about the cameras seeing that just about every phone for the last several years has been able to take wonderful pictures...especially when viewing them on a 5" to 7" screen! FLAT screen??? Plenty of RAM and storage for most people...not sure if it will have SD Card storage or not...HOWEVER, will it be fully supported on all necessary LTE and 5G bands here in the US?????
That will be the determining factor for me! Nothing else truly comes close IMO!

The competition comes from Sony itself, in the form of the price tag. People generally aren't going to line up to buy off-contract phones for $1,200 that might or might not have all of the necessary bands to work on their carrier. I would rather wait for the next round of foldables (particularly the next Duo) to spend something near $1,500 and sit on my G8 than throw a bunch of money at what is essentially an updated G8 for more than twice what that cost me (under $600 at launch).

4k is so useless on a phone it's not even funny. I personally don't even care about QHD as I find 1080p to be great. If I buy a phone that has a 4k display I'm changing the resolution immediately

I would care if they have all the right bands in the US unlocked model. But the problem is they announce a product and don't release until 6 months later 🤣 All hype and interest lost

I wish Sony made themselves easier to want, let alone love, in the mobile space. However, the $1,000 price on the Xperia 1 was difficult to accept, $1,200 on the Xperia 1 II was kind of a joke, and rumors the price will go up AGAIN for the Xperia 1 III suggest Sony's off its rocker. I appreciate, to a degree, how much they put into their phones. I don't care about a 4K screen, but have at it. I use microSD and the 3.5mm jack, so thank you for keeping them. I don't use the secondary and tertiary cameras, but I get they have to jeep up with the Joneses on that. So, in some ways, they offer excess and intrigue with their hardware. However, that intrigue fades fast when it costs an arm, a leg, and your firstborn. When they want as much for an Xperia 1 as Samsung does for an Ultra, but with inconsistent carrier support and uncertain update paths, I don't fault people for looking elsewhere. They already take FOREVER to get their phones out the door, so adding on the mobile band compromises makes the price borderline insulting. If they put these things around $1,000, I might but one even WITH the intent of looking at a Duo in the fall. As someone lucky enough to afford frequent upgrades, I wish OEMs would do more to take my money. Instead, it feels like they're all screwing up in different ways and making purchases tougher to make. I wanted to get a Duo last year, but Microsoft stripped them of too many features and made them hyper-expensive to boot. Sony's too far behind on the Xperia 1's release and asking too much for it, so I'll just sit on my G8 and wait to see the Duo in the fall and either get that or an on-sale Xperia. When you're losing badly to Samsung, pricing yourself above them isn't the best way to get people to switch.