Sony Xperia 5 hands-on: The smaller tall one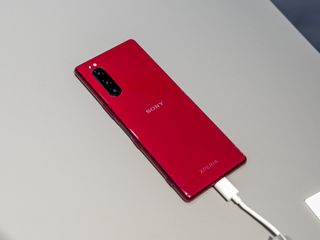 At IFA 2019, Sony just unveiled the Xperia 5, a smaller version of the Xperia 1 we reviewed earlier this year, with the same extra-tall 21:9 aspect ratio. It serves as a spiritual successor to the Xperia Compact series, with Sony's familiar squared-off glass-and-metal design and a 6.1-inch OLED HDR display (topping out at Full HD+ resolution). Sony's fine-tuned that CinemaWide display with the same Bravia technology used on its TVs for improved contrast and color reproduction.
Image 1 of 6
Aside from its size, the Xperia 5 looks almost identical to the Xperia 1. There's the same side-mounted fingerprint sensor and buttons along the righthand side, including the two-stage physical camera key. The biggest visual difference is that the cameras have been moved from the center to the left side of the phone — but it's the same triple-lens system as before, with 12MP wide, ultra-wide, and telephoto cameras at your disposal.
Sony's including its Cinema Pro app on the Xperia 5, which gives you plentiful manual controls for shooting video, including options to change your frame rate and resolution, as well as apply different color grades to your footage.
Image 1 of 3
Inside, you get the same Snapdragon 855 chipset as the Xperia 1, plus 6GB of RAM and 128GB of storage. There's still no headphone jack, but the Xperia 5 features Dolby Atmos sound for its built-in speakers. It's also IP68 water resistant and supports 18W fast charging for its 3140mAh battery.
One of the few new features that the Xperia 5 brings to the table is called Smart Connectivity, which analyzes Wi-Fi signals to predict near-future connectivity issues and automatically switch to LTE.
While the Xperia 5 doesn't look much smaller than the Xperia 1 on camera, it feels quite a bit more manageable in the hand, and the tall, narrow form factor works much better at this size. The lower resolution should also make for better battery life, and the Xperia 5 even supports Sony's DualShock 4 PlayStation controllers for mobile gaming.
Sony says the Xperia 5 will be available for pre-order in Europe next week, and is slated to go on sale starting October 4 for €799, putting it somewhere between phones like the OnePlus 7 Pro and Galaxy S10. It's a bit steep, but if you're a fan of the Xperia 1's form factor and want something that's a little easier to handle, the Xperia 5 could be worth checking out.
Get the Android Central Newsletter
Instant access to breaking news, the hottest reviews, great deals and helpful tips.
Hayato was a product reviewer and video editor for Android Central.
The thing I have to say about Sony is they know how to optimize battery power. But still a 3140mamp appears a bit smallish for all that power! It is a nicely designed phone?

At 1080p and with that CPU that phone is going to last a long time. I wouldn't be worried about it.

I really like this Sony Xperia with top end specs Samsung needs to do this.

Is it really "compact" in spirit when it's bigger than a "plus" flagship?
Still, props to Sony for a handsome device, and I'm glad that a media-centric company didn't ruin the experience by putting hole in the viewing space.

I have been enjoying my Xperia 1 more than I thought I would, and this addition seems like a great option for those who might be put off by the size of the 1. It was a bit odd at the beginning, thinking the phone is too tall. But a strange thing happens, now 16:9/18:9 feels too short! As someone mentioned above, don't immediately judge a phone's stamina by the mAh number. Sony does a great job with the software to keep the phone going with what it has. "Only" a 200 mAh decrease and drop to 1080p will most likely result in the 5 doing quite well. In excited to hear more about this when it releases.

I agree. You get used to the 21:9 aspect rather quickly. The Xperia 1 is my first large phone and I thought I would have issues and I don't. It's a great phone overall. The 5 will make a great smaller phone.

How do you find the photo quality?

So, how will they call successor of Xperia 1? Xperia 2? Or Xperia 10? Interesting.

Xperia 10 and 10 plus already exist. That is a good question though. Maybe they'll do years?

So, what are the dimensions then of this more "compact" model, or did I miss that reading the article?

From Gsmarena: 158 x 68 x 8.2 mm (6.22 x 2.68 x 0.32 in).

Good, solid device, as it's other Sony counterparts. But it's too expensive. Should have been oferred at a lower price point.

Your doubling down on this "compact" nonsense is starting to remind me of someone else's stubbornness about a hurricane and a certain southern state. It's not a "compact" in any stretch of the imagination, and your mere suggestion that it somehow relates to compactness undermines your credibility.

I agree with the compact thing but it is compact compared to the Xperia 1 if you were to judge it by that. Also if you go look at the Xperia 10 it will give you an idea of the size of the 5. It does look smaller in general and I have no idea why.

I agree with the guy that said the price is very high. 750.00 would have been much better. OEM'S continue with high prices. By putting a lower price selling volume is much more important than be than a specialized product. But this appears to be a very good offering!

No way I'm buying a phone this expensive anymore but that red is HOT.

Agreed on that color. I have a OnePlus 6 in a similar red. I never lose track of it on a conference table for sure!

Oh Sony... Stop trying to make xperia happen, it's never going to happen.