Sony Xperia 1 III: Everything you need to know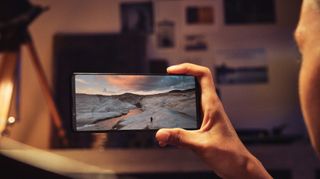 (Image credit: Sony)
Sony is — and has been for a while — in a tough spot with its smartphone business. We still see regular releases from the company every year, but time and time again, its devices just fail to cultivate any sort of meaningful audience. In 2021, all eyes are set on the Sony Xperia 1 III, possibly being able to change that.
The Xperia 1 II was a great Android phone in more ways than one, but a lack of 5G and a steep price made it a difficult recommendation compared to its competitors. Now, after waiting impatiently for months since Sony's April announcement, the Mark III phone is finally shipping out around the world in late August.
Do its never-before-seen dual focal length telephoto lens, louder stereo speakers and 120Hz 4K display make it worth the hefty cost? Let's help you decide; here's everything you need to know about the Sony Xperia 1 III.
Fanciest of flagships
A true 4K display
Sony is targeting a variety of markets with this phone. It has an impressive triple-camera array for photographers and filmmakers, a 4K ultra-wide display with loud stereo speakers for movie watching, the latest chipset for gaming, and all-around impressive specs for a 2021 phone. Hopefully, you can afford it.
Sony Xperia 1 III Price
The Sony Xperia 1 III will cost you a cool $1,300/£1,199, about $100 more than the Galaxy S21 Ultra, iPhone 12 Pro Max and last year's Xperia 1 II. You're unlikely to find anything more expensive outside of a foldable or novelty phone.
That will price the phone out of most people's budgets, so you may want to check out the $949 Xperia 5 III instead. That's much closer to what shoppers are willing to pay for a top-end smartphone, and still gets you some of the same perks, like the Snapdragon 888 chipset, 21:9 120Hz display, and variable telephoto lens.
Sony Xperia 1 III Availability
The Sony Xperia 1 III has had a somewhat scattered launch. It started selling in China and Japan in June, early August for some European countries, and later August for the US, UK, and other territories. The official Xperia 1 III release date for most countries is August 19. Weirdly, Techradar reported some Xperia 1 III pre-orders arrived more than a week early, so you may have received your phone sooner than that.
If you haven't pre-ordered one yet, you may not be able to get your hands on one immediately. Amazon US and B&H Photo currently show an August 24 release date, while other retailers like Best Buy still say "coming soon" and Sony's own site says pre-orders won't ship until September 24. It's all a bit messy and confusing, frankly.
Whenever your phone arrives, Xperia 1 III cases from your favorite retailers have been available for months, so you can quickly protect your extravagant new phone from damage.
Sony Xperia 1 III Design
Just like last year's model, the Xperia I III has a tall, narrow display with 4K resolution meant for watching widescreen films in their native format. At 6.5 inches, it could be difficult for small-handed folks to reach one-handed from top to bottom, but the more narrow build could make it easier than comparably-sized flagships with wider screens.
On the top of the Xperia 1 III, you have a 3.5mm headphone jack. On the right side, you have the volume buttons, power button with a built-in fingerprint scanner, a dedicated Google Assistant button, and a camera shutter button near the bottom for taking photos quickly. On the bottom is the USB-C slot, while the left side has the Dual SIM card slot and 1TB microSD card slot.
Top and bottom bezels on the phone's front leave room for the selfie cam (no punch-hole to mar the display) and powerful front-facing stereo speakers, which support 360 Reality Audio and output 40% louder than the Mark II speakers.
Unlike its predecessor, the Xperia 1 III features a frosted matte finish on its Gorilla Glass Victus back panel, improving both fingerprint resistance and durability. You can buy it in either Frosted Black or Frosted Purple.
The triple-camera module on back has the standard main, ultra-wide, and telephoto sensors of most flagships. But it breaks ground with its new telephoto system that physically shifts optical elements within a single lens to offer two distinct focal lengths: 70mm and 105mm.
This variable telephoto lens will allow you to get closer to your subject without resorting to digital zoom, ensuring the sharpest image possible. It also features dual phase-detect autofocus, along with real-time tracking and eye autofocus for both humans and animals across all lenses.
Sony Xperia 1 III Specs
While the design of the Xperia 1 III may not be anything groundbreaking, Sony is more than making up for that in the specs department. In addition to the latest Snapdragon 888 processor and Sub-6 5G support, the Xperia 1 III sports a 6.5-inch 4K display in Sony's signature 21:9 aspect ratio, upgraded with a 120Hz refresh rate with a 240Hz touch sampling rate. Reportedly, there's also an mmWave version of the Xperia 1 III, but we're unclear so far on where it's available.
Do you need a 4K display? It'll look distinctly better than a 1080p screen, but at that size, it may be difficult to see the difference compared to a QHD display found on other flagships. If you plan on streaming movies and shows on it frequently, you'll be able to see them in their native format.
The improved touch sampling rate, along with the new 240Hz motion blur reduction, should make for considerable improvements to the Xperia 1 III's gaming experience. There's also a 4,500mAh battery, which tops up with either 30W fast charging or wireless charging. As for internal storage, the Xperia 1 III offers 256GB of expandable UFS storage, backed by 12GB of RAM.
On the software side, Sony is backing its new and improved cameras with updated Photography Pro and Cinematography Pro shooting modes, which feature more powerful manual controls along with a simpler Basic Mode that aims to make automatic shooting quicker and easier.
The Xperia 1 III will launch with Android 11, but will reportedly update to Android 12 and later Android 13, according to a statement made to Techradar. Two years of support is better than one, but other companies are shifting to three or four years of updates, making this expensive device more short-lived than we'd like.
Below are the full Sony Xperia 1 III specs:
Swipe to scroll horizontally
Category
Specs
Operating System
Android 11
Updates to Android 12 and 13
Display
6.5-inch 4K HDR OLED
120Hz
21:9 aspect ratio
Processor
Snapdragon 888
RAM
12GB
Storage
256GB
Battery
4,500mAh
Main rear lens
24mm F1.7 12MP sensor
Ultra-wide lens
16mm F2.2 12MP sensor
Telephoto lens
70mm F2.3 12MP or 105mm F2.8 12MP sensor
Front lens
1.4-inch F2.0 8MP sensor
Charging
30W fast charging
Wireless charging
Reverse wireless charging
Connectivity
5G (sub-6, possibly mmWave)
2.4GHz/5GHz Wi-Fi
Protection
Gorilla Glass Victus | IP65/68 water resistance
Dimensions
6.5 x 2.8 x 0.3 in
Weight
6.6 oz
Sony Xperia 1 III Comparisons
Compared to last year's Xperia 1 II, the Xperia 1 III jumps from a Snapdragon 865 to 888, 8GB to 12GB, 4000mAh to 4500mAh, and louder stereo speakers. The 6.5-inch 4K display is mostly the same but lacks the higher refresh rate, and the cameras have the same MP but lack some software updates and the variable telephoto lens. You can score the Mark II for much cheaper if you're okay with those downgrades.
Alternately, you could consider the Xperia 5 III. It downgrades to a more compact 6.1-inch, FHD+ display with the same 120Hz refresh rate and 21:9 aspect ratio, plus a mere 8GB of RAM. On the other hand, it has the same Snapdragon 888 chipset, girthy battery, and superb cameras as the Xperia 1 III, and for about $350 less. It's a more reasonably-priced option for some shoppers, though still costlier than many can afford.
No other smartphone-makers have upgraded to include 4K displays, making Sony phones the best for resolution. However, other recent smartphones with 120Hz have LTPO displays that allow for variable refresh rates, which greatly improves battery life. The Galaxy S21 Ultra, iPhone 12 Pro Max, or OnePlus 9 Pro are all LTPO-enabled options, if that matters to you.
Sony is also the rare smartphone-maker to consistently make 21:9 displays. An exception is the Motorola One 5G, but that's a mid-range phone that won't give you nearly as good performance or specs across the board. The Xperia 1 III could give you a slight edge over opponents when playing FPS games with a wider view of the battlefield; it's likely to make our list of the best gaming phones once we get a chance to review the phone.
Sony Xperia 1 III FAQ
Will the Sony Xperia 1 III have pro-grade camera features?
Sony launched the Xperia Pro in January 2021, and while it certainly isn't for everyone, it is one of the more unique releases we've seen from the company. The main appeal of the Xperia Pro is that it can be used with a Sony camera, allowing it to function as an external monitor and livestream video content over 5G.
Those same monitoring capabilities are making their way to the Xperia 1 III through the use of an HDMI to USB-C adapter. However, some features like the ability to apply LUTs aren't carrying over from the Xperia Pro. The new Cinema app makes it easier to view the different parameters of various clips to make sure the footage within a project remains consistent.
Is the Xperia 1 III going to support 5G in the U.S.?
The lack of 5G on the Xperia 1 II was a difficult roadblock to get around, but thankfully, the Xperia 1 III features support for Sub-6 networks in the U.S., so long as you use Verizon or T-Mobile as your carrier. Reportedly, AT&T 5G won't get support.
We've heard that an mmWave version of the phone will be available, and will weigh slightly more than the sub-6 variant; but we're unclear on where or when this version will be sold.
Fanciest of flagships
A true 4K display
Sony is targeting a variety of markets with this phone. It has an impressive triple-camera array for photographers and filmmakers, a 4K ultra-wide display with loud stereo speakers for movie watching, the latest chipset for gaming, and all-around impressive specs for a 2021 phone. Hopefully, you can afford it.
Sign up for Black Friday email alerts!
Get the hottest deals available in your inbox plus news, reviews, opinion, analysis and more from the Android Central team.
Hayato was a product reviewer and video editor for Android Central.