Sony announces Walkman ZX1 and F Series Android-powered music players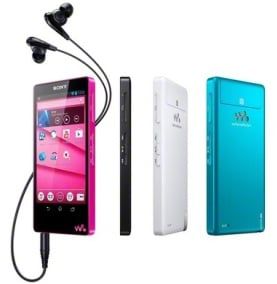 Two new media play offerings with high-end audio capabilities and Google Play access
While most of us have moved on to using our phones for media playback, Sony is still pushing along with its Walkman-branded Android media players. The Walkman ZX1 and Walkman F880 Series are powered by 1GHZ dual-core processors, have 4-inch 480x854 displays, NFC, Bluetooth and run Android 4.1 that is not unlike Sony's flagship phones.
In terms of audio quality, Sony is touting 192kHz/24bit high-res audio playback with a special "S-Master HX" digital amp — supporting AIFF, ALAC, FLAC and WAV formats. But of course when you're not listening to high-quality music you can do anything else a modern Android device can do with full Google Play access.
The Walkman ZX1 is certainly the flagship device, with 128GB of storage and a 75,000 yen (~$760) price. The F Series come in at more reasonable storage and price points of 16, 32 and 64GB for 27,000, 30,000 and 40,000 yen ($273, $304 and $405) — also coming in pink, black, white and blue color options.
The ZX1 will hit Japan on December 7th, and the F Series on October 19th. No word at this moment when these players will make it to other countries.
Android Central Newsletter
Get instant access to breaking news, the hottest reviews, great deals and helpful tips
Andrew was an Executive Editor, U.S. at Android Central between 2012 and 2020.
A music player seems fine to me, but they're making it look like a bad phone with a lot of storage Posted via my s4 running cm 10.2

iPod Touch wipes the floor with this overpriced piece of shit lololol Sony is irrelevant these days hahaha

Usually, a comment like this would read like a troll post, but in this case, it's entirely correct. Posted via Android Central App

Yeah, it's like they are not trying.. I would have loved somebody to make a high-end Android powered PMP that can directly compete with the iPod touch.

YEEESSSSSSS!!!!!!! ⓖ◎◎ⓖⓛⓔ†ⓝⓔⓧⓤⓢ

A PMP based on the HTC One would be glorious, imagine the boomsound, without the bill.

+1, sadly. Posted via the Android Central App on my Note 2

+1
I had to because it is true. Posted via Android Central App

I do agree, with the first part of your post. However, I will say that Sony is way more relevant than BlackBerry will ever be. Posted via Android Central App

iPods are a joke in terms of audio quality. These last units Sony have come out with are actually intended to be audio devices and NOT fashion accessories.

For some people who hate Apple(ME) and will not use an iPod at all(me) because we cant bring our phones on US submarines (me), or anything else with a cell signal or a cammera for that matter this is a good thing.

Galaxy Player 4.0 wipes the floor with overpriced ipod pieces of shit, any day.

Honestly, with my wi-fi coverage, I might just get one of these and ditch my One for a dumb phone and save $50 a month.

Never say that again... Don't even think it! Posted via the Android Central App on my Note 2

Or join Republic Wireless! (and be the guinea pig for me...)

And Xperia Z1 is offered only with 16GB...

Nothing wrong with 16gb.. I've got a micro Sd card slot and that's more than enough for me!!! Posted via Android Central App

16gb is a freaking joke..Any phone with 16gb should be put into a grinder.

Glad I still have my A7xx series Walkman. Awesome sound quality and physical controls so I can use it without even having to look at it. I do like the idea of being able to play games on it or browse but for pure music playback I will be holding onto my walkman til it breaks.

High-res audio is pointless for MP3 players. Increasing the playback resolution doesn't put back what was removed during the compression process. It's like upscaling DVD to a HDTV and calling it HD Posted via Android Central App

Did you not read that the devices can handle FLAC? Posted via Android Central App

And yet, no cameras. Might be a deal breaker for people, like those dumb phone users who want portable android experience. Might as well just buy the Xperia xf or whatever that sells for $249 unlocked. Unless, you're and audio nut Posted via Android Central App

For some of us "No Cameras", is a huge selling point. Some of us work in areas where cameras are not allowed. I'd love to have a quality android based media player without camera. I think they will have a tough time being priced above an iPod touch though. I don't even need great audio because I really just want to download books from audible straight over wifi (no stupid connecting to a PC to sync) to listen to at work. I'd settle for a functional/low-cost kids device like the Kurio 4S http://www.kurioworld.com/k/us/parents/products/4s/ if I could get the darn thing without a camera.

They should make walkman with VitaOS, its fast as hell, does multitasking... Would be cool Posted via Android Central App

LOVE FLAC and ALAC support. Fantastic output. Good job Sony!!! Definatly a niche market though. Posted via Android Central App

My favorite mp3 player was a Sony walkman. You can't beat the sound quality, BUUUUT nowadays, mp3 players are just waste of money. I bought my 11 yr old sister one for her birthday, I would've been excited at her age, but she used it for a couple days and never touched it again. She wanted a galaxy s3 lol. Everybody wants phones now. An all in 1 device. I don't know why they can't put that 128gb in one of their phones though, or at least the 64gb.... 16gb is little now with these high qualti games, not to mention u only get 9gb's out of the 16gb

I would like this, especially if I go to full Google Play Music All Access Posted via Android Central App

As much as I hate Apple, the one product that I think they got right is the iPod. I love android because of how much u can customize and personalize it to do anything and everything you could ever want. Perfect for a phone, a tool you take with you everywhere. But for a music player, something that really has just one task and that's to play music, simplicity and intuitiveness are what you need. After all, when using the iPod, you're listening to it, not even looking at it. A music player needs to be easy to get to the song u want and that's it, so basically all the advantages of android are pointless here. Although... Playing Flac files is awesome. I always have to convert my music to apple lossless which gets annoying. Maybe this device will have a niche market but the prices are the same as an iPod (at least the 64 gb size is the same) so it's not even undercutting the always overpriced Apple...

This market needs new products. When the iPod touch came out it revolutionized the PMP.. that was like 6 years a go and the iPod touch has barely changed since. The actual music app in iOS is the same! For a company that was saved by a revolutionary portable music device they really gave up on continuing to make it great. Sadly with that screen and that pricetag this device will not compete with the iPod..

I have an iPod Shuffle 512 Mb, an iPod Classic 160 Gb, and an iPod Touch 4th gen 64 Gb. The Classic, with its awful control wheel and its inability to differentiate videos from movies (thus, loading each video twice), is a nuisance.
The Touch (which really wants to be a phone) with its headphone connection on the bottom and average sound quality, leaves something to be desired. Did i mention what a pain the Touch's curved sides make it to hold the thing and to use the volume controls? (You know I'm right.)
The Shuffle's ease of use (despite its tiny capacity) has become my go-to portable music player.
Don't get me wrong, I also play music through iTunes on my iMac, and on my Oppo Bluray player (which also plays media files from thumb drives). Posted via Android Central App

Sony would have gotten it right if they can get a reasonable price tag on it
Android Central Newsletter
Get instant access to breaking news, the hottest reviews, great deals and helpful tips
Thank you for signing up to Android Central. You will receive a verification email shortly.
There was a problem. Please refresh the page and try again.