Some Motorola RAZR pre-orders have started shipping out earlier than expected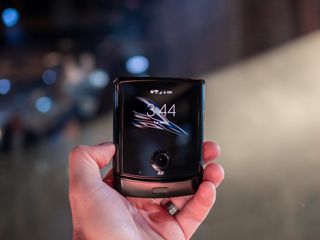 (Image credit: Android Central)
What you need to know
Motorola has started shipping out some RAZR pre-orders early.
The Lenovo-owned company had previously announced that pre-orders would start shipping on February 6.
It was made available for pre-order in the U.S. earlier this week.
After a four-week delay, pre-orders for the foldable Motorola RAZR were finally opened in the U.S. earlier this week. The company had said that the phone would go on sale in the country on February 6, although shipping dates were pushed back to February 18 soon after the pre-orders went live, owing to high demand. Surprisingly, however, some Motorola RAZR pre-orders have started shipping today.
If you were among the first people to pre-order the Motorola RAZR on January 26, it is likely that you will have the foldable phone in your hands as soon as tomorrow. However, if you pre-ordered one after the shipping dates were changed, you may have to wait at least two weeks more for your RAZR to arrive.
The current expected delivery date on both the Motorola U.S. (opens in new tab) and Verizon (opens in new tab) websites is February 25. Depending on the demand, it is possible that the expected delivery date may be pushed out further.
While the RAZR is currently the only clamshell foldable on sale in the U.S., it will soon have to take on Samsung's Galaxy Z Flip. Rumors suggest Samsung's first clamshell foldable phone will be released in the U.S. on February 14 for $1,400.
Motorola RAZR
Motorola's RAZR reboot may not be affordable, but it is undoubtedly a very exciting foldable phone. Unlike Samsung's Galaxy Fold and Huawei's Mate X, the Motorola RAZR is a much more compact device and folds into a square. It also offers a clutter-free Android experience, without any heavy skin running on top.
Motorola is freaking awesome with pre-orders. When I ordered previous Motorola phones like the Moto X and the Moto Z force, I would always get my phone like a WEEK before it appeared on store shelves.

I'll have mine tomorrow. Being as I had the first real Android phone worth owning - with an innovative keyboard for the business-type so used to their BB (OG Droid), I just had to get my first Razr, too. I'll be done paying for it when the 4th gen comes out.

I had a weird issue with my order status showing up as "Undefined" when I would try checking it on the website. Have you seen that before?

I'm on the phone with VZW tier 2, they have no idea how to activate these early phones.

User error. If you also have a smartwatch (i.e apple watch) on your plan you deactivate that before they activate an eSIM for this one. Working now. Is it the best camera and screen on the market? Hell no. Does it fold elegantly and otherwise give you a 2020 smartphone experience? Hell yes.

Where are the reviews? Has Motorola even sent out review units. Very strange - what are they worried about...

They're not worried-- this is actually very typical for Motorola. I have no idea how/why they do it, but it's awesome. If you pre-order a Motorola phone, you basically get their brand new phone a week before its official release date.

Is this your first phone? Reviews aren't published until the phone is released. That's February 6.

Weird. I'd expect reviews to drop on 2/6.

Very looking forward to Michael Fisher's take on the RAZR.

Here it is. Loves nostaligia, uniqueness. Loves Moto actions. Camera is OK. Complain about 710 processor without understanding that it's most of what 855 is but slower clock, smaller size, less battery drain which are all critical in a phone of this design. Bumps in display. Radio is good. But total package is a winner if not worth the $1500 for most folks. Star Trek communicator reference.
Android Central Newsletter
Thank you for signing up to Android Central. You will receive a verification email shortly.
There was a problem. Please refresh the page and try again.