Some buyers experiencing clicking and hissing sounds on their Pixel 2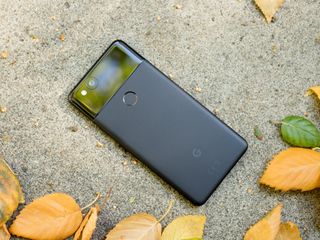 The Pixel 2 XL has been under fire ever since its release for its display, and while we wait for Google to announce what it'll be doing following this controversy, the smaller Pixel 2 is now experiencing issues of its own. Rather than having screen burn-in after just days of use, some units of the Pixel 2 are exhibiting clicking and high-pitched hissing sounds as reported in Google's Pixel User Community.
One particular thread shows that over a hundred different users are afflicted with this problem, and while the Pixel 2 seems to be the main device that's affected, Android Police's Artem Russakovskii has the same problem on his Pixel 2 XL.
Some users report that the hissing/clicking only occurs when the display is turned on, with another stating that there's constant beeps and clicks when on a phone call. The noise doesn't appear to be noticeable unless the Pixel 2 is right next to your ear, but even so, it's something that Google needs to fix.
Google is encouraging people to begin an RMA for their device if they're affected by hiss-gate, but in the meantime, turning off NFC appears to stop the clicking sound. Unfortunately, there's currently no way to temporarily stop the hissing.
One representative from Google said that a fix would be released in the "upcoming week", but until we get an official statement from Google itself, we wouldn't advise holding your breath for that – especially since it's still unclear as to whether this is a software or hardware issue.
I haven't noticed any hissing or clicking on my Pixel 2 XL, but if you've noticed any such issues on your Pixel 2, let us know in the comments below.
Joe Maring was a Senior Editor for Android Central between 2017 and 2021. You can reach him on Twitter at @JoeMaring1.
Rattlesnake gate & display gate. Yikes, I'm sure glad I didn't pull the trigger on the 950.00 dollar PIXALXL 128gb model. Too many issues, oh boy!

Wow ...Google... premium pricing and a total disaster....I just don't get it. Where was the quality control...the testing....you are trying to make a mark on the cell market dominated by Apple and Samsung and you are going about it in all the wrong ways. Obviously this phone was rushed out. Good to see you are taking hardware seriously now though. Sure would hate to see the results if you weren't. Although the Nexus phones weren't this problematic and were priced much lower. I tried to cancel my order for a Pixel 2 and a Pixel 2 XL this morning and what do you know....it finally shipped...lucky me.

Nexus were priced much lower, but they weren't any less problematic. They had plenty of their own issues.

" Snakes on a Pixel 2"
Sounds like a film.
Reminds me of an issue on another device some years ago with the same problems perhaps software can remedy this is it sounds like poor hardware matching with the software drivers.

Not happening on my Pixel 2 luckily. Been nothing but perfect so far.

I hope you don't have one of the bad units for the sake of your wallet. Aside from the collective problems, it is a good device.

Hope so. i also already sent my OG pixel in for the credit so yup im gonna stick with it lol

Better hope it's not a battery issue. That's a shame.

Going with two different manufacturers for these phones must have made QC very difficult. They probably put HTC and LG on a strict schedule and trusted them to handle the QC. Google it appears was more concerned with having enough units than making sure they were up to par. I bet next time we see one manufacturer ( HTC ) doing all of the manufacturing. I bet they went with LG for the XL Bc they know how much people love oleds. Should've just bought samsung panels like apple and been done with it. This whole pixel line debacle this year is nuts. TBH though people forget about the garbage bluetooth on last years phones. I had to get rid of my xl because of it. SMH. I really wanted to love these phones.
On a side note, Essential couldn't have picked a better time for that $200 price drop.

No doubt about essential. Seriously considering it as an alternative to the Pixel.

It is a remarkable phone if you don't care about all the blow up about the camera. It's faulty and the software has been ironed out or is. It's really is a great phone, just buy retail is not direct. That's your best bet in case you don't like the phone.

It's supposedly gotten a lot better since release too so that's good. The updates also seem good. What security patch is it on?

When I had the phone they were pretty quick with updates so I would "assume" they it has the October security patch on it.

Most Def...that $200 price drop is a big deal, and there doesnt seem to be any supply chain issues getting the essential phone. It's a great comparison...neither has micro sd or wireless charging, build quality and materials for essential much better.

Andrew, your right two different companies making the pixels. Too many fish in the frying pan especially with Quality control. Very happy I choose the s8+. An excellent performer!

What I don't understand is how could Google not know that these phones had issues. With so many reports of screen burn-in happening within a week of use it seems impossible that they didn't know they had a problem. And now this. Clicking and hissing? What's next?

I put my money on rushed production. Always bound to cut a few corners when proper R&D or QA is not assessed.

Both of the Pixel 2s are absolute garbage. I don't know why anyone would buy either one at this point.

The smaller one isn't garbage.

Mine has it, and so did my iPhone 7. We're just hearing it wrong /s

Mine has it, and so did my iPhone 7. We're just hearing it wrong /s

Didn't have that issue on my Pixel 2, but something I did notice was that the top speaker had higher output than the bottom. Playing a video on YouTube on it versus my iPhone 8 made the disparity more evident. On the iPhone, audio was even and centered. The left speaker (in landscape) didn't sound louder than the right. But on the Pixel 2 it was obvious the left had more oomph to it. I exchanged it and the replacement performed the same way. However, the Pixel 2 XL at the store didn't perform that way. It was even like the iPhone 8, so I just threw my hands up and said goddamn it Google...

It was designed that way on purpose. Something to do with vibration.

That's unfortunate then because the Pixel 2 XL definitely doesn't perform in that way. This two manufacturer thing is so dumb because it's creating to different sets of experiences. Google needs to get their house in order.

LG phones for quite some time, have been pumped out with the illusion they are quality devices due to spec sheet ratings, but are some of the cheapest quality phones in the market. What good are specs when time and time again LG uses the cheapest parts in the industry to drive up profits creating issue after issue with their phones. This wasn't always the case with LG, but from the G3 on.....LG pumps out cheap junk. Google's learned the hard way. And yes, I'm aware this issue mostly affects HTC made devices, however those have had far less issues reported thus far and unfortunately they seem to be at the mercy of LG's QC control as well.

LG has had their issues. This is about the HTC manufactured device though.

I've had this issue on a few phones in my life. It was always hardware :/

I would get beeps in my phone calls , I thought my conversations were being recorded. Damn shame could have been Phone of the year! Now waiting for pixel 3 xl!

Geeze it's like Google released an iPhone. No micro SD, no headphone jack.
An army of rabid fanboys defending it at every turn, despite it having numerous launch issues... Hey....wait a minute ...

Right, because we've never seen rabid fanboys defending issues on phones other than Apple or Google devices. I've seen Samsung, LG, Sony, and OnePlus fans get just as passionate defending those companies. In fact, the rabid Samsung fanbois I dealt with during my ownership of a Samsung phone was one of the reasons I haven't considered them going ahead. When I went to the forums looking for help with my issues, I was accused of trying to give Samsung a black eye. Nevermind that on that phone, I had horrible lag, the GPS never worked properly, and the battery life was half of what it originally was at launch after a year. But yeah, Apple and Google, grumble grumble.

Ain't this the truth! I mean, Samsung had a phone catching fire for crying out load, endangering people's very lives and banned by the FAA. Yet many STILL wanted to hold on to that phone. I think if anyone should be the least critical, it's a Samsung knight.

I have zero problems with my Pixel 2 ... so far.

These phones just keep on giving.

Wow, they f-ed up last year when they couldn't take advantage of the Note 7 debacle and again this year with this. Google should just stick to what they do best.

They did, software, what people buy these devices for. Uncomparable to any other device in that area.

If I remember correctly, the iPhone 7 had an issue like this. I am not sure if this is due to the same thing (the processor), but if it is, I don't think you need to worry about it.

My Nexus 4 had a clicking sound, it was quiet, but irritating. I forgave it, it was the most powerful phone on the market and cost less than 300 quid. The pixel 2 has no such excuse though. 5 years on, 3 times the price, targeted squarely at consumers... Same issues. I don't think anyone is worried about it per se, it just shouldn't be there in a "premium" product.

Hey but at least it has fast updates right? Tiny, incremental updates that rarely change anything lol.

Thank god I went for the Note8!

A lot of booing and hissing can be heard in regards to this phone all across the internet as well. Well, the XL 2 that is.

One thing for sure, the tech press is jumping in joy. Anything reported is like major clicks and happy to drag this forever.
Next what Pixel 2 XL killed my dog 😂😂😂

Ouch. Well, my Pixel 2 hasn't done this yet....but thanks for pointing it out. Now I'll be unable to NOT hear it. :P

Google pixel: all the issues you remember from the Nexus devices, now at 3 times the price.

Wow, pretty much all I can say. Alot of ppl may get fired over all these quality issues. It sucks because no matter what your favorite phone or company is the pixel line needs to succeed, it benefits us all in the end pushing every manufacturer to do better. Hopefully they get this all resolved maybe the 1st batch was rushed or something.

AP says, "One thread on the Pixel User Community has over 100 confirmations of the issue." This is the part that I find most shocking. Google actually sold more than 100 of these phones? Really? A sucker born every minute, I guess.

You're just trolling to troll at this point aren't you.

Can we highlight the words "some users" please. Just like "some users", not all of the Pixel 2 XL are experiencing the burn in issues? Really, it does seem that as news channels and hurricanes, the tech blogs are really giving a lot of wind to issues that are large isolated. I'm not talking about the blue of axis tint, or muted colors. The rest if this can be fixed through warranty, and the screen issues might be able to get fixed in production through better QC. If not you get your money back and get a new phone. Relax.

Returns are super easy with Google so I will give them that. You don't even have to speak with anyone.

Only had my Pixel 2 for a couple of days.
So far runs great.
Sure hope this is "sympathy" problems.
Don't plan on a preemptive RMA.

It's not Google's fault they are HTC phones after all.

Google designed the phone. HTC implemented it. By that logic, anything bad you say about LG, Samsung, etc. software is not their fault. It's Google's Android, after all.

Each day that passes make me more happy I'm sticking with my Pixel XL. Sounds like Google has adopted the line of thinking that says "if it ain't broke, BREAK IT!"

Having troubles with my pixel 2 XL display but no sound issues and again the only problems are muted colors and burn in after 3 days

Yeah, but outside of a solid grey background, when do you notice the "burn in"?

With all the Screen issues, hissing sounds, shipping phones to customers that have not passed quality control, I'm personally loving all this. Not for the customer's that have to put up with all that stuff, but the bad press Google is getting because of it. To me this is good old fashion Karma for the way Google treated myself and a lot of others when it came to the Nexus 6P bootloop issues that turned mine and others phones into a shinny bootlooping bricks. I hope the bad news keeps on rolling and these phones end up tanking this year. This obviously wont put a new working 6P, pixel, or whatever in my hands, but some satisfaction is better than none :-)

My phone popped with NFC on, turned off NFC pops went away. Chatted w/ support and they gave me a 10$ credit said the update is already rolling out? Take it for what it's worth.

Weird, they just RMA'ed my phone for the 100% exact same thing. My replacement will be here Thursday or Friday and I have 21 days to send them back my old one. I've got my doubts about a software fix for what seems to be a hardware problem. I also wonder if the new one I receive will display the same issue, if it does, I'll just send it back as a straight return and hold onto my 1st Gen Pixel XL until the Pixel 3's land. Great phone otherwise, and I really like it a lot. Outstanding customer service on Google's end, very greatly appreciated.

Best Android phone you can buy? Rofl. Yeah. Ok. Still no issues with the Note8.

Give it three months and the Samsung gutters and stutters start, and never stop. Meanwhile, I can get a Pixel 2 XL replaced repeatedly under warranty if the screen "issues" bother me, which they don't. Why? Because you don't notice them when watching a movie or okaying a game. Why still? Good question. Because the problem is usually covered up by navigation buttons. Lol, and I don't take pictures of solid grey objects.

I found a great site with 3 recipes for crow for Andrew. http://bertc.com/subfive/recipes/threecrows.htm

While there's no such thing as perfect technology or QC, this doesn't fare well for Google. Adding the price factor into the equation doesn't help things either. Your bad Goggle

Day 6 with my Pixel 2 and no hissing. Does it come out of the speakers?

Day 7, I hear the hissing when I call ☹️

The header image for this article is a 900 dollar phone without a case, laying face down on the concrete. Is this some sort of special scary image for Halloween?

Seems that I will go for the smaller version of the GS8, maybe not pure Android like Im used to, but, no problems, cheaper (in my country) and maybe not the best but still an amazing camera.

If the clicking is from lack of shielding from NFC, then the only way to fix it is for Google to recall all Pixel 2 phones, fix the design, and ship out new ones. As for the hissing, we don't know what causes that yet. It could be part of the booing and hissing from Pixel 2 owners.

Comparing the display of the Pixel XL and Pixel 2 XL. Even against an S8+. The colors of the Pixel 2 seems a bit washed but may have a lil darkness with some colors. Damn I hope mine doesn't burn out or start to hiss.
Android Central Newsletter
Get the best of Android Central in in your inbox, every day!
Thank you for signing up to Android Central. You will receive a verification email shortly.
There was a problem. Please refresh the page and try again.