Snapdragon Wear 4100 can't fix all of the problems with Wear OS smartwatches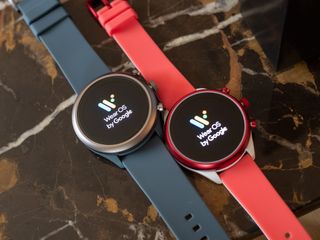 (Image credit: Andrew Martonik / Android Central)
As someone who wears a smartwatch every day, I'm excited for the new Snapdragon Wear 4100+ platform that Qualcomm just released. This is the chipset Wear OS watches will be running on throughout 2021, and it promises considerable upgrades in performance and battery life over the old chipset.
It's well-known that Wear OS watches struggle mightily in both areas, whether you spend $150 or $500, and I consider it unacceptable. Wear OS watches need this new platform badly in order to have a shot at being competitive, that much is clear. But to think that simply upgrading from the Wear 3100 to the Wear 4100+ will suddenly fix all of the problems with Wear OS watches is misguided. Because, you're still getting Wear OS — and that means a long list of shortcomings.
Let's say that the Wear 4100 is a big enough upgrade to warrant giving new Wear OS smartwatches a fresh look. Well, then you will once again realize are still several ways that Wear OS needs to improve. I'll point out the biggest ones here.
Performance is weak, all around. This is surely something that will be helped by the 4100+, but it's unclear how much it'll help. Wear OS performance is downright horrible at times. Apps load slowly, Assistant is nearly unusable, apps regularly hang or crash, and touch response is often slow enough that you end up making double selections or closing apps unexpectedly. Most frustrating, perhaps, is that performance isn't at all consistent, and the watch regularly slows down for seemingly no reason.
The setup process is terrible. For something that's supposed to be a simple accessory to your smartphone, this experience is a pain. The setup process is inconsistent, sometimes requiring multiple attempts to pair. The watch is unusable for at least an hour while it does something in the background after pairing. Apps on previous watches (or your phone) aren't automatically installed, leading you to a sluggish and frustrating Play Store to do it manually. And every time you swap the watch to a new phone, you have to perform a factory reset and start all over again.
Third-party apps are bad. In the classic chicken-and-the-egg problem, third-party Wear OS apps are bad — if they exist at all. Now I'm not someone who needs to have a watch loaded with apps, but it's not unreasonable to expect the big names to have a presence on Wear OS. Many of the apps are simple companions to the full app on your phone, and get the job done, but all do so with such a wide variety of quality and interface designs it's just disheartening. (I always have a good laugh at the Strava "app.") And for some reason, Google hasn't forced apps (even some of its own!) to support the rotating side button (crown) — so you're left switching between rotating and swiping depending on the app.
The watch face experience needs an overhaul. Google's included watch faces are basic, boring and limited. And while each Wear OS maker bundles its own watch faces (of varying quality) in addition to Google's, there's no reason why the included set should be this boring. Samsung crushes Google, both in variety and customizability, with the set of watch faces it ships out of the box. Thankfully apps like Facer exist, providing a ton of options and customizability, because without these Wear OS would be completely hopeless. I'm not saying Google needs to fully copy Facer, but it needs to considerably up its game in first-party faces.
The Wear OS companion app needs to do more. Most of the frustration of the setup process, app management and watch faces could be improved by just having the Wear OS phone app do more. It's baffling that the phone app doesn't let you customize your watch faces (only choose between them), or browse and install apps. Trying to customize a watch face on a tiny screen is tedious, and trying to browse through the Play Store is downright brutal — these should be available on the phone, and synced to the watch, just like notification settings.
Google's "hands-off" approach to Android development, where it creates a relatively basic operating system and lets companies make their own customizations from there, hasn't worked out in the world of Wear OS in the way it has on smartphones. Sure there's incredible diversity in terms of hardware designs, with hundreds of different watch styles, shapes, sizes and prices. But the software customization has felt woefully lacking. Wear OS has massive shortcomings, and nothing watchmakers or app developers have done so far has filled in the gap. Google has to take control of the situation and make Wear OS itself dramatically more performant, consistent, robust and feature-complete.
Upgrading to a new, modern chipset is going to improve the Wear OS experience, there's no doubt about it. Better performance and longer battery life are two things we desperately need. But it's naive to think that just running on a new platform somehow negates all of the problems inherent in Wear OS. You could provide excellent performance, and multi-day battery life, and Wear OS would still have massive usability and functionality problems that continue make it tough to recommend.
Google is expected to announce changes to Wear OS (and Android on other non-phone devices) the week of August 9, as part of its "11 weeks of Android" series leading up to the launch of Android 11. We can only hope that it has real, substantial improvements in store for the platform to coincide with the move to Snapdragon Wear 4100+. Those of us who have stuck with Wear OS, seeing the potential in the platform despite being continuously disappointed, really deserve better.
Best Wear OS Smartwatch
Day and night ready.
The Skagen Falster 3 is a perfect blend of style and sophistication — no matter the color or band choice. It's our favorite versatile Wear OS watch.
Get the Android Central Newsletter
Instant access to breaking news, the hottest reviews, great deals and helpful tips.
Andrew was an Executive Editor, U.S. at Android Central between 2012 and 2020.