Should you buy the Bose QC35 or QC25 headphones this Cyber Monday?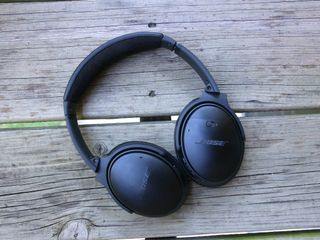 (Image credit: Android Central)
Cyber Monday is one of the best times of year to buy all sorts of tech gadgets, headphones being one of them. Bose has a few different products discounted this year, two of which are its QC35 (opens in new tab) and QC25 (opens in new tab) noise-canceling headphones. You really can't go wrong with either pair, but with $190 separating the two, there are some clear differences.
First thing's first, let's talk about what's the same across both. No matter if you choose the QC35 (opens in new tab) or QC25 (opens in new tab), you'll be met with fantastic sound quality and noise cancelation. Bose is one of the best in the business in both of these regards, and the company's prowess really shines through with these headphones.
Also similar is the design. The QC35 and QC25 are both very lightweight and among the comfiest headphones I've ever worn. Even when listening to music or podcast for hours on end, the soft leather earcups and padding for the headband result in a fantastically comfortable listening experience.
At this point, I've told you that both the QC35 and QC25 feel great, have excellent sound, and great noise-cancellation. So, what in the world is that $190 doing between the two? Let's dive into that.
The QC25 is the cheaper of the bunch with a special Cyber Monday price of just $110 (opens in new tab) (a whopping $190 off its MSRP of $300). It exclusively relies on being connected to your phone via a 3.5mm headphone jack, meaning that there's no wireless Bluetooth support at all.
It relies on a single AAA battery to power its noise-cancellation tech, meaning you'll need to replace it when it eventually dies. You should see 35 hours of use with noise-canceling turned on, but if you leave it off, you can use the headphones without using any battery power at all.
See at Amazon (opens in new tab)
While you do have the option of using the QC35 (opens in new tab) with a 3.5mm cable, the big benefit with them is that they can be used wirelessly via Bluetooth. With headphone jacks increasingly becoming a rarity on smartphones, that's an important feature to have. When using them wirelessly, you can expect 20 - 40 hours of use on a single charge depending on the level of noise-canceling you're using.
Something else you'll find with the QC35 is built-in support for the Google Assistant and Alexa. Just hold down the button on the side and you can instantly start talking to whichever virtual helper you prefer. It's not a necessity, but if you already use either the Assistant (opens in new tab) or Alexa (opens in new tab) at home with smart speakers, it just makes sense to have them integrated into your headphones, too.
As you might expect, that Bluetooth functionality and virtual assistant support does come at a cost. The Bose QC35 usually retail for $349, but for Cyber Monday, they can be yours for $299. (opens in new tab)
See at Amazon (opens in new tab)
Which pair of headphones should you buy?
If you prefer wired headphones and just want something that sounds great and offers excellent noise cancelation, it's hard to pass up the Bose QC25. They may not be the newest or flashiest headphones on the market, but at just $110 right now, you'd be silly to pass them up.
For people that have a little more cash to spend and want to live the wireless life, the QC35s are always a fantastic choice. I paid the full $349 for them over a year ago and am continually impressed with them each and every day. $299 is still a lot of money, but you're getting a damn nice set of headphones for that price.
What do you think? Which Bose headphones will you be picking up? Let us know in the comments below!
Joe Maring was a Senior Editor for Android Central between 2017 and 2021. You can reach him on Twitter at @JoeMaring1.
For 109.00 bucks with Amazon that's a hell of a deal. Case included!

I've had my QC35'S for a year now and swear by their excellent sound quality/noise cancellation! Last year's Christmas gift to myself and essential part of my everyday carry!

I ordered a set of the QC25 for Android from Amazon.ca. Not the $109 US but $149 CDN due to dollar exchange, still about 50% off the regular price.

Buy the QC25 and then pick up blue tooth adapter such as AirMod or BTunes, both seamlessly attach to the QC25.... you basically have the same thing as QC35 at half the price.

I have owned the QC15, and the QC3. Now I have two QC25's. I would never get on an airplane without one of these headphones. Was seriously thinking about getting a 3rd QC25's. You know, you can never have enough Bose. I want the QC35, but don't want to pay that much. I did for variety buy the Sony 1000mx3, when it went on sale for a brief period. However, I just didn't like the construction quality, nor was I comfortable with the touch gestures that you have to use on the right ear cup to change tracks and volume. So I took them back to the store.
Android Central Newsletter
Get the best of Android Central in in your inbox, every day!
Thank you for signing up to Android Central. You will receive a verification email shortly.
There was a problem. Please refresh the page and try again.