Samsung's new and improved Galaxy Fold can still be easily broken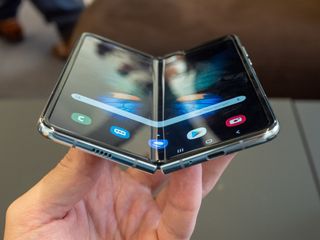 (Image credit: Android Central)
What you need to know
Samsung's re-designed Galaxy Fold has already broken for one user.
A random blob has appeared under the screen, likely something that got caught under the plastic display.
This appears to be a side effect of normal use and not a serious design flaw like last time.
Samsung built a lot of hype for the Galaxy Fold earlier this year, and shortly before the phone was supposed to be released in late-April, Samsung ended up canceling pre-orders and delaying the launch as a result of various design flaws that made it extremely easy to damage the Fold. A new and more durable version of the phone is re-launching in the U.S. on Friday, September 27, but there's already a report of this new and improved model breaking for someone.
On September 26, Brian Heater from TechCrunch published an artitcle titled, "My Galaxy Fold display is damaged after a day." Here's what he says:
You can see a picture of Brain's Fold below. The bulge in the display is not very big, but it's still a noticeable imperfection that reconfirms the fragility of plastic displays and the Fold's core design.
Samsung responded to Brian's broken Fold, saying:
Is it disappointing that Samsung's re-designed Fold is still susceptible to being easily damaged? Sure. Does this mean everyone who pre-ordered the new Fold should cancel it and cause a panic? No.
As we highlighted during out hands-on with the new Fold during IFA, Samsung has made considerable improvements over the original Fold. There are plastic caps on either end of the hinge to keep dust and other particles out of the folding mechanism, the hinge feels more sturdy, and the ends of the plastic cover over the display are now hidden under the Fold's frame so it can't be peeled off.
Those little changes make genuine improvements to the Fold's design, but Samsung never promised that the new Fold would be indestructible.
There's still a crease in the middle of the display where the folding happens, and Samsung includes an entire pamphlet in the box telling you what not to do with the Fold to keep it safe. Furthermore, this is just one report of a broken Fold coming out compared to the wave of broken Fold's we saw a few months back.
It sucks that you'll need to baby the Galaxy Fold if you decide to buy it, but unfortunately, that's to be expected with a first-generation product like this. There's only so much Samsung can do to alter physics, and until generation two and three come out, that's something we're going to have to get used to.
Hands-on: The new Galaxy Fold feels tighter, stronger, and just as groundbreaking
Joe Maring was a Senior Editor for Android Central between 2017 and 2021. You can reach him on Twitter at @JoeMaring1.
WHATTTT! Yes everybody should cancel their pre orders. Why should comsumers support a fragile phone that cost twice as much as the companies top phone? I get that this is basically a beta test. So being that Samsung should be welling to take a hit on the cost of this test, not the consumer.

Don't tell me that!!
I have one on order.
Wth!
I'm a give it a full 3 days. The slightest thing I don't like, it will be going in the box to go back.

"Why should comsumers support a fragile phone that cost twice as much as the companies top phone?" Because people are willing to do just that. Why should anyone pay what they pay for their vehicles when, for a handful of bucks, they can buy a bus pass? Because the majority of people want a vehicle.

This phone seems like one for tech reviewers to give feedback while the rest of us need to sit this one out and watch good things unfold.

I see what you did there.

Moron did what 4000 Koreans haven't done in a month.

One person is having a problem? Just one? Unbelievable

This is just Samsung conditioning people to using phones that have severe imperfections.

This will be 2000$ experiment for each buyer.

Can't wait to see fingernail imprints on those soft screens

Where is the "broken" part of the title? Did the user say it can no longer do anything?

$2,000 phone with a bulge in the display after a day and you're telling people not to cancel preorders? No way in hell would I ever use one of these fragile devices, especially not for $2K.

On the bright side it's only $149 for the first screen replacement as I am sure the squinty print somewhere says this was his fault.

Actually, HE says it was probably his fault.

If people want to have foldable phones in the next few years, everyone need to chill out. It's a new tech and problems will happen. But they won't be able to improve the tech without people using them and highlighting the problems in the real world.

A big +1, brother! Naysayers always complain when new tech first arrives. While I agree the first foldable may be less that sturdy, it's a great step forward and I anticipate the bump-in-the-road issues will be overcome in the next rev.

Wow 1 out of over 4000 people had an issue.
Junk DOA Jump ship
What else? help me people

Got my cosmos black, can set it up to view emails, answer phone, text and lots more without opening the phone. Then you open it up, great for streaming. I will agree no beach days.

« Does this mean everyone who pre-ordered the new Fold should cancel it and cause a panic? No« Actually yes! Itvis not a first gen product but a working prototype that Samsung decided to sell at a high price andvuse the customers as premium beta testers...
Fo the same price, you can get a better and more durable phone AND a better and more durable tablet!
Android Central Newsletter
Get the best of Android Central in in your inbox, every day!
Thank you for signing up to Android Central. You will receive a verification email shortly.
There was a problem. Please refresh the page and try again.