Rumor claims the Samsung Galaxy Note 20 will have a 60Hz Full HD+ display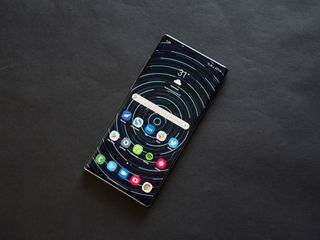 (Image credit: Harish Jonnalagadda/Android Central)
What you need to know
A new rumor suggests the Galaxy Note 20 will have a Full HD+ resolution display with a 60Hz refresh rate.
The Galaxy Note 20 Ultra, however, is expected to come with a 120Hz LTPO display with Quad HD+ resolution.
Samsung is rumored to unveil the Galaxy Note 20 series at an online-only Unpacked event on August 5.
Samsung's upcoming Galaxy Note 20 may not be as big an upgrade over the Galaxy Note 10 as previously expected. According to a new tweet from tipster Ice Universe, the vanilla Galaxy Note 20 will only have a 60Hz display, just like the Note 10.
Wide frame + flat screen + FHD resolution + 60Hz refresh rate.
It's a desperate specification.😑Wide frame + flat screen + FHD resolution + 60Hz refresh rate.
It's a desperate specification.😑— Ice universe (@UniverseIce) June 17, 2020June 17, 2020
If the tipster is to be believed, the Galaxy Note 20 is going to feature a Full HD+ resolution panel with no curved edges on the sides. The absence of curved edges on the Galaxy Note 20 is certainly not surprising, as the leaked CAD-based renders of the phone had also suggested the same. The tipster adds the phone will have a "wide frame" as well.
Interestingly, the tipster mentions in his tweet that the Galaxy Note 20 will be far less impressive than the Note 20 Ultra in terms of specs. Whether this means the Galaxy Note 20 will be significantly more affordable than the Galaxy S20, is something that remains to be seen. While Samsung was expected to release just two Note 20 series phones, the Bluetooth Special Interest Group certified the Galaxy Note 20 Ultra earlier this month. Both the Galaxy Note 20+ and Note 20 Ultra are likely to feature Quad HD+ LTPO displays with a 120Hz refresh rate.
Samsung's Galaxy Note 20 series is rumored to break cover at an online-only event on August 5. Along with the Note 20 series, Samsung is tipped to launch the Galaxy Fold 2 and the Galaxy Z Flip 5G as well at its first online Unpacked event.
Get the Android Central Newsletter
Instant access to breaking news, the hottest reviews, great deals and helpful tips.
They probably saw most people weren't buying the most expensive note phone so give the regular one less specs so people who want 1440p 120hrz display that buy samsung will have to go with the most expensive one

Honestly, I'm just wondering if the standard Note 20 will have expandable storage this year.

Why would that even matter? Expandable storage is an outdated technology compared to the memory built in. Why do you wish to go backwards?

There are certain things I like to keep separate. But thanks for being concerned about what I like. 🙄

Expandable storage is not outdated. I swap between phones regularly and I can tell you, that whilst I love my OnePlus 6T I don't use it as often as I would like as I have a 512GB micro SD that needs to be in my phone. Unfortunately the OnePlus has no expandable storage so misses out on being used.
You can argue that cloud storage is sufficient but plenty of areas have slow /no data connection.
Another example is that a phones internal storage is corrupted and the phone is useless, at least you can pop out the Micro SD card.
Just because you find something not useful, it does not mean it's outdated. Put your brain into gear and think about it.

If you truly think expandable storage is outdated tech, you're an absolute moron...

People want the prices to come down, so it sounds like Samsung will offer a cheaper option without the extra bells a whistles for people who mostly want the S-pen experience.

That already exists. It's called an LG.

Really... Didn't realize LG had the s-pen... Interesting 🤔 /S

Since when is there a middle model? All the rumors I've seen have said the lineup is he same as the Note 10, but with the plus model getting a name change to Ultra.

Is it me or so samsung and others now need to look at 2 year flagships. The s and note line now only differ by the s pen. Then you look at the note 8 and up how much has changed to make you go ooooo i want that?

The funny thing is that I'm on a Note8 and plan to upgrade this year to the Note20. I'm barely holding on with a muti-cracked screen and the battery has really diminished over the years.

Save yourself a bit of money and get a Note 10 Plus instead

It's definitely you. There are plenty of us that look forward to new tech every year.

Yep, plenty of idiots like you who enjoy throwing their hard earned money away each and every year on incremental upgrades, and in some instances downgrades, just for the sake of being able to go "Look everyone! Look at my shiny new toy! Look at me, look at me!" Congratulations on being an idiot...

Now that many are forgoing flagships, pushing back on ridiculous pricing and realizing just how great either a new mid-range or last year's flagship is support should NOW be demanded. No less that 3 OS letter upgrades from OS at release (4 years of OS) and 4 years of security patches. Boom!!

If you ran the company they'd be broke. They can't simply provide everything based on wishes. It's absolutely impractical for them to have to provide upgrades on obsolete technology for cheapskates like you. Buy a Chinese phone instead. If you can't afford a new Note each year, nobody is forcing you to buy one. People like you want to eat filet mignon, but pay for ground Chuck. It doesn't work that way.

I've just bought a Nokia 5.3 that cost £150 on android 10 that will get android 12 plus an extra year of security updates so how come a phone that costs £1000+ can't get that level of support?
There are many people who work very hard for low wages and simply can't afford top of the line devices so please don't be condescending just because you may have the money for new toys every year.
And by the way I can afford to buy a flagship phone but can't see the point when entry level/midrange does everything I need in a phone.

Do you live under a rock? Apple updates their phones for 5 years. Why should I not expect the same of Samsung and my S9?

You talk bollocks and shouldn't be let loose without a carer.

You come off as such a jackass, it's hard to take you seriously... Judging from your douchy glamor shot photo I suppose we should expect nothing less from you...

You're behind the times. There will only be 2 Notes released. The Note 20 & either Note 20+ or Note 20 Ultra. Unless they're planning on releasing a lite variant simultaneously, rather than later like the Note 10 lite. A downgrade is unacceptable for the Note series! 60hz in 2020? It would be nice if they gave us a choice of top specs in a smaller & larger model instead of keeping the good stuff for what will most likely be a tablet-sized model. There is a market for a one-handed device with an S-pen. If Apple ever brings pencil support to it's phones, they'll get my money. They're listening to consumers & giving options both in sizes and prices.

For a phone with the Note name in 2020 that is pretty much a disgrace! It should at least be 90.