Samsung Unpacked 5 Liveblog [2 p.m. EST Feb. 24]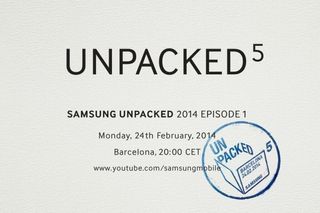 Will we see the Galaxy S5? Something else? Only one way to find out!
Join us Monday as we're live from Samsung Unpacked 5 in Barcelona, Spain, at Mobile World Congress. And on tap this evening — mid-day for those of you back home in the U.S. — is, well, the latest and greatest from Samsung!
Folks are expecting the Galaxy S5 to be announced — and that's certainly a possibility. We've already seen a pair of follow-ups to the Galaxy Gear as well. But as of right now, it's all up in the air.
One way to find out: Join us for the liveblog Monday at 8 p.m. CET — that's 2 p.m. in New York City, and 11 a.m. on the West Coast. We've also embedded the livestream to make things easy.
Strap in, folks. This is going to be one hell of a ride.
LMAO! "will we see the s5" lol

The fact that the "leaks" are incredibly sparse and very much random guessing, with only three days left, makes it a valid question. Usually everything about everything would have been leaked this close to an announcement.

Definitely will be watching like clock work 2pm. Posted from my Galaxy Note 3 on Tmobile via Android Central App

Because you have no life.

Come on, - really?
You're on Android Central, and the presentation of the new flagship of the (by far) biggest producer of Android phonces doesn't excite you the least?

Then why are you here??? Calling the kettle black a bit?

This event should have been called " Pack and go home by 5", not "Unpacked 5" any flagship phone from sony to HTC or LG kills this thing. heck even phone from 6 months are better than this thing

Good, 2pm, not late, not early. Posted via my T-Mobile Samsung Galaxy S4

Yaaaay!! I'm excited, to see what Samsung has planned. Posted from my "Gift from God" Note 3, my "God-Given" iPad Mini 2, or my "Risen" Samsung Chromebook.

Ok let's see what you got Samsung.

Great Posted via Android Central App

"Event Reminder"? Lol, like I need to be reminded? The actual specs probably won't be released til who knows, 2:20pm, 2:30, 2:40? There won't be much the first 10-15m's. Posted via my T-Mobile Samsung Galaxy S4

to bad i will be at work:(

Watch it on your phone! Lol. I'll be watching on my tablet.....all 12.2"! Schweet.....

I'm mad. My world history teacher has a no-phone policy. I'm trying to ask if she can let me! Posted via Android Central App on my Nexus 5 (4.4.2)

Tell her this could make world history... I doubt it actually will but you could try the excuse. Posted via Android Central App on my Motorola XT890 RAZR i

Tell your teacher she isn't a Judge, your classroom isn't a courthouse, and she should go fck herself!!! This is 2014!!! Society should just get used to cellphones, like 10yrs ago they should have gotten used to cellphones!!!! Posted via my T-Mobile Samsung Galaxy S4

I will be more direct that that. Cut the class

i know AC is live blogging it, but does Samsung have any live video stream happening?? I'd rather not get any work done and watch video of the presentation.

They had one in the S4 so I think there should be one. Posted via Android Central App

Yes, they'll have a live stream at https://www.androidcentral.com/e?link=https2F2Flink... I wanted to see the live stream as well.

I will do both - watch the live video - but also I want to read the comments from AC

Can't wait. Even if I don't like the phone this is going to be interesting to watch.( hoping for a live stream) Posted via Android Central App

** Even if I don't like the phone this is going to be interesting to watch. ** Wow, at least you have an open mind about the tech. LOL

We know the S5 will be good the exciting part is how gooooooood? Posted via Android Central App

Let me at 'em, Samsung! I am ready! My device went through hell to send this message.

Who cares about Samsung, what time is the Huawei event? Posted via my G Pad which is much better than some silly Nexus

Right after the yugo commercial -------------------------------------------
Kit Kat tastes like Jellybeans. Can't tell them apart...

Lol! I certainly hope that guy was being sarcastic! Posted via my T-Mobile Samsung Galaxy S4

Hi, we're Samsung. Here's our 5th blatant iPhone ripoff. Expect to see a phone in champagne gold color, and a fingerprint sensor in the home button because we have no shame Posted via Android Central App

Trololololololol Posted via Android Central App

One thing you have to hand it over to samsung ...........The've been pretty good with not letting the leaks,unlike others we've seen in the past.

Maybe the S5 will be excactly like the S4 - bar the faux leather back and bumped CPU

Ouch, I was really close on that one..

A new touch wiz would be the game changer.

Hell yeah there's a live video stream. Sweet, I'll be watching that today. I'm really surprised there hasn't been any leaks. GSM arena leaked some pics but they look fakish. I'm excited about the Xperia Z2 but still curious to what samsung has up it's sleeve. I'm predicting at the very least Snapdragon 800, 3 GB of Ram, 16 MP Camera, and potentially waterproof or dustproof. Hopefully the faux leather note 3 back too.

I hope the leaks are fake. The design is disappointing.

I'm sure it is. Those holes on the back make no sense at all. Not only that but samsung is already aware people's frustration and boredom of Touch Wiz. Exactly why they are overhauling/changing it. As long it has a faux leather back and tons of features it will be okay. Even if the front looks exactly the same, which it probably will. I doubt they'll do another broadway presentation too. I think they learned their lesson last time. Although, it was different and a clever way to show off the gimmicks instead of just telling them. Showing not telling.

"Will we see the Galaxy S5? Something else? Only one way to find out!".....I just hope it isn't another broadway show like their last launch....

The guy having Fun on the main pic looks like he is ready to consume a communion wafer.

Kudos sir. You really took the high road with this comment.

The so called GS5 was leaked on BGR 4 hours ago. I've been hoping that's not really it since I saw it this morning. I'm still expecting something more refined.

Like soooo happening man!

Have logged onto the stream, am hoping that the pics we've seen today are just prototypes, but it's not looking good at the moment. Everything so far screams mediocre including the specs but I'll reserve judgement until a) we actually see what they have to present, and b) what it looks like (and performs) in real life

I'm hoping they announce the Galaxy 5S.

Live video feed https://www.youtube.com/user/SamsungMobile/UNPACKED

Official release for Galaxy 5 already here: http://global.samsungtomorrow.com/?p=34301

and detail specs here:
http://www.samsungmobilepress.com/2014/02/25/Samsung-unveils-Galaxy-S5-t...

Press release before the event? Worst tech unveil ever. As much as I hate to say it, but Apple knows how to unveil their devices.

Come on I want to see the s5 already!!!

It comes with the "KNOX POX"; I'll pass.

Looks so ugly. Should just drop it in the toilet like he said. Z2 looks much much better.

the UI looks alot like ios

ultra power saving is intersting

Yawn........ are people over Samsung yet....I find them very uninspiring. Not to mention that every one of their phones completely craps out after 1 year.....I guess this is why they have to release a new one every year.

Rubbish ! Wait for Note 4 begins .........

All of you Galaxy S haters, go to your phone's manufacture of choice site and leave a positive dictum! The GS5 has some equable features, so does the iPhone, the HTC, the LG, and the Sony. I will be upgrading my GS3 to a GS5. Do as you wish and let us enjoy our moment! Have a beautiful day!
Android Central Newsletter
Get the best of Android Central in in your inbox, every day!
Thank you for signing up to Android Central. You will receive a verification email shortly.
There was a problem. Please refresh the page and try again.