Samsung to add premium subscription to Milk Music service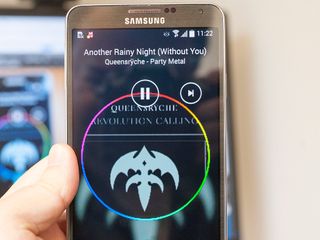 Samsung partnered up with Slacker to release Milk Music last month. The service was freely available to all high-end Galaxy smartphone owners, opening up a world of music with a personalized experience. That's all set to change as the company has revealed plans to add a premium subscription to the streaming service.
Boasting over 200 stations, just how much will consumers be required to fork out? $3.99 will bag you an ad-free Milk Music experience with some "exclusive features," though it's not confirmed what exactly this functionality will include. The price alone is competitive against other solutions, especially if you're already rocking the headphones on your Samsung device. Fear not if you love things free as Samsung will offer free, ad-supported streaming.
We're not sure when this premium model will be implemented, so be sure to enjoy the free service for now. Check out the Samsung blog post for the full infographic on Milk Music. What do you make of these proposed changes to the service?
Source: Samsung
I wish it could be integrated into the main music app Lucexpress... yours truly

Those of us that have it for free on the high end phones should be abke to keep it for free. Just open it up to everyone else with "non" high end phones and let them decide if they want the free or pay service. Figures when something good comes along there always has to be a catch. I personally refuse to spend money on a music service when I can listen to what I want for free anyway... Posted via Android Central App

it is still free, there is just a paid version. The version you have is free (it is ad-free for a limited time)

Wow they're really going to try and ask you for money for that? I tried it and it's the worst music player I've ever used. Posted via Android Central App

++++++1! Posted via Android Central App

That's pretty ignorant. It took me a little while to try it, but it's pretty flawless as far as I'm concerned. And the pool of music is top notch. I have the music taste of a dirty hipster, and it still manages to surprise me occasionally.

It's not ignorant...it's his opinion. If he says its the worst, so what? Is your post "ignorant" because it's your opinion? Midol, chief.

I don't see anything wrong with it you can build a play list not only off of an artist but an album and a song plus it not just one station is almost like xm radio but with more stations of my type of genre of music Posted via Android Central App

Meh. I'll go back to Songza.

I don't have a Galaxy device, so I don't have Milk Music. I know that Milk Music is powered by Slacker, but is there really any difference between the two services? Has anybody compared?

I tried it out on my work phone, it was really cool as an ad free exclusive.... But there is no way I would pay for it, and if they are going to put ads on the free version, I see no reason to not go back to Pandora. I do have the paid version of Pandora and it is usually my preferred music streaming service anyhow. That is since they killed off Zune and Zune Music. Posted via Android Central App on my Motorola Droid Maxx

I'd stick with Slacker at that point. Posted via Android Central App

I also expect to get everything in life for free. I was shocked when I wasn't allowed to drive away with that DB9 at my local Aston Martin reseller the other day. How rude!

Lmao +100 Posted via Android Central App

I also expect to get evrything in life for free; That is until they started to ask me how I'd like to pay when I went to an apple store to grab an ipad just to reply to this post. People are just rude these days *pffft.
Android Central Newsletter
Get the best of Android Central in in your inbox, every day!
Thank you for signing up to Android Central. You will receive a verification email shortly.
There was a problem. Please refresh the page and try again.