Samsung thinks the Galaxy S9's new ringtone will be its best feature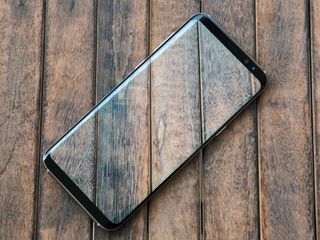 It's hard to believe that we're just a few short days away from the launch of Samsung's Galaxy S9. It seems like just yesterday we were swooning over the Galaxy S8, but Samsung is ready to wow us once again and show off what it's been working on for so many months.
We're expecting a fair amount from the Galaxy S9, including Qualcomm's Snapdragon 845 processor, radical new camera tech, and a new face unlocking system. However, above all else and perhaps most importantly, the Galaxy S9 will ship with a new take on Samsung's "Over the Horizon" ringtone. (opens in new tab)
Samsung's been using its "Over the Horizon" tune as the default ringtone for its Galaxy phones since 2011, and with each year that passes, the company slightly tweaks it to " mirror the aesthetic transformation of the devices themselves."
This year with the Galaxy S9, Samsung decided to enlist the help of Icelandic composer Pétur Jónsson to recreate the tune for a version that "takes you away on an atmospheric journey of discovery." I'd try to describe the ringtone myself, but I think Samsung already does a fantastic job at doing so. According to the company —
You can give this year's "Over the Horizon" piece a listen by watching the video above, but before you do, make sure you're prepared for what you're about to experience — a life-changing, heart-stopping, breathtaking, ringtone.
Oh brother.
Android Central Newsletter
Get instant access to breaking news, the hottest reviews, great deals and helpful tips
Joe Maring was a Senior Editor for Android Central between 2017 and 2021. You can reach him on Twitter at @JoeMaring1.
Well, I wasn't particularly excited about the S9, but now... Samsung have confirmed my disinterest.

If it has a new ringtone now for sure, what an added feature! Yikes!

Pretty it is but I think I'd choose something else.

It lifts me up and drops me right in Seoul.

Hmpph. Apple level of marketing. What's next? How beautiful the display turns on and off? 🤣

It is a beautiful piece, and I love the cadence and dynamics. Not sure it makes the best ring tone or not, but it would make a nice piece to wake up to as an alarm. Unless you are a heavy sleeper ;)

Agree, would like to wake up to that

So where does it say "it's the best feature"? AC, a Troll Farm subsidiarity.

It can be implied based on the amount of hyperbole and hype in their description...of a ringtone that will be played through tinny phone speakers.

Cool, I'll probably never hear it even if I own the phone, I've been rocking silent mode for years.

LOL, I'd never leave that as my ringtone. But so many of the normal lemmings will never change it.

I use a wav of an old-school telephone ringer. Otherwise, I'll end up ignoring the phone when it rings.

Nice. I'll probably stick with my Dixie Dregs "Punk Sandwich" ring tone, though.

Dixie Dregs? I'm impressed

Steve Morse is my guitar hero. Best guitar player and fusion composer of our time.

It's less irritating than the version on the Note 8, that's for sure.

I was going to post a comment, but I'm getting CPR instead, because my heart stopped. ;)

Does this brandy new feature the ringtone come as a standard feature. Oh boy, this is the best news yet! Wow, what will they think up next?

A new ringtone is the last reason I would consider in investing nearly $1000 in a new phone.

That was super lame. Give me something that I'll actually be able to hear

Will stick too my Rammstein, Ich Will 🤘

Well, that's pretty, but I'll still have to change it to my usual old phone ringtone to grab my attention if I go with the unlocked S9+ when it becomes available, which is looking pretty likely.

I'll keep my Boots Randolph "Yackety Sax" ring tone

Better than the original. Similar to how LG used to tout having ringtones made by the Vienna Boys Choir lol.

I can't believe I even wasted my precious time reading this article...and now more time responding.

I have hated every single version of Over The Horizon they have made since 2011, with last year's version earning my highly coveted "Oh Hell No!!" Award right before I dove I to the settings to reprogram anything else....that being said, thanks for the article...I found the new piece to be mature enjoyable and moving...I can't wait for it to never grace any phone I own...
Android Central Newsletter
Get instant access to breaking news, the hottest reviews, great deals and helpful tips
Thank you for signing up to Android Central. You will receive a verification email shortly.
There was a problem. Please refresh the page and try again.