Samsung smartphones and tablets to appear on the X Factor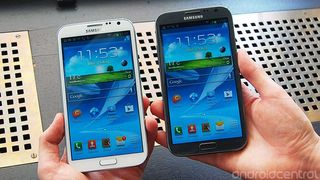 It seems that sponsoring the Olympics wasn't enough for Samsung. The South Korean company has reportedly signed a deal for their smartphones and tablets to appear on the X Factor UK starting this Saturday, Sept. 29.
The new partnership will also see online advertising on the X Factor website in the form of Samsung banners and in addition there will be a dedicated Android application for the Samsung Galaxy Note II.
the X Factor has a huge audience in the UK, so it'll be interesting to see how 'in your face' the product placement will be. Any crazy tie-in ideas? Shout out in the comments.
Source: mobilenewscwp
I Figured you were going to say xfactor USA becasue they had so many commercials last night LOL

Maybe Samsung will release a new phone that has no talent but everyone will buy it and it will be really famous for 5 minutes then everyone will forget about it forever or at least for 30 years until it arrives on a Celebrity Big Brother spin off.

Ouch... Pretty harsh don't you think? Let me guess... Simon called your audition "Atrocious" and shot down your hopes and dreams of singing alongside Taylor Swift. It's okay, it's okay. Trust me, I feel your pain, just like that one Christmas I didn't get Pokemon Red or Blue for my Game Boy pocket because the stores were sold out. I'm here for you.
Android Central Newsletter
Get the best of Android Central in in your inbox, every day!
Thank you for signing up to Android Central. You will receive a verification email shortly.
There was a problem. Please refresh the page and try again.