Samsung rolls out One UI 3.1 to the Galaxy S20, Note 20, Z Fold 2, and Z Flip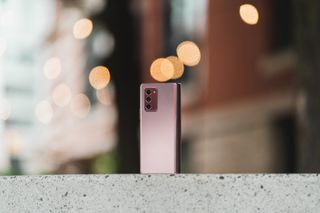 (Image credit: Hayato Huseman / Android Central)
What you need to know
Samsung is rolling out its Android 11 update — and with it, One UI 3.1 — to nearly all of its last-gen flagship devices.
This update brings a number of features over from the Galaxy S21 series, namely Enhanced Single Take shooting, Object Eraser, multi-mic recording, and Eye Comfort Shield.
One UI 3.1 will begin rolling out to these devices in select markets before launching globally in the coming weeks.
Good news if you've been rocking one of the best Samsung phones from 2020: as of today, Samsung has started to roll out the stable Android 11 update to its Galaxy S20, Note 20, and Z Flip series, as well as the Galaxy Z Fold 2. Of course, along with Android 11, this update is carrying over One UI 3.1 to these devices, porting a number of features from the Galaxy S21 series.
These ported features focus largely on camera software, bringing the S21's Enhanced Single Take shooting mode that lets you capture various types of photos and videos with a single tap. Likewise, users of last year's Galaxy devices will receive Object Eraser, multi-mic recording for simultaneously capturing audio from the phone's internal mics as well as an external Bluetooth device, and Eye Comfort Shield, which reduces blue light output based on the time of day.
In addition, One UI 3.1 brings a number of visual changes, and allows users to change out the Samsung Free news feed to the left of the home screen with the Google Discover feed. Being based on Android 11, this update also introduces categorized notifications, improved multimedia controls, and the ability to add custom video effects to services like Google Duo.
Specific to the Galaxy Z Fold 2, Samsung is improving its Multi-Active Window feature, allowing users to install re-open up to three split-view windows at once through the Recent Apps screen, and even jump from the inner display to the cover screen when running two apps without disrupting their workflow.
Z Fold 2 owners can also now double-tap the screen or even place their entire palm on the display to put their phone on standby. Additionally, controls within the camera app can now be repositioned when shooting in Flex Mode, and Samsung has added Delete and Share buttons to the preview window in Flex Mode.
During video calls in Flex Mode, Z Fold 2 owners can now fill the entire top half of their display with the feed from the other end of the call, as well.
After releasing and subsequently pulling the One UI 3.1 update from the Galaxy S20 FE, Samsung is rolling this update out in select markets including the U.S. beginning today, February 17, and expanding the rollout over the coming weeks. To check for the update, simply open the Settings app and navigate to Software update > Download and install.
Hayato was a product reviewer and video editor for Android Central.
Expected but still waiting for One UI 3.1 on my Unlocked Samsung Note 20 Ultra on T-Mobile.

Note 20 Ultra on T-Mobile (Sprint). No uppitydate yet....

Hopefully when I get my Galaxy S20 FE today, I'll have the One UI 3.1 update waiting.

You back on the android boat?

Yes and I'm loving my S20 3 and One UI, not sure I want an iPhone anymore as I'm fed up of paying Apple's ridiculously expensive prices for their phones that offers nothing new and no longer innovate plus Samsung has made me love Android again and I ma finally ditch Apple for good and switch to the Samsung ecosystem.

What happened with Apple? Apple always seems appealing and then you use one and they are 1) not different in their function or form to other slab smartphones, 2) kinda boring, 3rd) more expensive than a smartphone should be today and lastly so walled in.

Exactly, I get bored of using an iPhone and bored with their restrictions and am loving the freedom and I'm ready to start
embracing customisation which I've done already.

Any word on the still in-support S10 and Note 10 series? Cheers

My wife's S10e has already received the update to Android 11 and One UI 3.1... Hers is an unlocked phone in the UK...

Glad I finally switched to Samsung the experience has been better than other oems I have used in the past... I actually use a few of their own apps too... I use Microsoft Launcher with my Note 20 Ultra which I prefer but One UI is OK too... Have Android 11 with latest security patches released every month plus now Samsung are offering 4 years of support...
Android Central Newsletter
Thank you for signing up to Android Central. You will receive a verification email shortly.
There was a problem. Please refresh the page and try again.