Samsung now sending Galaxy S20 autofocus fix update to U.S. phones, too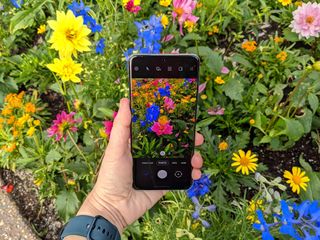 (Image credit: Ara Wagoner / Android Central)
What you need to know
New update for all Galaxy S20 models aims to address noted autofocus issues.
Update was originally only for Exynos-powered phones, and only through Smart Switch.
OTA updates will roll out starting today, and may take some time to hit everyone.
It's only been a couple days since Samsung released a camera-focused update for Exynos-powered international Galaxy S20s, but now the company has confirmed the same update will hit U.S. phones over the air starting now. The update is primarily set to improve — or "fix," I suppose — the autofocus on the cameras, which was notably a bit dodgy in the initial release firmware; particularly on the Galaxy S20 Ultra. The update includes a new version of the Camera app, though there aren't any front-end interface changes.
Prior to this update, the camera would struggle to lock focus on a subject, even when it wasn't moving or reflective, and this was noticeable in both photos and video. In my testing of the S20 Ultra I found this to be more of a quirk than a deal-breaking issue, and it's not nearly as bad on the S20 and S20+, but it needed to be addressed nonetheless. It looks as though Samsung has done so, at least in part, with this update.
As usual, the update is rolling out gradually, and how long it takes to hit your phone will depend on your model, carrier and ultimately how slowly Samsung has programmed the deployment to take. Let's hope this update fully addresses the autofocus concern, which was the one universal negative mark on what is an otherwise strong camera system.
Android Central Newsletter
Get instant access to breaking news, the hottest reviews, great deals and helpful tips
Andrew was an Executive Editor, U.S. at Android Central between 2012 and 2020.
Glad they are getting it under control. I wonder if it was caused by just software, or if it was also struggling because it only has PDAF. I gotta say having PDAF and laser AF makes a good combo. I recently did over 500 photos in tough situations, and all were sharp as a tack except for one I was shooting blind and moved the phone.

Hmm, does the Ultra have PDAF? Mixed information.

Got the update around 12:30 AM on Saturday. The focus works well now and I believe the pics look better. The portrait mode appears to be tweaked for the better. I have a S20 Ultra on Verizon BTW.

Same here S20 Ultra on Verizon and did some comparison photos with my Note 10 and it looks great. Nice fix!

And I'm still waiting for the update on my unlocked Exynos version in the UK... 🙄

I've not heard of anyone from AT&T getting it, because...you know...AT&T 🙄

Samsung/Xfinity Mobile came through with the update. Camera version ends with a 98. Is that it? I tried taking zoom photos (30X) of Jupiter around 8:30 PM EDST but 10X worked best.

This article is the first I've heard of the non-Ultra's having focus issues.
This issue is specific to the S20 Ultra, since the non-Ultra's use standard dual pixel auto focus. What are the S20/S20+ focusing issues? I've not noticed any issues on the S20+... nor have any YouTube or web reviewers I've seen mentioned issues on the S20/S20+. For example, Android Central's own review of the S20/S20+ make NO mention of any focus issues.
https://www.androidcentral.com/samsung-galaxy-s20-plus-review As one of the few (or only) person to see focus issues on the S20/S20+, perhaps an article detailing how you managed to get this issue to manifest would be helpful.

If you're not seeing any issues in your regular use of the S20 or S20+, don't go looking for them. The Ultra is obviously the one that got the biggest outcry about autofocus issues, because it's affected the most and was the only phone sent to reviewers initially. There's far less of an issue with the S20 and S20+, but some still claimed it had some of the same af problems.

Sooo why is this being rehashed not even 2 days after the initial post? I don't even see any changes made... can't come up with any other content than this and product placements?

Just ass kissing the crap out of Samsung. Meanwhile there's still no V60 forum. Can't be that hard to create it.

More like catering to their readers. I assume the majority of folks who visit this site come for Samsung or Google Pixel news. That doesn't excuse reposting the same article, unless they have been getting requests for this information. It has nothing to do with creating the form that you want. The writers aren't likely the ones creating/maintaining forums.

Turns out the Ultra uses a different focusing system.
The S20 and Plus use full sensor DPAF (Dual Pixel AutoFocus), which uses photodiodes built into every pixel.
The S20 Ultra has PDAF (Phase Detection AutoFocus), which only has a few pixels used for focusing. Perhaps building photodiodes into every pixel of a 108Mp sensor was either too difficult for Samsung to get ready in time, or too expensive. Either way, they settled for PDAF, which is slower and not as good at moving objects. Both DPAF and PDAF use visible light and have no emitters, so performance degrades along with light conditions. The autofocus issues are not a huge deal for the average user, but it is being discussed on photography sites and on Samsung's own forums. It is rather ironic to see a $1,400 phone, advertised for it's camera abilities, struggling for focus for a couple seconds. Meanwhile, the U12+ autofocus system is lightning fast and 100% accurate in all lighting conditions, delivers photographs more detailed than the iPhone 11, and we threw it under the bus.
Android Central Newsletter
Get instant access to breaking news, the hottest reviews, great deals and helpful tips
Thank you for signing up to Android Central. You will receive a verification email shortly.
There was a problem. Please refresh the page and try again.