Samsung: No plans to launch Galaxy S5 LTE-A globally [Update!]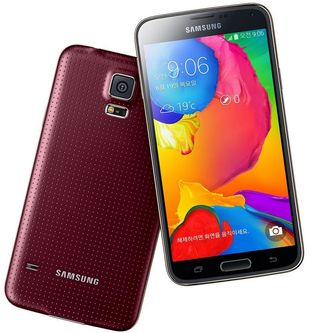 Updated Galaxy S5 with 1440p display, Snapdragon 805 set to remain Korea-exclusive
This morning Samsung unveiled a new version of its flagship Galaxy S5 powered by Qualcomm's latest Snapdragon 805 processor, with an upgraded 3GB of RAM and a new 5.1-inch QHD (2560x1440) SuperAMOLED display.The Galaxy S5 LTE-A, so called because it also supports super-fast LTE-Advanced networks, is set to launch in South Korea soon, however there's disappointing news for those hoping to get their hands on this updated model outside of Samsung's home country.
"Samsung launches the Galaxy S5 Broadband LTE-A in Korea at the end of June 2014," a Samsung spokesperson told Android Central in response to questions on global availability for the new handset, "At this moment, there is no specific plan to provide the product to the global market."
So that's that. In the meantime, rumors persist of a similar handset, dubbed Galaxy F, that may well see a wider launch later in the year.
Update: Samsung has went official and have announced the Galaxy S5 Broadband LTE-A for the Korean market. You can read a little bit more about it right here.
Get the Android Central Newsletter
Instant access to breaking news, the hottest reviews, great deals and helpful tips.
Alex was with Android Central for over a decade, producing written and video content for the site, and served as global Executive Editor from 2016 to 2022.
Well, LG G3 it is then... Posted via Android Central App

Yup haha. I'm tired of physical buttons anyways. Posted via Android Central App

Sorry, Samsung. I'm staying with LG then. Posted via Android Central App

Just about to say the same thing

This is the first phone that actually has the specs I want, in the dimensions I want, so of course it isn't coming out here. Anything bigger than the S5/M8 is just too damn big.

Perhaps Samsung needs to do a complete redesign for the world market.

Kinda makes sense. Not every country supports LTE-A.

Oh good! And I have no plans to buy an S device States-side for the next two years. Thank you for settling that, Samsung. Posted via Android Central App

lol, this is pretty much the way I feel now too! I have a feeling that spec-wise, the Note 4 will once again be their true flagship device for the year.

the note line will always be their flagship device. Even if the galaxy f or this makes it to us the note will still sit on top of it.

Well, I guess I'm just gonna get the M8 for my upgrade then Posted via Android Central App

HTC sold 50,000 units of the One E8 in 15 minutes in China http://www.androidbeat.com/2014/06/htc-one-e8-sales-figure-china/

Just like cars, all the cool products are staying in Asia. Posted via Android Central App

I believe we are basically looking at the Galaxy S6 here other than maybe the styling. It bumps up every spec in the areas people care about just enough to outdo all the phones on the market. None of these areas is going to see anything more advanced than this by the time the GS6 is released. Makes sense too since otherwise Qualcom's 805 wouldn't even be in a single flagship phone. I believe they will push that SOC out through next year to make it worthwhile. They certainly aren't going to do anything too drastic with the sales and market share they have right now.

My Galaxy S3 is saying, "two design spruce-ups later and they still don't have my brand recognition." My LG G2 just pats my GS3 on the home button while saying, "that will do pig." Posted from my "KNOX-FREE" 4.3 Sprint GS3 Maxx...!!!

You got some weird stuff going on there. Maybe lay off the Red Bull(tm)?

That's trippy as fuk Posted from my Nexus 7 2013 or Samsung galaxy S5

Figured this to be true. Most likely the same with a rumored G3 "Prime" variant; Not coming to the US of A.
I have not wavered: LG G3 for me. :)
Mav.

I hope the LG G3 when it comes to North America comes with the Snapdragon 805.

Leave to Samsung to screw over their customers within months of launching their flagship to the masses SMH! Like most others commenting here I'm going to wait for the LG G3.

No need to release it elsewhere this late in the game when the Note 4 is only a few months away. Posted via Android Central App

Oh..... Don't worry U.S. of A. It'll be along.
Just not in 2 weeks.
Do you honestly believe Samsung is going to let LG have a SUPERIOR screen to the S5 for the next year?.. Come'on you know better than that..
I just love the drama of 2014! *Will the S5 get a Global Prime?* * Will HTC follow suit?* *Is the G3 going to release with a 801 or is it being delayed to install the 805?* * Will there be a Nexus 6?* * Will there be a 3-Sided Screen Note 4?* *And the Oppo Find 7 and One-Plus-One? How will they play into all this when they arrive later this summer?* This is just great! http://www.gsmarena.com/lg_g3_variant_sporting_a_snapdragon_805_soc_may_... Just Relax........ Let things unfold.. Your money will keep just fine. :-)

They'll have no specific plans, but "decide" to release it at the same time as the iPhone 6. I knew it wouldn't be worldwide for now, but I bet Samsung is waiting to swoop in and steal Apple's flair in the fall. Posted via Android Central App

Well that's the end if that might as well close the rumored galaxy f forum those press renders were fake Posted from my Nexus 7 2013 or Samsung galaxy S5

The nice part is,
You'll still be able to purchase the S5 Prime through 3rd party vendors all day.. T-Mobile and AT&T customers, you still will have the option to go Prime if you want Samsung's Flagship.
Let's see touchwiz slow down the Heavy Duty Pipeline of the Snapdragon 805 / Adreno 420 with it's 3 gigs of ram..
I'm trying to imagine the speed of this unit once it's rooted and running Mahdi, Liquidsmooth or cherry picked CM.. :-)

If they don't release the galaxy f here in the u.s then I'm getting the lg g3 Posted via Android Central App

Well they would be stupid to say it would, then any possible s5 owners might just wait. Also Samsung did say there was no plan for a superior/premium s5 but compared to the og s5 this is both. Posted via Android Central App on nexus 7 (2nd gen)

One fact worth knowing before considering ordering one as a 'gray' import:
- Samsung phones are region locked for activation. You must have a SIM from the region to which the phone was locked to be able to activate the phone. Only after this you can use your own regional SIM in the phone.

The Galaxy S5 LTE-A gets the SM-G906 designation in Korea The SM-G906S is the SK Telecom version. http://www.hyundaihmall.com/front/pda/itemPtc.do?ReferCode=250&slitmCd=2...

Heyy can anyone plz help me. I dropped my s5 in the pool and the back covee was slightly open . It went 5 cm down in water before I removed it. It was turned off . I didn't try to turn it back on . I just removed all the parts and placed it in the sun to dry. Can it be fixed or im screwed? ??