Samsung at MWC 2017: Galaxy Tab S3 livestream at 1:00 p.m. ET Feb. 26!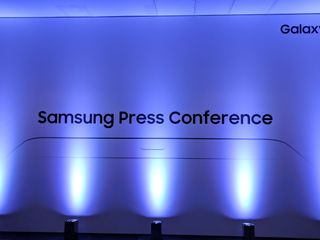 Even though we know the Galaxy S8 won't arrive until April, Samsung is well overdue for a tablet lineup refresh and that's what we're expecting to see at its MWC 2017 press conference. In particular we're looking at a Galaxy Tab S3 of some sort to replace the well-aged Galaxy Tab S2 series, and though we have a few details via leaks we don't know the whole story just yet.
Samsung could surely drop some interesting unexpected announcements on us as well, as is often the case at these big shows.
So join us to watch the livestream of the Samsung press conference at MWC 2017 — it all kicks off at 7:00 p.m. local time in Barcelona, which equates to 1 p.m. in New York and 10:00 a.m. in San Francisco.
Android Central Newsletter
Get instant access to breaking news, the hottest reviews, great deals and helpful tips
Andrew was an Executive Editor, U.S. at Android Central between 2012 and 2020.
Nice.. It's going to be a great weekend with all the announcements !!

That's their big announcement? I know we are not expecting word on S8, but do people use tablets anymore? Maybe I'm wrong, but I thought the idea of tablets were waining.

I use my iPad Air 2 daily. I barely use my Nexus 7 (2013) though due to the small size. My gf uses her Galaxy Tab S2 daily as wel.

I'd rather look at my tablet for 4 hours than a phone screen. And as far as I know I can't download movies from Netflix to watch on my laptop on long plane trips.

My phone only gets used when away from home. Why would anyone prefer a 5.5" screen over a 10" screen at home? What's useless for me is a laptop since I have a tablet and a pc. I've had an iPad since the first and currently rocking the iPad Air 2 but I'm ready for an upgrade, especially with Super AMOLED. No way I'm paying Apples Pro price on the iPad refresh

Tablet sales are down, tablet use I don't think has dropped. Tablets last longer than phones and don't need to be replaced as often, and being used for consumption don't require as high of specs for most people. I've got 4 working tablets, newest one was bought September 2015, 2 of them in 2014, and one from 2013. Use them regularly no reason to buy another.

You are definitely wrong. Tablets are very useful if you want to read something and they are better for watching videos than a mobile phone because they are much bigger.

Phablets have killed much of the market for small tablets. I don't think that I would ever buy a 7 or 8 inch tablet again. But I love my Tab S2 LTE with the Logitech keyboard case. I use it for a laptop replacement every day. It's small and light enough to take everywhere and much more convenient to use on the train than a laptop. I had the original Note 8 and i"m missing the S-Pen. I absolutely can't jusify upgrading to the Tab S3 right now but I would love to have it. I was disappointed that the S-Pen and the more powerful processor weren't available for the S2, The Tab S3 is everything that I want in a tablet.

I'm looking forward to it. The tabs rumored specs are good. Now, I want to see them for real. Also, maybe, they'll show a tidbit of the S8?

I still use my Tab S2, using it right now!

Still us my tab S 10.5 daily still the best Samsung tablet to me . Wish the s3 was 16 :9

It's close enough and no borders when watching movies

Being 16:10, of course there's borders. 16:9 is just stupid for a tablet which must be usable in both orientations. 3:2 is arguably the closest ratio to 16:9 that satisfies that basic requirement. And since most people that clamour for 16:9 don't actually know that they've been using 16:10 all along, I think they'd be happy with the compromise.

Huh ,your why over thinking and over analyzing this whole thing . 16:9 is the ratios that best fit Android tablets and there apps . And no there's no borders on my tab S 10.5 when I watch movies and videos in landscape mode. There is when I watch them on my tab s2 8.0 . That's the difference.Most people consume a lot of media on there tablets. Maybe you should just stick to iPads since that's your ratio of choice just saying

The Tab S is 16:10. Most TV shows are 16:9, and movies way wider than that (1.85:1 and 2.39:1 are both pretty common). So those are simply facts, you've got black bars as well.

I'll be using my Tab S2 for a while yet. Only had it a year.

Still rocking my TabS 10.5 that replaced my Xoom. I am hoping the new TabS has a microsd card slot. If not, then I will be sticking with the tablet I have. I too use my tablet daily. It has replaced my laptop at home.

I'm in the market for a new tablet so I'm excited for this press conference. Relaxing at home on a Sunday morning with my coffee in hand makes me glad about the time difference.

I'll stick with my S2 8.0. It's disappointing that they aren't making an 8 inch. I prefer the smaller size tablets for reading and browsing.
Android Central Newsletter
Get instant access to breaking news, the hottest reviews, great deals and helpful tips
Thank you for signing up to Android Central. You will receive a verification email shortly.
There was a problem. Please refresh the page and try again.