Samsung Gear S2 is now available for pre-order from Verizon, coming soon to T-Mobile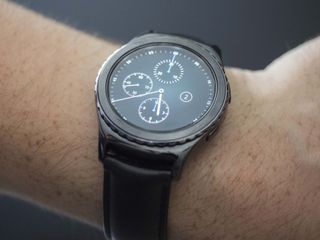 The Samsung Gear S2 is heading to both Verizon and T-Mobile and will be available on the US networks from November 6 and 15 respectively, though you'll be able to place a pre-order with Verizon right now. Those who wish to add the smartwatch to an existing mobile phone plan will be able to do so with both companies for just $5 a month.
Verizon has the Samsung Gear S2 listed for $349.99 ($299.99 with a new two-year activation) with dark grey and silver options available. T-Mobile pricing for the wearable is $10 dearer at $359.99 ($15 for $24 months or outright) for the same colored variants. As noted already, both carriers will allow you to add the Gear S2 to an existing smartphone plan for $5 a month.
Pre-order on Verizon or register your interest with T-Mobile:
Source: Verizon (opens in new tab), T-Mobile (opens in new tab)
hmm, I was kind of hoping for a payment plan via Verizon. But $5/month isn't bad (glad it isn't $10/month). I'll wait to see if they carry the Urban LTE.

WARNING: the S2 doesn't currently connect to Bluetooth on phones running Marshmallow. Will connect once, then won't reconnect. Not fun!

Samsung probably hasn't heard of Marshmallow yet. One day.

Even worse, they released their Marshmallow version of Gear app on Monday, so they've heard of it, they just broke it.

For $24 months? I didn't know you could put a price on a month lol

Anyone else notice that they have it listed at $349 or $299 with a 2 year contract and $350 ETF

yes, I saw that. Ridiculous. That's why paying full price is the only way to go for VZWs variant. I do wish they did a EDGE payment plan, though.

Yeh..i was hoping for an edge plan as well. I am trying to figure out if actually counts as a line on your account

that's what I'm unsure of. The article states "As noted already, both carriers will allow you to add the Gear S2 to an existing smartphone plan for $5 a month". Verizon does $10/line for hotspots, tablets, etc., so the $5 is news to me. But it probably is another "line". EDIT: connected device is $5 according to this, so it looks to be another line, but not as high as a tablet or hotspot
https://www.androidcentral.com/e?link=https2F2F... the thing is, I don't have this new plan because it would increase my monthly bill by $20 (the $15 -> $20/line change sucks) so I wonder if connected device is still $5 on the older more everything plan.

Yeah that what i uncertain of as well. and their CSR doesn't know. But i am maxed out at 10 lines already so wondering if that inhibits me
Android Central Newsletter
Get the best of Android Central in in your inbox, every day!
Thank you for signing up to Android Central. You will receive a verification email shortly.
There was a problem. Please refresh the page and try again.